---
Disclaimer! Our Syncios also supports to download iCloud Photos Stream to PC. But Syncios team takes over your privacy seriously. We Never keep records of any your Apple account info or content at any time during the session. You can also visit Disclaimer for more details.
---
If you are a user of Apple products, you can sign up for an iCloud account and start syncing and backing up your data across devices. This includes iCloud Photo Stream, which automatically saves all the pictures you take on your iPad or iPhone to the cloud and to synced devices when you enable your Photo Stream on your iPad/iPhone/iPod.
Is it possible to view the photos we upload to iCloud from our Windows PC? Can you access the iCloud photo stream in any way other than iTunes? The free Syncios iCloud Photo Transfer may be what you need.
Free download and install it on your computer below. Enjoy free and easy photo transfer from iCloud Photo Stream to PC.
How To Get iCloud's Photo Stream to A Windows PC
Photo Stream will only sync the photos taken on your iPhone or iPad after you set it up and turn it on. So please ensure that Photo Stream is on in your device. Go to Settings > iCloud > Photos (Photo Stream in iOS 6), then turn on My Photo Stream.
The most decent way to access your iCloud Photo Stream is indeed installing the Syncios iOS Transfer, which makes iCloud Photo Stream Export just a piece of cake. Here are steps about how to access and download photos in iCloud Photo Stream to Windows PC.
Step 1: Download and install the free Syncios iPad Photo Transfer.
Simply download and install Syncios iPad Transfer on your computer. Make sure iTunes has been installed on your PC.
Please note that you do not have to run iTunes when using this free Syncios iPad Mini Photo Transfer.
Step 2: Log in to your iCloud account.
Note: You don't need to connect your device to PC. Simply go to Toolkit Tab on the top, click Photo Stream under Device Management section, enter your Apple ID and password in the pop-up window to log in to your iCloud account via Syncios iPad Photo Transfer.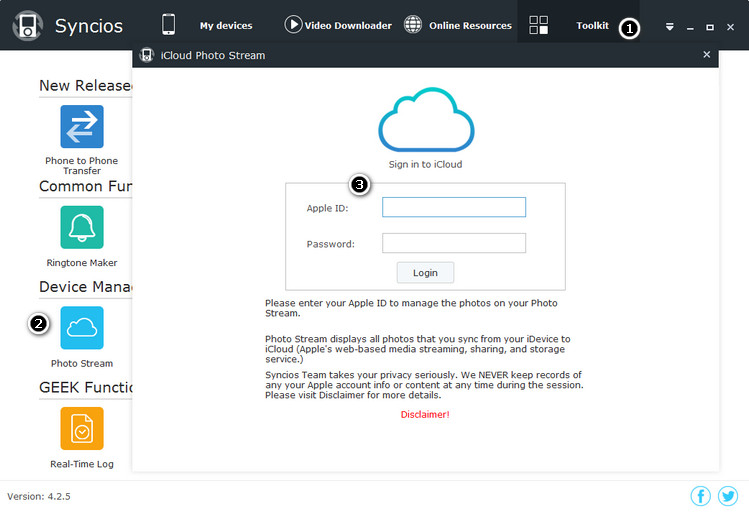 Step 3: Download iCloud's photo stream to Windows PC.
1. Select photos on iCloud's Photo Stream you would like to download to PC. Hold down Ctrl/Shift key to select multiple photos or select all by checking the blank box next to Export button.
2. Click "Export" button.
3. Browse output location and export selected photos from iCloud to your computer.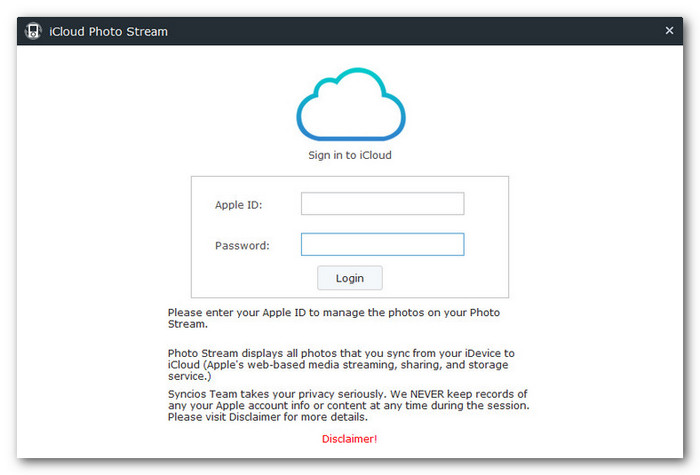 Double-click the icloud photo stream in Syncios, you are able to preview the iCloud Photo.
You can follow Syncios on Twitter, Facebook for more tricks.