Are you on an older iPhone or iPad running iOS 9/9.0.2 and want to go back to iOS 8.4.1? Worry not, as there's a way to go back and enjoy iOS 8.4.1, despite the fact that Apple has stopped signing this firmware.
The iPhone 4s, 5 and 5c may not be able to provide enough power to run iOS 9 smoothly, which is why you may want to go back to iOS 8. Same goes for the iPad 2 and 3. iOS 9 has a lot more animations and features that will eat at your older devices' battery.
A tool called OdysseusOTA will allow you to downgrade iOS 9/9.0.2 to iOS 8.4.1. All you're going to require, is a jailbroken device on iOS 9.0.2. This tool only supports the iPhone 4s, 5, 5s, iPad 2 and iPad 3. This is because Apple is still signing an iOS 8.4.1 OTA blobs for those devices. If your device supports iOS 6, then you can use this tool to downgrade to iOS 8.4.1.
The first version of OdysseusOTA allowed users to downgrade from iOS 8 or iOS 7 to iOS 6.1.3. The best part is that you don't even need saved SHSH blobs to downgrade.
OdysseusOTA2 will allow you to downgrade iOS 9.0.2 to iOS 8.4.1. A jailbreak is in the works for iOS 8.4.1 and should be available soon. Once again, you cannot jailbreak iOS 8.4.1 since there is no tool available as of this writing.
If you're on iOS 9.0.2 and you want to go back to iOS 8.4.1, then you're going to have to jailbreak your device using the Pangu 9 tool first. Once you're jailbroken on iOS 9.0.2, you can use OdysseusOTA 2 to downgrade to iOS 8.4.1. The following video will guide you on how to downgrade from iOS 9.0.2 to iOS 8.4.1.
The latest version of the tool is available for download from the YouTube link. The developer posts updates for the tool on YouTube, so it's best to download it directly from there.
This method is for someone who has a little bit of technical knowledge, so don't try this if all you want to do is 'Click and Go.' Did you downgrade iOS 9.0.2 to iOS 8.4.1? If so, why?
Reference: ijailbreak
Read More:
---
Recommend: would like to backup your iPhone, iPad, iPod to PC/Mac and looking for the easiest and safest way to back up your iPhone content on PC/Mac? Syncios Phone Data Transfer must be your first choice.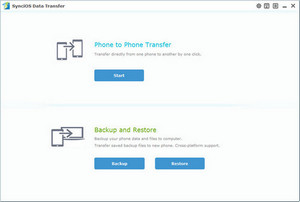 Transfer contents include contacts, messages, call logs, music, photos, videos, apps, notes, bookmarks, ebboks and more.
Backup phone data and restore in lossless quality.
Sync contents from iTunes Library to PC and iDevices.
Multiple OS supported: data shift between multiple phones run Android and iOS.
Multiple brand phones supported: Apple, Samsung, HTC, Sony, MOTOROLA, LG, HUAWEI, ZTE and more
Simply free download this phone data transfer and backup tool to have a try!