TouchWiz is the custom UI Samsung places over Android on its smartphones and tablets. It's improved a whole lot over the years, but it can still be frustrating for those who prefer a plain Android experience. In this article we show you how to tone down TouchWiz, reduce the number of interactions with Samsung's preinstalled apps, and give your Samsung Galaxy device a Google Nexus look and feel.
The methods outlined below range from easy to difficult, so you should try them in the order we have written them. But you get nothing for nothing, and to truly dispense with TouchWiz you may be forced to go for method three: rooting your phone and flashing a custom ROM.
My own preference is to use the Google Now launcher as outlined in method two. Do let me know in the comments below if you have a better way of doing this!
How to disable TouchWiz on Samsung smartphone
Method 1. Factory reset the phone, and do not accept Samsung updates during setup
First you need to factory reset your Samsung phone. Go to the Settings page, and then head to 'Backup and reset'. At the very bottom of the screen select Factory data reset, then choose Reset device. All data will be erased from the device memory, so make sure you have backed up all the files and documents you need. You will be able to reinstall contacts, emails and apps by re-synching with your Google account.
Once you have hit Reset device, your Samsung phone will reboot and reset. To avoid the worst of Samsung's TouchWiz excesses, you need to discipline yourself not to accept Samsung updates (pictured below), and not to sign up for a Samsung account. You may find that the behaviour of TouchWiz that previously bothered you is now absent.
Method 2.  In Application Manager clear the data and cache for any Samsung preinstalled apps, such as S Planner
Install the free Google Now Launcher
Put simply, a Launcher is an app that lets you change how your Android home screen looks and works.
Simply go to the Play Store and install the launcher you most like the look of. Some of the best custom launchers for Android include Action Launcher, Apex Launcher, Aviate, and Nova Launcher. There are paid-for and free launchers.
The free Google Now Launcher is available on all devices with Android 4.1 (Jelly Bean) or later. Google Now Launcher is limited: in truth it is a means of making Google Now central to your usage of your device. But if you like to use Google Now and you dislike the added faff that is TouchWiz, this could be the launcher for you. And as it is free and guaranteed not to mess with your Android, why not give it a whirl?
Method 3. Root your phone, create a custom recovery, then flash a new ROM
Our third method for disabling TouchWiz requires rooting your phone and flashing a new custom ROM (in common parlance, getting rid of Samsung's version of Android, and installing another one written by a third-party). All the usual disclaimers apply: once you have done this, you won't be able to go back, although you will be able to install one of the many ROMs available for Android devices. It may also affect your smartphone's warranty.
But done correctly, this could turn your bloated TouchWiz Samsung into a non-TouchWiz Android device. And for free.
Before you begin you should note that you cannot flash any old ROM on to your Samsung Galaxy phone or tablet – that device must be supported by the ROM. Depending on how new and how popular is your device, you may find many or just a few custom ROMs are available.
As an example, one that caught our eye for the Samsung Galaxy S7 is KryxOS, which purports to be a fully stock debloated Touchwiz ROM. "There are LOTS of plans for this ROM including a special "Google" edition that will aim to completely remove Samsung's cr*p and make it feel more "Nexus" like," writes the developer.
To learn how to root an Android phone >>
After rooted, download the Google Play Edition .zip file.
Drag-and-drop the downloaded Google Play Edition .zip into your phone storage (we recommend adding it to a new ROMS folder), then switch off your phone. Make sure it's disconnected from your PC.
Now boot it into Recovery Mode by holding in the Power, Volume Up, and Home buttons until 'Recovery Booting' appears in the top left corner. Release the power button but keep holding the Volume Up and the Home button until 'TeamWin' appears on the screen.
Click on Wipe, Advanced Wipe. Select 'Dalvik Cache', 'System', and 'Cache'. Move the slider to complete the wipe.
Now take one step back, and click on Install. Scroll down to the ROMS folder you made on your phone. Click on the Google Play Edition .zip file, then slide to install the ROM. Once the install process is completed, you will have a Google Play Edition Samsung phone.
See more Android Tips >>
Recommendation: One-Click Mobile Data Transfer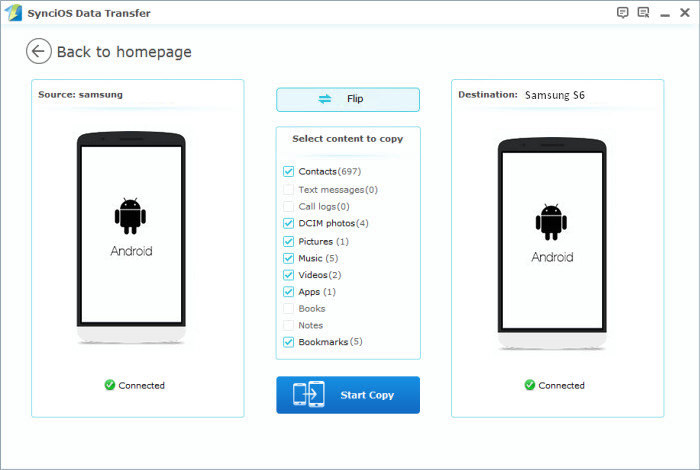 – Simple yet effective solution for transferring content between Android and iOS
Transfer contents include contacts, messages, call logs, music, photos, videos, apps, notes, bookmarks, ebooks and more.
One-Click backup Android & iOS phone data and restore in lossless quality.
Sync contents from iTunes Library to PC and iDevices /Android .
Multiple OS supported: data shift between multiple phones run Android and iOS.
Multiple brand phones supported: Apple, Samsung, HTC, Sony, MOTOROLA, LG, HUAWEI, ZTE and more.
You can follow Syncios onTwitter,Facebookfor more tips and tricks.