Want to disable Camera access for an app on iPhone or iPad? At any time, you can easily revoke camera access for any application on an iPhone, iPad, or iPod touch. By turning off camera access for an app, that app will no longer be able to use either the front or rear cameras on an iPhone or iPad.
How to Stop Apps from Using Camera on iPhone & iPad
You can prevent apps from being able to access and use the camera on your device by going through the following steps:
Open the "Settings" app on iPhone or iPad
Go to "Privacy" in the settings
Choose "Camera" from the privacy settings list
Locate the app(s) you want to disable camera access for and toggle the setting corresponding to their name OFF to disable camera for that app

Repeat with other apps to turn off camera ability as desired
All apps that have requested camera access on the iPhone or iPad will appear in this list. If an app does not appear in this list, the app has not requested camera access before (or yet).
Obviously some apps will require camera access to function properly, like a video chat app, so be mindful about what apps you disable camera access for and which you allow.
On the other hand, there are many apps that don't need to access the camera for the app to work at all, they just request camera access for some other reason, and turning off those apps camera access may be beneficial to privacy or security. Think logically about what an app is and what the apps purpose is when deciding what apps to grant camera access to. Does a camera app need camera access? Probably. Does a social network need camera access? Maybe, or maybe not. Does a game need camera access? Probably not. If you never use the camera in a particular app, you can likely turn it off without consequence to that apps functionality. Be discerning!
Similarly, you can also control what apps have microphone access on iPhone and iPad. If you're going through and auditing app access to camera for privacy or security purposes, you'd probably want to do the same for the microphone too.
Of course once you have taken pictures with the camera, there are apps that also want to access the photos on your iPhone or iPad too. Accordingly, separate from controlling camera access for apps you can also control what apps can access Photos on iPhone and iPad too. You'll often find apps that want to have photos access that simply don't need it.
It's worth mentioning this is not the only time you can manage what apps have camera access on an iPhone or iPad. Usually when you first launch an app that wants to use the camera, a pop-up screen appears on the iPhone or iPad that says the app is requesting camera access. For example if you freshly install Instagram or another camera app you will find this request when you launch the app for the first time. Whether you choose "Allow" or "Disallow" at that screen will control access for that particular circumstance, but beyond that you can always find the apps which have requested camera access in this privacy list within the device Settings. And of course you can then adjust each app individually as to whether you want that app to have access to the device camera or not.
This obviously allows you to manage what apps can access and use the camera on an iPhone or iPad, but you can go further if you'd like to and disable the Camera app itself as well.
---
Recommendation: Manage iPhone/iPad/iPod without using iTunes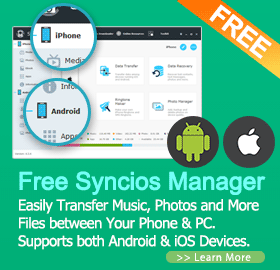 Support to transfer, edit, backup, manage, view iOS & Android mobile data: Music, videos, photos, apps, ebooks, contacts, messages and more.
Download videos from 100+ video sharing sites up to 4K HD video quality and transfer to iPad/iPhone/iPod/Android.
Handy toolkit: Audio converter, video converter, ringtone maker, etc.
Free
You can follow Syncios onTwitter,Facebookfor more tips and tricks.