Don't want iPhone or iPad apps to update or transmit data in the background when not in use? You can turn that feature off easily in iOS.
If you're concerned about iPhone and iPad apps tracking you or transmitting data when they're not in use, an easy way to prevent much of that type of activity is to disable a feature on iOS called Background App Refresh. With Background App Refresh turned off, iOS apps won't update or run in the background, instead they'll stay paused until they're directly active again on screen. And as an added bonus of disabling the same feature, you might notice a bit longer of battery life too. Whatever your motivation, we'll show you how to disable Background App Refresh on iPhone or iPad.
Apple says that Background App Refresh "allows apps to refresh their content when on Wi-Fi or cellular in the background", meaning when the app is not in use but still connected to an internet connection. Disabling this feature on the iPhone or iPad is easy, and most users probably won't even notice the difference of having it off versus having it on.
How to Turn Off Background App Refresh on iPhone and iPad
If you wish to turn off Background App Refresh on iOS, here is the setting to disable:
Open the "Settings" app in iOS
Go to "General"
Tap on "Background App Refresh"
Set "Background App Refresh" to be OFF to disable the feature completely
Exit Settings
As mentioned before, most users won't notice the difference when turning this feature off. If anything, you might notice an app refreshes upon opening or returning to an app on an iPhone or iPad, which is not much of an inconvenience.
On the plus side, you may notice that your device battery lasts longer however, which is why it's a frequent battery life tip for iOS 12 and many prior iOS versions too since the Background App Refresh feature debuted some time ago in iOS.
If you're doing this out of privacy concerns to prevent background activity that is sharing data about you or your device, like what is discussed in the aforementioned Washington Post article, then you might want to go a step further and audit your Privacy settings in iOS too, particularly the Location Services section. Many apps will request permissions they do not actually need, but use common sense and fair judgment when making decisions on app permissions (for example, does a drawing app need your location to function? Unlikely. Does a maps and directions application need you're location to work? Almost certainly.). Most users should not turn Location Services off completely however as doing so will disable some of the more convenient features of an iPhone (or iPad), like Maps, directions from your current location, location aware reminders, and similar capabilities which require location data to function. You can also audit and control what apps have access to your Photos on iOS too, as well as other personal information and data on your device, all through the Settings app > Privacy section.
Note: Turning on Low Power Mode on iPhone temporarily disabled Background App Refresh as well, so if you're trying to adjust the feature off or on and you can not do so, it may be because Low Power Mode is enabled.
How to Enable Background App Refresh in iOS
If you turned the feature off and decide you want background activity to be on again, here's how to toggle it back on easily:
Open the "Settings" app
Go to "General"
Choose "Background App Refresh"
Set "Background App Refresh" to be ON
Optionally, manually adjust apps you want to disable Background App Refresh for specifically
Exit Settings when finished
However you use or don't use Background App Refresh is entirely up to you. If you're concerned about battery life reductions, or some theoretical background data transfer going on when apps aren't in use, turn it off. If you want your iOS apps to be updating when they're not in use, leave it on. You can adjust this feature at any time on an iPhone or iPad.
Recommendation: Manage iPhone/iPad/iPod without using iTunes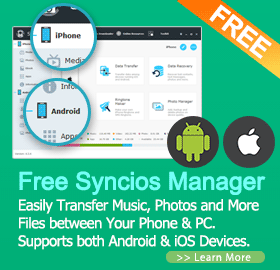 Support to transfer, edit, backup, manage, view iOS & Android mobile data: Music, videos, photos, apps, ebooks, contacts, messages and more.
Download videos from 100+ video sharing sites up to 4K HD video quality and transfer to iPad/iPhone/iPod/Android.
Handy toolkit: Audio converter, video converter, ringtone maker, etc.
Free
You can follow Syncios on Twitter, Facebook for more tips and tricks.