Messages is an instant messaging software application developed by Apple Inc. for its OS X, iOS and watchOS operating systems.
The desktop Messages application replaced iChat as the native OS X instant messaging client with the release of OS X Mountain Lion in July 2012.[1] While it inherits the majority of iChat's features, Messages also brings support for iMessage, Apple's messaging service for iOS, as well as FaceTime integration.
The mobile version of Messages on iOS used on iPhone and iPad also supports SMS and MMS due to replacing the older text messaging Text app since iOS 3. Users can tell the difference between a message via SMS and one sent over iMessage as the bubbles will appear either green (SMS) or blue (iMessage).
Delete individual text messages
Have you ever scrolled through your text message history and thought, "I can't believe I said that?" With iOS, you can easily delete the offending message.
First, open the Messages app, and go to a conversation if you aren't looking at one already. Tap and hold the message you want to remove, then tap More… in the pop-over menu that appears. Tap the circle next to the message (or messages) you want to delete so a blue checkmark icon appears. Finally, tap the trash can icon in the lower left, then confirm that you want to delete the message when prompted.
Delete an entire conversation
Perhaps you really don't want that entire conversation between you and that bot that sends you iCloud login codes. To remove entire conversations from your phone, return to the main Messages screen, then swipe right to left across the conversation you want to delete. Next, tap the red Delete button that appears.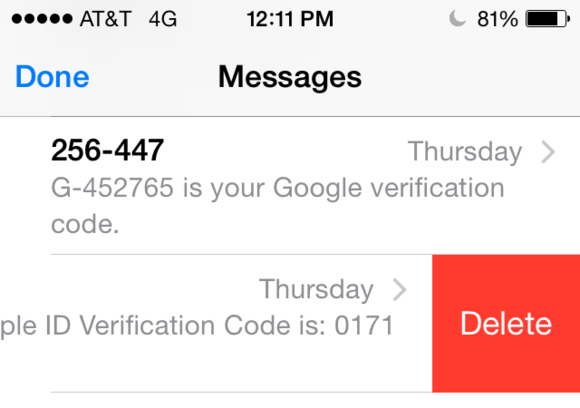 To remove multiple conversations at once, tap the Edit button in the upper left, then tap the circle next to the conversations you want to delete so that a blue checkmark icon appears. Tap Delete in the lower right, and those conversations will be deleted from your phone.
Remove old conversations automatically
By default, Messages is a bit of a digital pack rat, and it'll hang onto every message you've sent or received on your phone. But you can easily limit how long Messages holds onto things.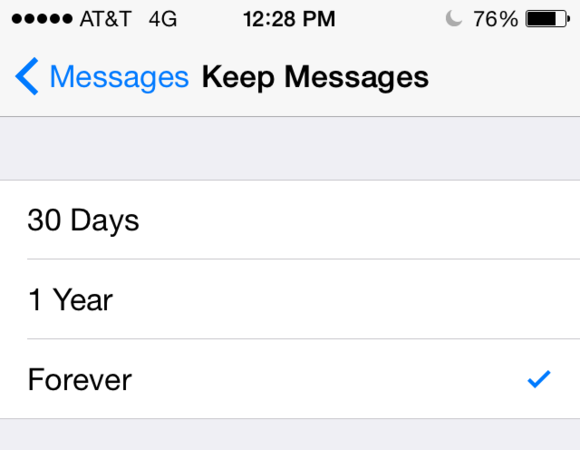 Open the Settings app, then tap Messages. Next, tap Keep Messages—it's under the Message History subheading. Here, you can choose to keep text messages for all eternity, or force Messages to clear out anything more than 30 days or one year old. (Unfortunately, you can't specify any other length of time.) Pick the option that works for you, and Messages will clear out all messages older than the date you pick.
Keep in mind that in each case, you aren't necessarily removing all traces of your conversations—your friends may still have the full chat logs on their phones—but clearing your Messages logs can help reduce clutter and perhaps save you a little storage space on your phone.
You can follow Syncios on Twitter, Facebook for more tips and tricks.
Read more:
Recommend: if you would like to manage your iPhone/iPad/iPod Touch data freely, just go here to learn more. Simply download the free version and have a try.