Sometimes it's really annoying that an "insufficient storage" message on your notification bar when you were trying to download some App or some music and video, besides, there are large amount of data usage in your internal memory displayed as "other". If you are reading this article,  it's probably because that you've run into this situation on your device or it's performing even worse. So how to clean up your Android device to release more space, before looking for a third-party app, why not trying with the Android system itself? The following steps may help.
Step 1. Manually clean the app's cache.
A cache is basically a storage area where data or frequently used processes are saved for quicker access in the future. Many apps on our device are prone to download many images, text, flash, videos etc automatically, if don't clean them regularly, before long, they will take up large space on your device. So by doing a cleaning of app's cache you can save much memory of your device and this won't do any harm or loss to your phone.
Go to the Settings Menu;
Click on Apps;
Find the All tab;
Choose an app that is taking up a lot of space;
Click the button Clear Cache.
If you're running Android 6.0 Marshmallow on your device, like my Huawei Android 6.0, simply click on Files and then Clean up. This only can clear your app's cache, your app residual trash, unused app packages will also be detected and, on the advanced management of storage, you can check all your data usage exhaustively, and select certain contents to clean up.
Step 2. Application restore.
Especially, some gaming apps and messaging apps like WhatsApp may save much gaming data or chat record which takes up large space, and that's what we usually see the "Others" when analyzing the storage. To clean up these data, of course, first you should make sure you no longer need them or already backed up them. Then do the cleaning. Some Android version and device version supports restore applications, which could restore the apps to its origin without uninstalling them. Based on my Android 6.0 Marshmallow:
Go to the Files Menu;
Click on Clean up;
Find the advanced management of storage tab after scanning process was done;
Choose Application restore;
Select the app which takes up large space to restore.
Note: I am warning you again, the process of restore will clean up all the app data, so before restoring the apps, you must need to make sure that you no longer need the data or already backed up them.
Step 3. Factory reset your device.
If the above steps still could not release your space, the ultimate method, just like the title, restoring your phone to factory settings like how they were the day it came out of the box. All your data such as contacts, call logs, photos, apps, phone settings won't be there anymore. I recommend that if your phone has been used over one year and works very slowly, this option could basically give your phone a new life. Of course, do not forget to backup your phone before doing this.
Go to Settings;
Click on Backup and Reset;
Make a backup in the Android system itself by using Drive;
Factory Data Reset;
Reset phone;
You may have to put your PIN in again;
Click on Reset phone or Erase Everything;
Restart.
Other tips and tricks:
Backing up your data to cloud or use an external memory device such as a microSD card if your device supports also could help. Besides, remember to uninstall the apps you don't really need, sometimes it may release large space than you expected. You can re-install it when you need it.
Of course, using a third-party app to put your phone in control is a good option as well. In this article, I recommend DiskUsage, which could help you identify which files are using up the most space on your phone visually after scanning your phone, of course it will also let you select which ones to delete to release the space. The other one is CCleaner, you may know this App as it is also the most popular application on the computer. It supports to scan all types of data saved on your device and list all the apps with the memory taken up, on the simple user interface, and then recommend what should be deleted after the analysis. Both Apps could be found in Google store.
Please kindly note that clean up your phone just a way to release the space, but doesn't mean a performance enhance of your phone, including the factory resetting, it may enhance your Android phone's performance temporarily, before long, it freezes again since the performance of most Android phone are related to their hardware, so don't mistakenly believe some third-apps claim that they could give your device a better performance. If your phone is too old to perform well, it's just the time to switch your phone.
---
Recommendation: Manage iPhone/iPad/iPod without using iTunes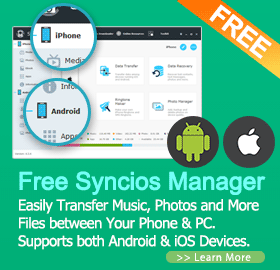 Support to transfer, edit, backup, manage, view iOS & Android mobile data: Music, videos, photos, apps, ebooks, contacts, messages and more.
Download videos from 100+ video sharing sites up to 4K HD video quality and transfer to iPad/iPhone/iPod/Android.
Massive free resources: videos, wallpapers, ringtones
Handy toolkit: Audio converter, video converter, ringtone maker, etc.
Free
You can follow Syncios onTwitter,Facebookfor more tips and tricks.