As the Windows 10 adoption rate is slowing down, Microsoft ramps up its efforts to make users upgrade. Come 2016, many people will wake up to a new operating system, despite never having consciously consented to the upgrade. Even those of you who have previously removed updates and installed tools to block the Get Windows 10 app (GWX) could be affected.
We show you what's going on and how to push back and hold on to Windows 7 or 8.
What's Happening in Windows Land?
Over the Thanksgiving weekend, users of GWX Control Panel, a tool designed to remove the Get Windows 10 app, reported that the "AllowOSUpgrade" setting was being switched on automatically. "It keeps re-setting iself at least once a day if [users] switch it back off," developer Josh Mayfield told Computerworld.
Apparently, Microsoft has been re-issuing the update that installs GWX with different binary files, which makes it look like a new update. Moreover, Microsoft has applied changes to Windows Update in Windows 7 and 8.1.
This update enables support for additional upgrade scenarios from Windows 7 to Windows 10, and provides a smoother experience when you have to retry an operating system upgrade because of certain failure conditions. This update also improves the ability of Microsoft to monitor the quality of the upgrade experience. –Microsoft Support
Mayfield suspects that Microsoft is laying the groundwork for its next move. And all the evidence suggests he's right. Microsoft is pushing the Windows 10 upgrade through Windows Update and it's not being coy about it. In late October, Terry Myerson wrote:
We will soon be publishing Windows 10 as an "Optional Update" in Windows Update for all Windows 7 and Windows 8.1 customers. (…) Early next year, we expect to be re-categorizing Windows 10 as a "Recommended Update". Depending upon your Windows Update settings, this may cause the upgrade process to automatically initiate on your device.
Such an update was erroneously published as a default update earlier this year. In September, reports surfaced that computers had been upgraded to Windows 10 over night.
Meanwhile, the Get Windows 10 notification has lost a decline option. Instead, users can choose between "Upgrade now" or "Start download, upgrade later". Reddit user EchoRadius reports that the "upgrade later" option caused his system to upgrade quicker than expected and automatically; other users confirm similar experiences.
On a Windows 8.1 PC. Mostly full screen pop-up. No clear "No thanks" button, just download Windows 10 now or later. pic.twitter.com/RRoaFMST9r

— Brad Chacos (@BradChacos) December 11, 2015
The trick, of course, is to simply close the app without making a choice. It's a clever way of fooling naive users into upgrading.
Why Is Microsoft Pushing So Hard?
The Windows 10 adoption rate is slowing down, as the latest numbers from NetMarketShare demonstrate. Windows 7 (56.11%) lost around 4% of its market share since the release of Windows 10, Windows 8.1 (11.15%) dropped by 2%. From October to November, however, both Windows versions gained back market share. Meanwhile, Windows 10 (9%) is struggling to overtake Windows XP (10.59%) as the third most common Windows version. This is a disaster that Christmas sales alone are unlikely to fix.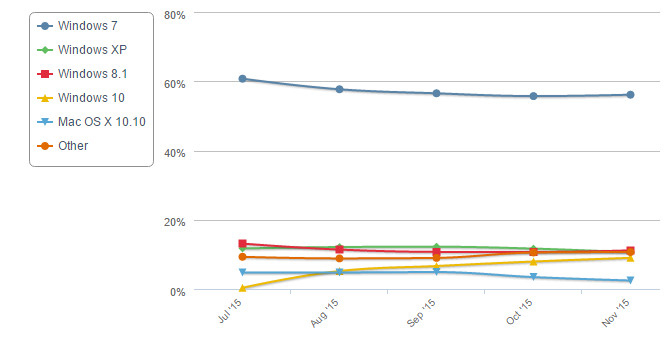 At the current rate, Microsoft is unlikely to make its 1 Billion Windows 10 devices goal anytime soon. But that's not its biggest problem. Windows 10 was designed to reduce costs by streamlinging updates and bring in extra money through new services. The more existing users upgrade, the more profitable Microsoft will be; it's all about business.
5 Ways to Block the Windows 10 Upgrade
We have previously shown you how to get rid of the Windows 10 upgrade notification and how to stop the automatic Windows 10 download and installation. In the meantime, additional strategies have emerged. Here we'll briefly summarize all of them.
1. Install Third Party Software
The previously mentioned GWX Control Panel (fka GWX Stopper) can permanently remove the Get Windows 10 icon and disable the respective app. Frequent updates and a newly added "Monitor Mode" ensure that the tool will quickly catch any changes made to Windows upgrade settings and alert users. You can download GWX Control Panel here (direct download).
Likewise, I Don't Want Windows 10 blocks GWX, however, this tool hasn't been updated in a while.
2. Take Control Over GWX Folder in System 32
This sounds more intimidating than it is. You could rename the GWX folder to remove the irritating system tray icon. At least this would prevent anyone from accidentally upgrading now or later — until an update restores the folder. Instead, change write permissions.
Briefly, open File Explorer, head to C:\Windows\System32, find the GWX folder, take ownership, delete everything in it, and Deny any users all of the security settings. Restart your computer and be done.
3. Set a Registry Key to Disable GWX
Open the registry and head to the following string:
HKEY_LOCAL_MACHINE\SOFTWARE\Policies\Microsoft\Windows
Right-click Windows to create a new Key and call it GWX. Now right-click GWX and create a new DWORD Value called DisableGWX. Set its value to 1, close the registry editor, and reboot to activate the changes.
4. Disable Recommended Updates
Microsoft announced that Windows 10 will become a recommended update in 2016. Time to disable these updates, they are not essential anyway. Briefly, head to Windows Update, select Change Settings from the menu on the left, under Important updates, select Install updates automatically, and then remove the check mark under Recommended updates.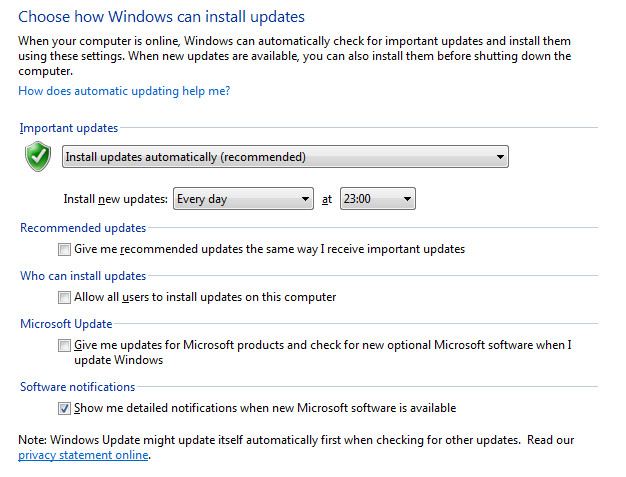 If you're on a metered connection, you might want to disable automatic updates altogether. Note that this could make your system vulnerable to malware and malicious attacks.
5. Give Up and Install Linux
We don't know how far Microsoft will go to make Windows 7 and 8.1 users adopt Windows 10 before the free upgrade offer expires. And while Windows 10 has many benefits and this writer enjoys working with it very much, the aggressiveness with which Microsoft is pushing the upgrade is disconcerting. If you can't see yourself using Windows 10, maybe it's time to move on.
Linux is a great alternative to Windows not only because it's free. It also comes in many different flavors, some of which are very similar to Windows. Last but not least, it's less of a target for hackers and malware. First time users upgrading from Windows might want to try Ubuntu Linux.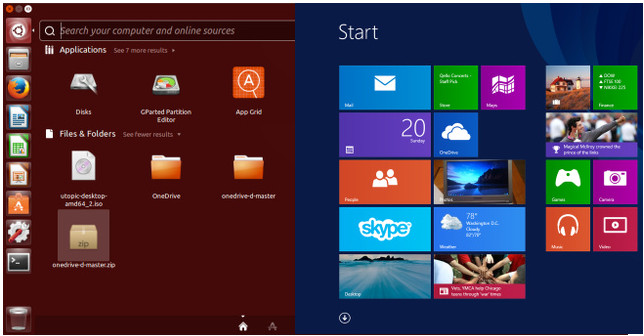 When Will You Give Into Windows 10?
Maybe, if Microsoft nags users long enough, they will eventually give in. The numbers indicate that this hasn't worked so well, yet. What if Microsoft focused on making Windows 10 really great and let it speak for itself. A free upgrade alone isn't enough.
Source: makeuseof
You can follow Syncios onTwitter,Facebookfor more tips and tricks.
Recommend: if you would like to transfer music, videos, apps, notes, photos, etc between your iPhone and computer, you can try this perfect iOS data manager tool, migrate everything, including SMS, Contacts, Videos, Photos, Call logs and more from phone to PC or Mac. Simply download and have a try.