Why you need to backup your iPad iPhone iPod before jailbreaking
Jailbreaking allows you to install third-party applications, tweaks, mods, themes, useful utilities, and other content (called "packages") from Cydia, the jailbreak equivalent of theApp Store on iOS. Jailbreaking essentially allows for you to further customize and enhance your iOS device beyond the limits that Apple imposes. Your device's media and settings will not be affected or removed by the jailbreaking process. Backing up your content to iTunes or iCloud, however, is still recommended as a precautionary measure. This is very important. If something goes wrong during the jailbreak, you should be able to restore to the backup.
Backupping with iTunes is always the first choice of most jailbreakes. Because people think it is the only choice as well. However, Syncios break this situation with its stable and powerful backup feature. Here we will guide you how to backup your iDevices before jailbreaking with Syncios.
Tutorial – How to backup iPad iPhone iPod before jailbreaking with Syncios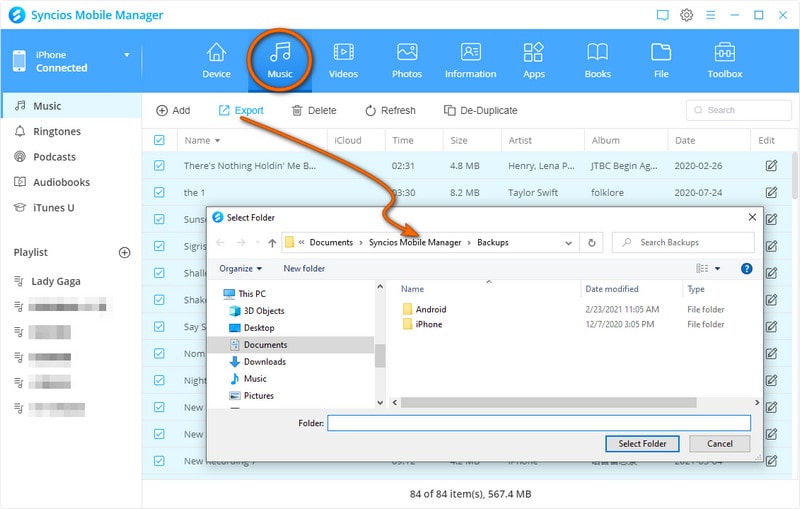 Backed-up information includes purchased music, TV shows, apps, and books*; photos and video in the Camera Roll; device settings (for example, Phone Favorites, Wallpaper, and Mail, Contacts, Calendar accounts); app data; Home screen and app organization; Messages (iMessage, SMS, and MMS), ringtones, and more. Backup all of your data safely!
Before getting started, please download and install Syncios on your pc.
Step 1: Download and install Syncios on your computer.
Note: iTunes must already be installed on your computer for running Syncios correctly. But you do not have to run iTunes.
Step 2: Connect your iDevice to computer with USB and launch Syncios.
Step 3: In the welcome interface, click Data Export to backup your iDevice.
Select a folder to backup.
Select information you want to backup and start backuping.
Backup finished!
Backupping is finished, you can jailbrak your iPad iPhone iPod safely now! If you encounter problems and need to restore your iDevice to the backup, here is how to resotre iPhone iPad data after jailbreaking.
Things you need to know about Syncios:
• Compatible with Win 8, latest iOS 7 and iTunes 11;
• Transfer Music, Audiobook, Ringtones, Voice Memos;
• Backup Contacts, Messages, Notes, Bookmarks;
• Transfer Movies, TV shows, Music Videos, Podcasts;
• Manage Images, Photos, Camera shot files;
• Access iOS devices to manage Apps;
• Transfer Ebooks between iOS devices and PC
• Add or delete Playlist for iPod/iPhone/iPad;
• Create iPhone ringtones & convert audio/video files;
• Access & transfer system files of your iOS devices.