For some people the act of jailbreaking is a simple one. Cydia is installed with all its default repos and it works perfectly. For others though, the story is a different one. There have been a number of people who jailbreak who have found that one of the main default repositories is not there and it's the one they really want.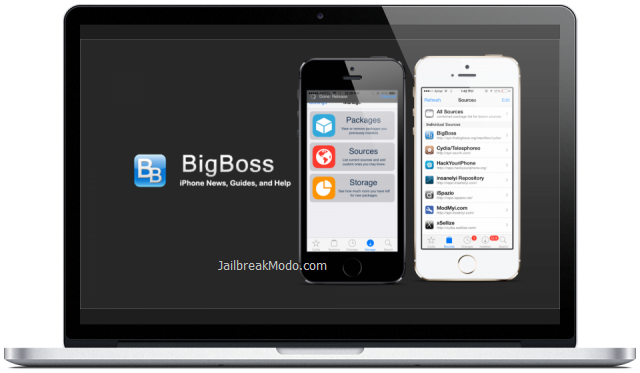 Image : BigBoss repo Source Add
The BigBoss repository is the biggest source of apps and tweaks in Cydia. It contains just about everything you need to get going and modify your iPhone to work how you want it to. If it isn't there, it can cause no end of problems for you. It is rare that the BigBoss repository is missed out when Cydia is installed but it does happen. What is more common though is people deleting it by accident. Luckily, there is a way to get it back without too much trouble .
Steps to Add BigBoss Repo on Cydia :
Open Cydia to the main screen
At the bottom there are a few options – tap on More Package Sources
Another screen will appear, listing the sources that can be added. At the bottom of the screen you will see a Disclaimer, advising that you add extra sources completely at your own risk.

If the BigBoss repo source is there just tap on it and the package will be installed.
If it isn't there for some reason, you have two more options open to you:
Option 1 – Add a New Repo
Open Cydia
Tap on Sources on the bottom

Tap on Edit
Tap on Add
Type in this URL – http://apt.thebigboss.org/repofiles/cydia/
Tap on Add Source
Cydia will download the source
Option 2 – Restore and Jailbreak Again
If you still can't get the BigBoss repository back you may have to restore your device through iTunes and reinstall the jailbreak. Bear in mind that iTunes will restore your device to the latest iOS version, currently iOS 7.1.2.
Fortunately, there is a jailbreak called Pangu that can be used for this and a full guide on how to download and install it can be found here.
Important :
Please take note of the recent news that the BigBoss repository has been hacked into. At the moment, we are recommending that you do not download anything via this source until the issue has been fixed. More information can be found here.
Reference: jailbreakmodo.com.
---
Recommend: You can use Syncios to free download and install apps into iPad/iPod/iPhone. There are Huge and growing collection of free games, apps for iOS devices. Just simply download and have a try.
How to free download and install apps, click here.
---
You can follow Syncios on Twitter, Facebook for more tips and tricks.