Looking for some terrific Live Wallpapers for your iPhone 6s or iPhone 6s Plus. Thanks to a new third-party app, you can now download awesome animated wallpapers that come alive with 3D Touch. Here's how to get started.
Download Live Wallpapers
First, download the Live Wallpapers app by Nick Lauer from the App Store. This is the first app we've found that offers animated wallpapers for 3D Touch, though there may be others out there that we didn't spot. We expect many more to come later, too.
Find a Live Wallpaper
Once you have the app installed, open it up and you'll find all the Live Wallpapers on offer. It's not possible to view them all as thumbnails yet, unfortunately, so you'll need to swipe through them to find one that you like.
When you have one, simply tap the "Save" button to add it to your Camera Roll.
Apply it!
You can now return to your home screen and open the built-in Photos app, where you'll find the live wallpaper you just downloaded in the "All Photos" album. To apply it, open the image, tap the share button, then select "Use as Wallpaper."
Before tapping "Set," ensure the "Live Photo" option is highlighted.
And that's it! You now have a new live wallpaper, which you can activate on the home screen using a 3D Touch press.
If you know of any other apps that offer Live Wallpapers, be sure to let us know about them down in the comments section.
How to Download Free Wallpapers to iPhone 6s/Plus
Want to personalize your iPhone, iPad, iPod and spend much time in every search for background for your device? Syncios Free iPhone Manager comes with a rich collection of free iPod, iPod Touch, and iPhone wallpapers for you and help you download those free wallpapers to iPhone 4/4s/5/5s/6/6s/plus. These free iPhone 4/4s/5/5s/6/6s/plus wallpapers cover all categories of nature, people, animal, car, cartoon, movie, sport, etc, thus you can discover and download your beloved wallpaper for your iPhone 4/4s/5/5s/6/6s/plus background.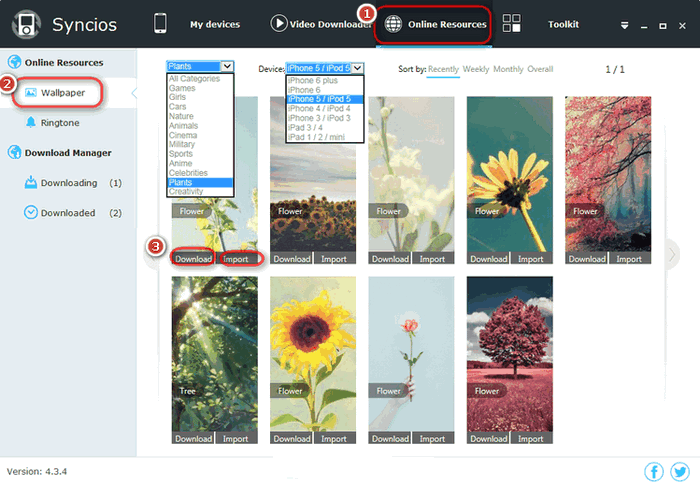 1. Connect your iPhone to the computer and then launch Syncios Free iPhone Manager.
2. To download best iPhone wallpaper, simply click "Online Resources" on the top of Syncios.
3. Choose "Wallpaper" under "Online Resources" on the left panel of Syncios.
You can choose the category and type for your iPhone, and then choose the wallpaper you love,
1) To directly download wallpapers to your iPhone 3/4/4S/5/5S/6/6S/Plus, simply click "Import" under the selected wallpaper.
2) To download and save wallpapers to your computer first and then import downloaded wallpapers to your iOS device selectively, just click "Download" option. After a while, the selected wallpapers will be downloaded.
Once the downloading process finished, just choose "Downloaded" tab under "Download Manager", select wallpapers you need and then press "Import" option.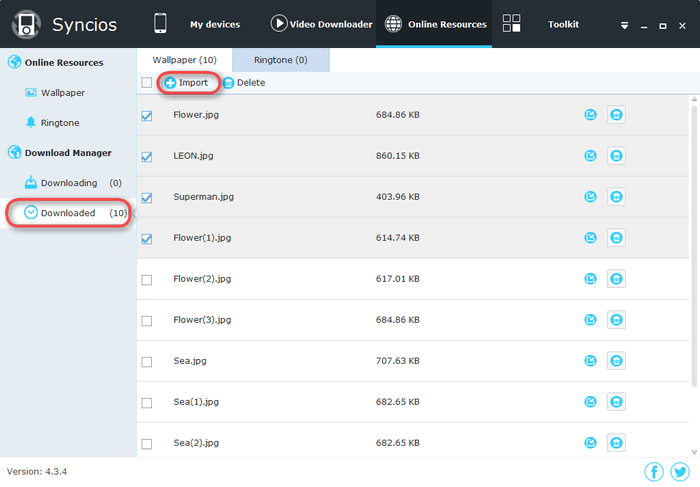 Reference: iPhoneHacks
You can follow Syncios on Twitter, Facebook for more tips and tricks.