Last month, Sonos announced Apple Music would be available as a music service starting December 15. True to its word, Sonos has released an update to its controller apps that add support for Apple's streaming service, albeit in beta form. The beta tag means it's entirely possible you'll experience issues when using the service, and you should expect frequent updates until the service is ready for official release in early 2016.
There's a few extra steps you'll need to take in order to add Apple Music to your system, starting with opting in to the beta itself.
After updating your Sonos app (Android users, be sure to update the Apple Music app which added support for Sonos last week), slide out the menu and tap on Settings. Next, select Advanced Settingsfollowed by Beta Program. Tap on the button titled "Join the Beta Program" and follow the prompts to install a software update across your Sonos system.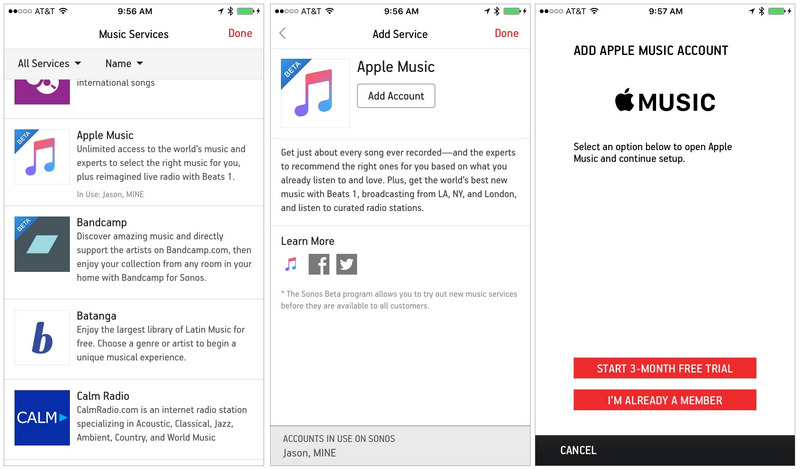 Once the update is complete, you'll need to add Apple Music to your list of services. In the menu, tap on Add Music Service. Find Apple Music in the list of services, and select it. If it's not immediately present, wait a few minutes and try again. When I set up my system, it took about 10 minutes for it to show up.
Next select whether you're an existing customer or would like to start your 3-month trial, then follow the prompts. You'll need to log in to your Apple Music account, so have your password handy.
Another important note, you can add multiple Apple Music accounts to the same Sonos system. Your device will default to using your Apple Music account, ensuring your playlists and music library are always present.
Reference: Cnet
See also: How to save Apple Music for offline listening?
Read More:
You can follow Syncios on Twitter, Facebook for more tips and tricks.