There are all kinds of apps out there touting the ability to help people suffering from anxiety, depression, and any number of other disorders. Some are free, some are not. Some offer a total self-help approach, while others are geared more as an adjunct to traditional therapy. Join us as we take a look at whether these apps can really be of any help and how to weed out the many choices.
Apps Offer Support for Cognitive Behavioral Therapy
Depression and anxiety are distinct disorders, but they have a a couple of things in common. They're both still misunderstood, even with the high prevalence of sufferers. Both are often mistaken (usually by those who do not suffer from them) for more common feelings we all experience. Depression and feeling sad about a particular event, for example, are wildly different things. An anxiety disorder is not the same as feeling anxious about an impending occasion.
With both anxiety and depression, the symptoms of the disorder often impede its own treatment. Put very simply, treatments for disorders like this usually involve steps like these:
Identify the underlying disorder.
Learn how to notice when you are starting to spiral out of control and learn strategies for short-circuiting the behavior.
ractice identifying and short-circuiting the problem so that you can do it earlier and earlier in the process.
Learn strategies for coping when you do spiral out of control.
Those steps represent the very broad strokes of cognitive behavioral therapy (CBT), which is based on the idea that behavior often cannot be controlled just through rational thought. Instead, behavior results from prior conditioning, and you can recondition yourself toward new behavior. The problem is that it takes practice, repetition, and actually showing up for guided sessions with a therapist. People suffering from depression and anxiety tend to have problems with all three of those.
And that's where a well-designed app can help.
So How Can Apps Help?
The idea behind a lot of these apps is that people are more likely to use them than to use traditional therapy because they can do so in an environment where they feel safe. They are also more likely to participate in ongoing practice when the technology is there to help guide them through exercises, log their thoughts, and remind them when they need to take action.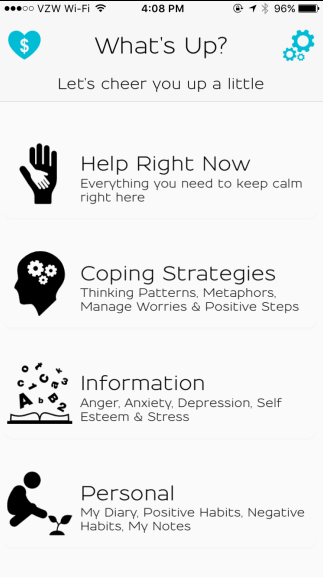 Here are some of the main features these apps offer:
Learning materials about how different disorders can manifest.
Guided exercises and demos that teach proactive and preventative strategies for changing negative thought patterns before they spiral out of control.
Exercises that teach and help you implement coping strategies.
Reminders that help you stay on track with treatments and appointments.
Logs where you can record thoughts, activities, and other data.
These apps can certainly help. In fact, a recent study showed that when using apps in conjunction with with support from a mental health professional, people "showed significant reductions in depression, stress, and substance use." And that brings us to our first important caveat: while these apps can provide some treatment options for people who cannot afford or otherwise access professional help, the apps are most effective when combined with traditional treatment from a professional therapist.
A second caveat you should be aware of is that most of these apps do not have any research-based evidence supporting them. In fact, that same study concludes:
…the majority of apps that are currently available lack scientific evidence about their efficacy. The public needs to be educated on how to identify the few evidence-based mental health apps available in the public domain to date. Further rigorous research is required to develop and test evidence-based programs.
That's not to say that these apps cannot be helpful, even if they do lack evidence. It's just that it's worth spending some time finding apps that work with your current treatment.
How to Identify a Good App
Browse through the app store of your choice and you'll see hundreds of mental health apps that claim they can help whatever disorder you suffer from. Even the Department of Defense is getting in on the app act with a new mobile app designed for helping PTSD victims diffuse nightmares. So, how do you decide on an app?
If you're in treatment already, the very best advice is to talk to your therapist. They may already have an app that they recommend or they may have other patients using apps that have proven helpful. Even if your therapist doesn't have a recommendation, they may be able to work with you to find something appropriate for your treatment.
If you don't have access to treatment, spend some time looking around for an option that suits you. A good starting place is this article on mental health apps put together by the Anxiety and Depression Association of America. It was put together by volunteer mental health professionals and reviews a number of apps based on criteria like ease of use, effectiveness, and research-based evidence for the apps methods.
If you're part of any support groups (online or not), talk to them and find out whether any members have their own experience using apps. And, as always, if you're looking at a particular app, read the reviews of people using the app and also take the time to search outside the app store for what people are saying.
In short, if you suffer from anxiety or depression, an app may prove a useful addition to your treatment. Apps are best used in conjunction with traditional therapy, but can also help if you don't have access to professional help. Apps are also designed as an ongoing treatment aid and aren't intended for people in crisis. If you're interested in using an app to help manage your anxiety or depression, talk to your therapist and do some research.
read also:
---
Recommendation: Manage iPhone/iPad/iPod without using iTunes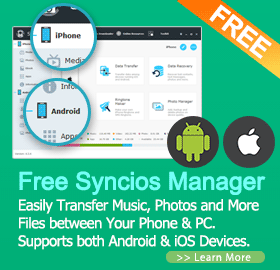 Support to transfer, edit, backup, manage, view iOS & Android mobile data: Music, videos, photos, apps, ebooks, contacts, messages and more.
Download videos from 100+ video sharing sites up to 4K HD video quality and transfer to iPad/iPhone/iPod/Android.
Massive free resources: videos, wallpapers, ringtones
Handy toolkit: Audio converter, video converter, ringtone maker, etc.
Free
You can follow Syncios onTwitter,Facebookfor more tips and tricks.
source:howtogeek