Apple's latest version of OS X is called El Capitan (officially, it's version 10.11). El Capitan does some fine-tuning to the Mac operating system, and it also has major updates to Safari, Mail, Notes, Maps, and Photos. It's scheduled to be released on Wednesday, September 30.
While I am not crazy about the new name, I am very excited about the product. Some new features are introduced but the majority of the work has been under the hood to improve responsiveness, stability and usability. My favorite versions of OS X to date have been 10.4.11 Tiger and 10.6.8 Snow Leopard, both releases that worked hard on under the hood improvements and it showed. OS X versions since then have had some nice features added but to me OS X has not felt like smooth and intuitive operating system I used to love.
Here's how to get your Mac ready for El Capitan.
Compatible hardware
These Macs are compatible with El Capitan.
iMac (Mid 2007 or newer)
MacBook (Late 2008 Aluminum, or Early 2009 or newer)
MacBook Pro (Mid/Late 2007 or newer)
MacBook Air (Late 2008 or newer)
Mac mini (Early 2009 or newer)
Mac Pro (Early 2008 or newer)
The general minimum requirements call for 2GB of memory, 8GB of available storage, and an Internet connection for some features. You can run a Mac with 2GB of memory, but this is a good opportunity to upgrade to 4GB or 8GB. As for available storage space, 8GB is enough to run the installer, but more is always better.
Keep in mind that the older your Mac, the greater the possibility that some features won't work. For example Handoff and Continuity, which were introduced with OS X Yosemite, require hardware that supports Bluetooth LE.
Skipping versions
If your Mac is running 10.9 or 10.10 you should be able to upgrade to 10.11 El Capitan without any issues. However if your Mac runs 10.7, the jump to 10.11 might cause issues. Apple typically states you can upgrade from any Mac running 10.6.8 to the latest OS X but speaking from experience, this rarely goes off without a hitch. If the upgrade is skipping a few versions you may want to consider starting fresh, meaning an erase and install. If your system is currently experiencing issues (regardless of the OS version you have installed) like slow performance, freezing, spinning beachball or applications unexpectedly quitting do not upgrade. An upgrade is not a magical fix, it will almost certainly make the issue worse. Instead resolve the problem first and then upgrade. Depending on the issue a clean install may be the best solution.
After a clean install you can migrate your user data back from a Time Machine or Clone backup. This will ensure you have a brand new and fresh OS rather than a patched one an upgrade would provide.
Verify your storage device
This is a good opportunity to check the health of your storage device. Launch Disk Utility (found in Applications/Utilities), and select your startup partition in the left column (located under your storage device's name; it may have the same name if there's only one partition on your storage device). Then click Verify Disk.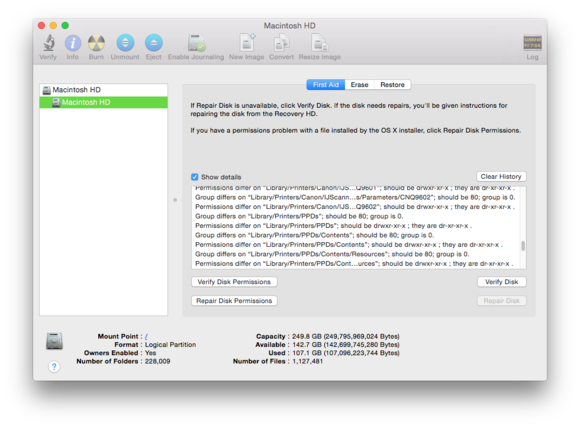 Any problems require you to boot from a different startup volume in order to make repairs. Lion, Mountain Lion, and Mavericks user can boot into OS X Recovery (a.k.a. Lion Recovery in Lion) by holding down Command-R at startup. You can then use Disk Utility to repair your storage device. Snow Leopard users can use the installation disc as a boot drive and run Disk Utility.
To perform a more thorough examination of your Mac hardware, you can runApple Diagnostics (for Macs released on or after June 2013) or Apple Hardware Test (for Macs released before June 2013). If you find a problem using these tests, you may need to see a Genius at your local Apple Store.
Install OS and Apple app updates
It's a good idea to update your pre-El Capitan OS to the latest version (for example, as mention earlier, from Snow Leopard 10.6.6 to 10.6.8). You can do this either in the Updates section of the App Store or through Software Update in the Apple menu.
Check for updates to your important third-party apps
Most developers work hard to make sure their software is compatible with the new version of OS X, so often updates are released prior to the upgrade's released date.
If you buy your software through Apple's App Store, you can check for updates there by launching the App Store app and clicking on Updates. For apps you didn't buy in the App Store, you'll need to check each developer's website on your own. You can also try checking RoaringApp's software compatibility list.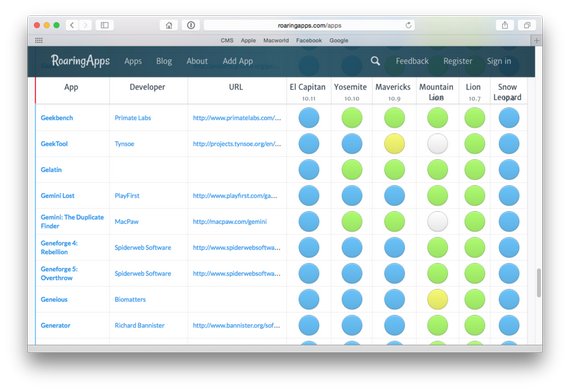 There's a reason I used "important" in the title for this section. If you have a lot of apps that you didn't buy in the App Store, it can take a lot of work to find updates. So first update the apps you use most often, and then you can update the other apps when you have the time.
Back up your data
Anything you're about to make major changes to your Mac, you need to back up your data. You can use Time Machine or a third-party backup app, or you can clone your storage device using a utility like SuperDuper or Carbon Copy Cloner.
A clone is what it sounds like, an exact copy of your drive, so you can use it as a boot drive if the situation warrants it. Time Machine is nice because it keeps multiple versions of your documents, but it takes longer to restore from a Time Machine backup.
Encryption: Third-party and FileVault
Disable any third-party full-disk encryption software you are running. If a problem occurs during the El Capitan upgrade with the third-party encryption, you might not be able to access your data. after your El Capitan upgrade is complete, check with the software developer about El Capitan compatibility before your re-activate the encryption.
If you are upgrading from Snow Leopard and you're using FileVault, you should disable FileVault before upgrading. When you're done upgrading, you can start using FileVault 2, which is an improvement over FileVault.
Next up: El Capitan installation
Preparation is everything, and these tips will help make for a smooth upgrade to El Capitan. Fortunately, performing a standard upgrade is easy. we'll have instructions on how to upgrade to El Capitan when it is released on September 30.
See also:  Where to find and how to recover deleted photos in Photos for Mac
Read more:
You can follow Syncios on Twitter, Facebook for more tips and tricks.
Recommend: do you still feel sad about losing iPhone data? Do not worry, you can try this perfect one click iPhone data recovery tool to retrieve photos, messages as well as contacts, reminders, calendars, bookmarks, videos, notes, call history other files on your iPhone, iPad or iPod Touch. Simply download and have a try.