The first time you double-click the home button after updating to iOS 9, you're in for a surprise.
Just two years after Apple revamped the app switching interface with iOS 7, it's changing it again. Instead of providing thumbnails of apps placed next to one another, Apple has opted to place the same thumbnails in a stack.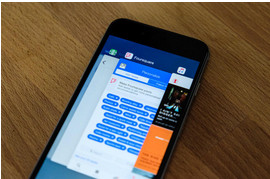 Double-click the home button on your iOS device to view the new interface. In the past, you would scroll from right-to-left to view previously opened apps. With iOS 9, however, the scroll direction has been reversed, requiring a gesture from left to right allowing you to scroll through apps.
Gone are profile icons of your favorite and recent contacts, which were placed above the app thumbnails in iOS 7 and iOS 8. You now access those by opening the new search interface from the home screen of your iOS device.
To force-close an app you still swipe up on the card, tossing it off into the digital void. You can also swipe multiple cards at the same time, using multiple fingers.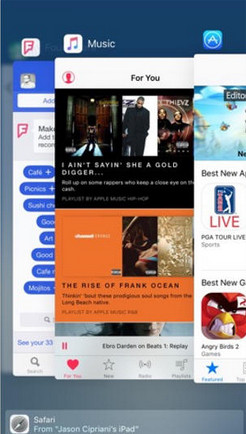 Another aspect of the new app switcher you'll likely notice is a change in how Handoff works. Handoff allows you to quickly open an email, message, or Safari page (just to name a few) on another Apple device without having to email it to yourself. With iOS 9, Handoff is available in the app switcher along the bottom of the screen.
When your iOS device detects content open on another Apple device that's Handoff-compatible, the small bar will show up. You can either tap or slide the bar up to the top of the screen, opening the respective app.
How to manage your iPhone app freely and easily
Are you looking for a free and portable iTunes alternative to quickly organize your iPhone? Here Syncios iPhone App Manager is the perfect replacement to iTunes and allows you to add, backup and delete music, videos, apps, audiobooks, podcasts, playlists, etc on-the-go. The following is a brief guide on how to manage such as install, uninstall, back up and transfer apps between your iPhone and PC with Syncios iPhone App Manager.
Step One: Download and install Syncios iPhone App Manager on your computer.


Note: SynciOS iPhone App Manager requires users to have iTunes installed as well in order to take advantage of all its features.
Step Two: Under My Device, click Apps tab on the left panel of Syncios, and the main window would display all apps installed in your device.
Step Three: Choose operation from Install, Uninstall, Backup.

Install
1. Click "Install" button.
2. Choose apps you have downloaded in your computer to iOS devices.
Uninstall
1. Choose apps installed in your device. Hold down Ctrl/Shift key to select multiple apps.
2. Click "Uninstall" button to uninstall apps from your iPad/iPhone/iPod.
Backup
1. Choose apps installed in your device. Hold down Ctrl/Shift key to select multiple apps.
2. Click "Backup" button.
3. Browse backup location and backup apps from iPad/iPhone/iPod to PC.
Why not download and have a try?



Reference: Cnet
You can follow Syncios on Twitter, Facebook for more tips and tricks.