Galaxy Note 8 vs iPhone 8: Apple's next smartphone is nearly here, so how will it fare against Samsung's latest and greatest?
At the end of August, Samsung unveiled its long-awaited Galaxy Note 8, a powerhouse flagship smartphone will all the bells and whistles you'd expect from a Note-series phone.
It's Samsung's chance to win back consumers after last year's Note 7 recall debacle, and we're impressed so far. With powerful specs, a gorgeous design, and a wide array of useful features, the Galaxy Note 8 is undoubtedly one of the most advanced smartphones ever.
But Apple is also said to be cooking up a new handset, and it's going to be big. The theory is that Apple is working on a special edition iPhone – the iPhone 8, apparently – to celebrate the 10th anniversary since the first Apple smartphone went on sale back in 2007.
With the iPhone 8, we're expecting a major design overhaul, new sensors, and upgraded specs to boot.
Unfortunately, we don't have official details about the iPhone 8 just yet, as Apple hasn't actually announced the phone. But thanks to a healthy selection of leaks and rumours, we're fairly certain about what we'll see from Apple come the expected September launch.
Galaxy Note 8 vs iPhone 8 Design: Which phone will look better?
The Samsung Galaxy Note 8 is an exceptionally attractive phone. For a start, it's got a huge, curved 6.3-inch display, which gives it more screen real estate than most other handsets.
But the real winning design feature is the 'Infinity Display', which we first saw featured on the Galaxy S8 earlier this year. In practice, it means that the overwhelming majority of the front of the Galaxy Note 8 is occupied by screen. This was achieved by scrapping the Home button and shunting the fingerprint sensor to the back of the phone.
It's a new and futuristic design, so barely any manufacturers have managed to mimic it yet – but Apple might with the iPhone 8.
One of the most persistent – and consistent – rumours about the iPhone 8 is that it will feature an all-screen front. We're guessing this means a similar design to Samsung's 'Infinity Display', although likely without the curved edges.
We've already seen plenty of leaks visualising what this will look like, so check it out:
Of course, Apple hasn't confirmed this design decision, but our fingers our crossed. Like Samsung, Apple would be forced to jettison the home button. The working theory is that Apple will scrap the Touch ID fingerprint sensor altogether too, and will instead use a 3D facial recognition system for user authentication.
Galaxy Note 8 vs iPhone 8 Specs: Which phone will be more powerful?
The Samsung Galaxy Note 8 is seriously powerful, boasting a Qualcomm Snapdragon 835 processor based on a highly efficient 10nm manufacturing process, as well as a QHD+ resolution display and a generous 6GB of RAM.
The iPhone, by comparison, will probably have less RAM and a lower-resolution screen, but we imagine overall performance will be roughly the same thanks to the highly-optimised Apple A11 chip we're expecting to see on board.
Samsung's latest flagship comes with 64GB of storage, which is fairly generous as a standard offering – but you can't upgrade, except via a MicroSD card. Apple could move to 64GB by default, but history suggests 32GB is more likely. Still, Apple offered 128GB and 256GB variants with its 2016 flagship phones, so we'd bet on seeing the same this year too.
One of the big new features for the Galaxy Note 8 was the introduction of a dual-camera arrangement. This means that the camera should be more capable in low-light conditions, and will be able to offer better depth-of-field.
However, Apple helped kickstart the dual-camera trend last year with its iPhone 7 Plus – although the iPhone 7 retained a single camera. We'd wager the iPhone 8 – and any other iPhone models that launch this year – will feature a dual-camera system, irrespective of size.
Samsung's Note 8 has a few advantages over many of its rivals, including the bundled S-Pen stylus and a built-in iris scanner. We're not convinced Apple will be offering the former any time soon, but there is a general consensus that the iPhone 8 will feature some sort of 3D facial recognition system. It's believed that the primary use of this will be user authentication, but we could also see it utilised by developers for augmented reality purposes – that sounds fancy, but it probably just means better Snapchat filters in practice.
There are likely to be other minor differences, but we can't say anything for certain until Apple announces the next iPhone – stay tuned.
Related: 4 Methods to Transfer Data from iPhone to Samsung Galaxy Note 8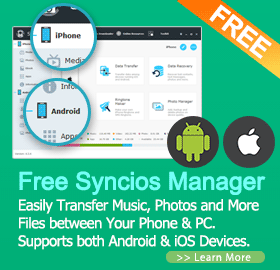 Support to transfer, edit, backup, manage, view iOS & Android mobile data: Music, videos, photos, apps, ebooks, contacts, messages and more.
Download videos from 100+ video sharing sites up to 4K HD video quality and transfer to iPad/iPhone/iPod/Android.
Handy toolkit: Audio converter, video converter, ringtone maker, etc.
Free
You can follow Syncios onTwitter,Facebookfor more tips and tricks.