Problem 1: Can't Install iTunes
This could be an iTunes problem. Check their support communities page to see if others are experiencing the same issues and if a fix is imminent.
If you use Windows Internet Explorer 7 or 8, when you download iTunes a Pop Up Blocker may be preventing download. Go through the download process as advised here: www.apple.com/itunes/download/. After clicking download button, a File Download window will appear.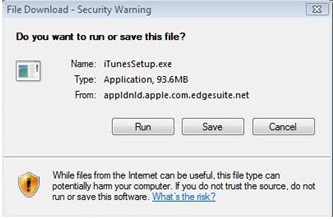 If you do not see this, your Pop Up Blocker may be preventing it. If you use Internet Explorer as your browser you can adjust your settings as follows:
Step 1: Open the Internet Explorer Tools menu
Step 2: Choose Pop-up Blocker and then Pop-up Blocker Settings.
Step 3: In the Pop-up Blocker Settings window, change the Filter level to "Medium: Block most automatic pop-ups" and then click the Close button.
Step 4: Return to the www.apple.com/itunes/download/ and press the Download Now button again.
If using another browser, you will need to visit their site to look for any pop-up blocking software and change the filter level via their instructions.
Alternatively, your firewall software may be blocking installation; in which case a temporary suspension of your firewall is needed during download. If you are still having problems, there can be a number of other reasons.
Problem 2: Error messages as follows
"iTunes might be unable to launch or communicate with iPod or iPhone."
"The iPod (Customer's iPod) cannot be updated. An unknown error occurred (-50)"
"The iPod (Customer's iPod) could not be restored. An unknown error occurred (1418, 1429, 1430, 1436 or 1439)"
Cause: This symptom may be caused by an issue with the digital signing of Windows XP drivers.
Solution: Re-register Certain Windows XP Drivers
Disconnect the iPod from the computer and close iTunes.
Highlight all of the following 10 lines of text that begin with regsvr32 and then choose Copy from the Edit menu of your web browser: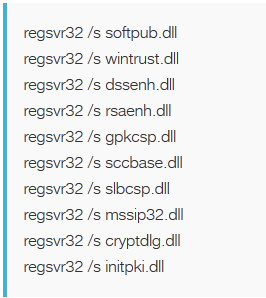 Open the Notepad program by navigating to:
Start > All Programs > Accessories > Notepad
In Notepad, choose Paste from the Edit menu. Note: make sure that the text that appears in Notepad is the same as what is shown above.
From the File menu, choose Save As.
In the File name field type appleipod.bat and save the file to the Desktop.
Close Notepad and locate the appleipod.bat file.
Double-click the file and you will see a black window appear on the screen for about a minute. Wait until the window automatically disappears and proceed to the next step.
The appleipod.bat file can be deleted at this time.
Open iTunes and connect the iPod.
When the iPod appears in iTunes, restore the iPod and resync your content.
Problem 3: Speaker Broken
This may actually be a problem with iTunes not loading. Sometimes iTunes has a glitch for which they provide an update. Search on 'iTunes fixes' to see when updates may have happened.
Problem 4: Can't Save. System Locking
This can happen after an up-date and may be a problem on Apple's part. Check for updates as above.
Problem 5: iTunes will not open or unexpectedly quits
Cause: Corrupted preference files or possibly out-of-date plug-ins.
Solution: Remove Preferences and Third-Party Plug-ins. Delete the following folders:
C:\Documents and Settings\Your Username Here\Application Data\Apple Computer\iTunes
C:\Documents and Settings\Your Username Here\Local Settings\Application Data\Apple Computer\iTunes
C:\Documents and Settings\All Users\Application Data\Apple Computer\iTunes\SC Info
Problem 6: Lost iTunes Library after Hard Drive Crash
Hard Drive crash on computer may make you lose some songs of your current iTunes Library. For the purchased items, you can easily recover them. But for those songs from CDs or downloading website, it seems too hard to retrieve them. Fortunately, if you have a backup in your iPhone/iPad/iPod, you can recover the iTunes even though your Hard Drive crashed.
First and foremost, please get your computer fixed and make sure your hard drive can work correctly now.
Step 1. Download this iOS Manager tool into your computer.



Step 2. Launch iOS Manager and plug iPhone/iPad/iPod to PC via a USB cable.The smart tool will detect and regconize your device in a moment and show them on the interface.
Step 3. Recover your iPhone/iPad/iPod to PC and then add the songs to iTunes Library. Click on Media >> Music, then all your music will be shown on the middle panel. Select the music you want to recover to your iTunes Library and then please click Export to export the music to your PC first.

After that, Open iTunes, click Edit > Add File to Library, select the files that you just transfer to PC by highlighting it and clicking on the Open button at the bottom of the window. Then you finally successfully recover music to iTunes Library.
---
Read More:
Recommend: if you just upgraded to the newest iPhone 6 and would like to move data from old iPhone 4/iPhone 5 to the new iPhone 6, you can have a try this phone to phone data transfer, which can help to transfer everything including contacts, videos, photos, apps, etc from iPhone 4, iPhone 4s, iPhone 5, iPhone 5s to the latest iPhone 6, iPhone 6 Plus. Just download and have a try. You will enjoy more.