Niantic's Pokémon Go has been an enormous success — the downloads have surpassed Twitter and Tinder. Despite the huge bag of love that Pokémon Go has received from the users, it does have certain problems that plague it. In this article, we will explore all the issues in Pokémon Go and the easy fixes for them.
Pokémon Go not available in your country
Niantic's vision is to make Pokémon Go available globally. It hasn't happened yet, but it definitely will eventually. Pokémon Go has been released in a number of countries by now — but there are many where the game is unavailable. If you are an iPhone user, there isn't anything that you can do about it. You will have to wait until Niantic releases the game in your region. On the other hand, some Android users have reported that changing the region in the Play Store to someplace Pokémon  Go has launched enables them to download it.
Pokémon Go causing battery drain
This one is pretty straightforward. Pokémon Go relies on GPS and Internet to track your location — which means that while you're playing the game, both must remain toggled on. This can be pretty disastrous for the battery life. If you spend quite some time playing Pokémon Go, then you might need to get yourself a power pack to last you through the day.
Right now, there is no way to make Pokémon Go less battery consuming. It is expected that Niantic will address this issue and release an update soon.
No Pokémon nearby when playing Pokémon Go
The concept behind Pokémon Go is pretty simple — you step out and find Pokémon and catch them. However, some users have been reporting a problem where no Pokémon pops up in the area, or very few do. The only possible fix for this is to send an email to Niantic stating that your region has too few Pokémon. This issue has also been reported by users who have installed the game in a country where it hasn't been officially released.
Location is not accurate in Pokémon Go
Niantic has said that users should be connected to Internet and the GPS for the location information to be accurate enough. Therefore, make sure that both of these are enabled when you're playing Pokémon Go.
Pokémon Go doesn't install
On Android OS, Pokémon Go has a very particular list of requirements. Your device must have at least 2GB of RAM and must be running Android 4.4 KitKat or above. Further, if your Android device has an Intel processor, then you cannot install the game on the device. You cannot install Pokémon Go on an Android tablet either.
On the Apple side of things, you can be on an iPad, iPhone or an iPod Touch running iOS 8 or above.
Pokémon Go won't open
A number of users in the countries where the game has officially launched have reported that the game randomly logs them out. Niantic has clarified that the underlying issue is nothing but the excessive load on the servers. You can always judge when the server is overloaded when you see the eternally spinning ball on the screen. It is Niantic's responsibility to ensure that the servers stay up and running — and so far, we have seen commendable improvements.
Pokémon Go says 'GPS signal not found'
A number of users have been getting this error for a variety of reasons. As it turns out, you might have the GPS disabled without knowing it.
iOS users should head over to Settings > Privacy > Location Services. Switch on the 'Location Services'. Android users should make sure that Location is turned on, and GPS, network and WiFi — all three are enabled. Further, even if you're using mobile data to catch Pokémon, make sure that WiFi is turned on. It enables the phone to gauge a more accurate location.
Read also: How to backup Pokemon Go on Samsung Galayxy S7/S7 Edge
---
Recommendation: Manage iPhone/iPad/iPod without using iTunes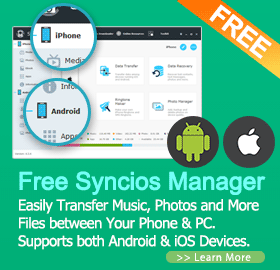 Support to transfer, edit, backup, manage, view iOS & Android mobile data: Music, videos, photos, apps, ebooks, contacts, messages and more.
Download videos from 100+ video sharing sites up to 4K HD video quality and transfer to iPad/iPhone/iPod/Android.
Massive free resources: videos, wallpapers, ringtones
Handy toolkit: Audio converter, video converter, ringtone maker, etc.
Free
You can follow Syncios onTwitter,Facebookfor more tips and tricks.