Apple is known to push the envelope with every iPhone model and the brand new iPhone XS (Max) is no such exception. While the iOS device is packed with numerous features, it does have some shortcomings. Just like any other smartphone, your iPhone XS (Max) can also stop working at times. For instance, getting an iPhone XS (Max) won't turn on or the iPhone XS (Max) screen black are some unwanted issues that people face these days. Don't worry – there are numerous ways to fix this. I have handpicked some of the best solutions to fix the iPhone X not turning on problem right here.
Part 1: Force Restart your iPhone XS (Max)
Whenever an iOS device seems to malfunction, this is the first thing that you should do. If you are lucky, then a simple force restart will fix the iPhone X black screen problem. When we forcefully restart an iOS device, it resets its ongoing power cycle. In this way, it automatically fixes a minor issue with your device. Fortunately, it won't delete the existing data on your phone as well.
As you know, the process to force restart an iOS device vary from one model to another. Here's how you can forcefully restart your iPhone XS (Max).
Firstly, you need to quick-press the Volume Up button. That is, press it for a second or less and release it quickly.
Without waiting anymore, quick-press the Volume Down button.
Now, press and hold the Side button for at least 10 seconds.
Keep pressing the Side button till the screen would vibrate. Let go of it once you see the Apple logo on the screen.
Make sure that there is no substantial gap or delay between these actions in between. During the force restart process, the screen of your iPhone will go black in between as the device would be restarted. Therefore, to get the desired results, don't let go of the Side button until you get the Apple logo on the screen.
Part 2. Charge iPhone and Force Restart
Your iPhone X might face the problem of drained battery. This problem can usually occur in your iPhone where you forget to charge appropriately. When you iPhone X runs out of battery, your iPhone may become unresponsive.
Sometimes even with the charging, you cannot seem to turn on your iPhone X. This happens because firmware ends up crashing your device. It further fails to respond to the connected charger. As time goes on, you will see that  it starts to respond to your request. Follow the critical steps below to turn your phone back to normal.
Step 1. Get your original charger and plug it into your iPhone X.
Step 2.  Leave the phone just like that for 10 to 15 minutes at least, even if it doesn't turn on.
Step 3.  Press the button of volume up and release it immediately.
Step 4.  Press the button of volume down and release it quickly.
Step 5.  Press the lock button with your thumb and hold it. Do not release it until the Apple logo appears.
Step 6. Your iPhone X would run correctly after this.
Part 3: DFU Restore iPhone with iTunes
Alternatively, you can try restoring your iPhone in DFU mode using iTunes. If there are some iOS issues and your iPhone is not responsive, then this can help the device interact with iTunes without loading the operating system or boot loader. Here is the guide for DFU mode restore for iPhone XS/XS Max:
Step 1: Get your iPhone XS/Max connected to a computer through a lightning cable. Launch iTunes in the computer.
Step 2: Quickly tap the 'Volume Up' button on your iPhone.
Step 3: Now, quickly do the same with the 'Volume Down' button.
Step 4: Press and hold the 'Sleep/Wake' button now and let the iPhone screen turn pure black.
Step 5: Now, hold the 'Volume Down' and 'Sleep/Wake' buttons together for 5 seconds. Lift your finger from the 'Sleep/Wake' button but continue holding the 'Volume Down' button for another 10 seconds.
Step 6: If you've successfully entered your iPhone XS/XS Max in DFU mode, 'iTunes has detected iPhone in recovery mode' message will now flash up your PC screen but your device screen will remain black.
Step 7: Hit on 'Restore iPhone' button on iTunes and confirm your actions.
Tip 4. Update iPhone X Apps to the Latest Version
Bad applications can cause your phone to freeze and blackout. These applications usually halt the process of booting up. The critical solution for this situation is to update app version. An update always ensures that your application starts to behave naturally. Sometimes it is difficult to make sure that you have updated all your installations appropriately. The primary reason may be that you have cancelled the auto-update option. Follow the instructions mentioned below to ensure that you don't end up facing blackout problems again.
Step 1.  Go to the app store on the home screen of your iPhone X.
Step 2. Keep scrolling down and go to the updates section. It will show you a list of all the pending updates of apps.
Step 3. Tap update all and wait for the apps to get updated.
Ensure that all the apps are updated after you have successfully restarted the phone. This step will make sure that the same situation does not occur again.
Part 5: Contact Apple Support to check if it's a hardware issue
With dr.fone – Repair (iOS System Recovery), you would be able to resolve all the major software-related issues with your device. Though, chances are that there could be a hardware problem with your phone as well. If none of the above-mentioned solutions would be able to fix it, then there can be a hardware-related issue with it.
To fix this, you need to visit an authentic Apple service center or get in touch with their support team. You can get to know more about Apple's service, support, and customer care right here. If your phone is still in the warranty period, then you might not have to pay for its repair (most likely).
Tip 6. Restore iPhone Through iTunes (Data Loss)
You can choose this if none of the above works for you. It is possibly the last solution that helps in dealing with this problem. This method also concerns with both Mac or windows. Follow the steps below to solve your problem permanently.
Step 1. Install the iTunes on your computer, then launch it.
Step 2. Connect your iPhone X with computer using an original Apple USB cable.
Step 3. Push to volume up button Adidas it quickly. Repeat the same process with volume down button.
Step 4. Press the power button with your thumb and hold it. Don't even release it when the Apple logo appears on your screen. When 'Connect to iTunes' appear on your screen, release the button.
Step 5. Navigate the iTunes app and it would give you options to either the Store update.
These are the few critical tips that can drive your iPhone X back to normal. You can use either of them without being afraid of any technical issue. It hubs many individuals to deal with the appropriate problem.
Tip 7. Restore iPhone Through iPhone Data Recovery (No Data Loss)
Syncios Data Recovery is an all-in-one iOS Data Recovery tool which can help you recover data from iCloud backup, iTunes backup to your device without overwriting current data. What's more, this handy iPhone recovery tool also helps you to directly recover deleted/lost data from your device. If you tired all the tips above and suffered from data loss from the process, Syncios can 100% cover your back.
Step 1: Download and launch Syncios Data Recovery.
Download and install the great data recovery tool below for free, there are both Windows version and Mac version available, just select the compatible one to install and then launch it.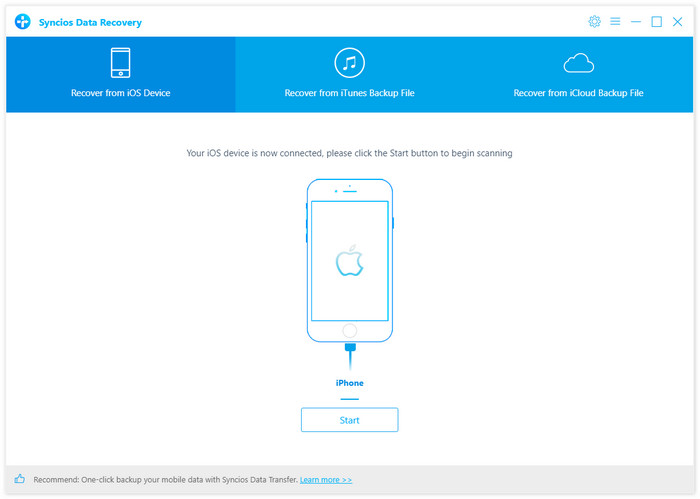 Step 2: Scan your device to locate lost data.
Connect your iPhone or iPad to the program with an USB cable, select Recover from iOS Device mode on the main interface, click on the Start button. You are allowed to select your desired data to scan if you don't want to do a full scanning of your device. Then click on Next to start scanning your iOS device, it may take some time according to the size of your data.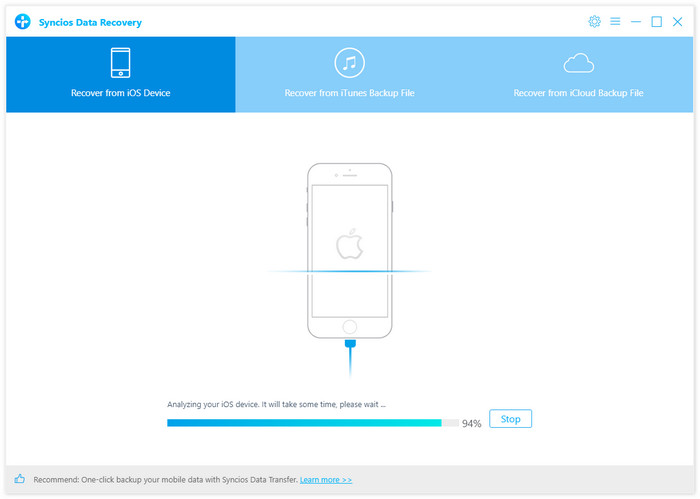 Step 3: Select lost data to recover to PC or device.
After Syncios Data Recovery finished scanning and analyzing your iOS device, all found data would be listed on the panel. You can simply click on each category to check, click Only display deleted data to find your lost data easily. Then select your desired data and click on the Recover to Computer or Recover to iPhone(device name) button to retrieve them back.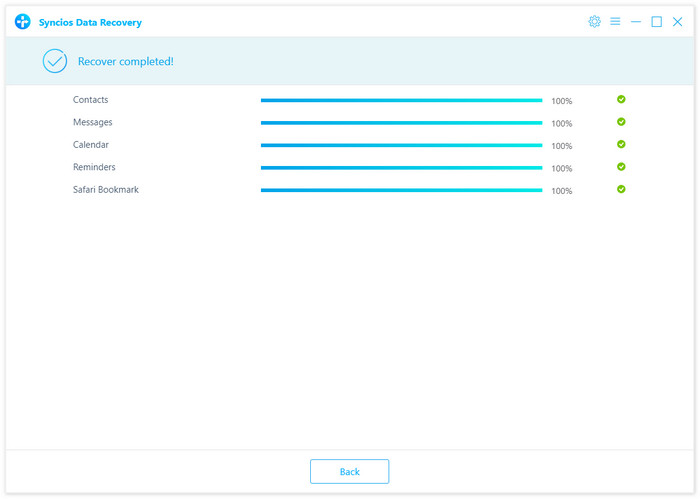 You may also want to read: