IFA is fast-approaching and the geekiest among you already know what smartphones and technologies we are going to see. Skepticism is in the air. "More useless devices or $1000 smartphones," you say? There is a grain of truth to that, it must be conceded, but Berlin's tech event could be more interesting than you think this year. Here's why.
Quality smartphones (at fairly affordable prices)
Let's not get carried away here. The term 'affordable' is subjective. But we're are talking about a price well below the $1000 mark that is becoming more and more common on the market. Several manufacturers today are hovering around the 1k mark (Apple with the iPhone X, Samsung with the Note 8 and Note 9, Huawei with its Porsche Design Mate RS, OPPO with the Find X…), but it's good to remember that there are good smartphones out there for half (or even less than half) the price of these flagships.
During IFA, Honor should present a new device dedicated to video games: the Honor Play (not much energy was put into the name). Unless it is drastically going to change its ways, Honor won't be charging more than €500 ($580) for this. On the Chinese manufacturer side, Motorola should present the successor to the Moto X4 which, let us recall, was a €400 phone. Will it be the Moto X5? Possibly, but we're not certain. ZTE will also be there, undoubtedly with a new affordable smartphone. HTC will also present something, but its projects are rather vague at this stage.
Other manufacturers will, of course, also be present and may surprise us – we're looking at you, Nokia! What seems certain is that Huawei's Mate 20, if it shown at IFA, will probably be closer to the $1000 mark than $500, but we will have to wait and see.
Note that, if you are one of the people who think the smartphone market has stagnated, that all the phones look the same and interest is waning, then IFA is probably not going to change your mind. However, as you will see in our second reason to be excited for IFA, other technology sectors are different.
New technologies
IFA is about more than just smartphones, more technologies will be on show. For example, Primax will be there with its 8K VR headset (all right, all right, VR still has to win over the general public, but still…). There will also be many other areas of the tech-sector showing off products such as smart home (companies such as Somfy will show their products) or the television market with 8K screens. In short, beautiful technologies and probably beautiful (expensive) products will be everywhere.
One of the most interesting technologies of the moment, and perhaps the most important is Artificial Intelligence. This is the theme that Jo Seoung-Jing, LG Electronics' president, will go with during the opening conference. He will obviously take this opportunity to explain LG's vision on this subject with his ThinQ range, but whether at his conference "Think Wise, Be free, Living Freer with AI" or during another, we should discover some new features and applications for AI that we hope will (finally) really benefit the user.
Better, more useful AR
Augmented reality is also experiencing something of a boom period. Unlike its big brother, virtual reality, which is struggling to impose itself, augmented reality has succeeded in finding many applications for the general public. The technology is best known in the video game industry and was popularized in recent years by Pokémon GO, but many new industries (and new applications) have emerged since: IKEA has its layout application, LEGO has a free AR app as well, etc.
At IFA, we will see developers presenting their AR applications and perhaps even manufacturers showing off their products. We may even discover more professional applications for the technology in the fields of medicine and tourism.
Satisfy your curiosity
One of the best things about IFA is that you can see original products and even some totally bizarre ones. To illustrate this point, we can look at NEOWAYZ, which we discovered last year, the pocket gynecologist which can (among other things) test sperm fertility. Two years ago, we met the guys behind SGNL, a phone bracelet that lets you hear calls through your fingertip!
What are we going to discover this year? It is impossible to know in advance, but finding rare pearls requires hours of research wandering the corridors of IFA and long waiting lines to get your hands-on experiences.
Technology from around the world
The IFA event is open to everyone and, as is tradition, we will see companies from all over the world presenting their products. Some exciting French companies will be attending this year, such as Somfy. There are also a lot of start-ups who go to IFA to look for contracts that can kick-start their international commerce.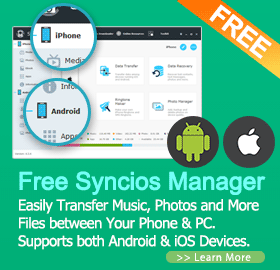 Support to transfer, edit, backup, manage, view iOS & Android mobile data: Music, videos, photos, apps, ebooks, contacts, messages and more.
Download videos from 100+ video sharing sites up to 4K HD video quality and transfer to iPad/iPhone/iPod/Android.
Handy toolkit: Audio converter, video converter, ringtone maker, etc.
Free
You can follow Syncios onTwitter,Facebookfor more tips and tricks.