It's official, the ZenFone 2 is coming to the USA! Announced at CES in January 2015 for global markets, the ZenFone 2 is easily the best Android smartphone by ASUS and is one of the most anticipated smartphones of the year, featuring high-end specs, a big screen and hot looks that are sure to get noticed.
The ZenFone 2 features a quad-core Intel Atom processor inside, along with 4GB of RAM. And it's coming in colors that are sure to be noticed. Plus, it's a ridiculous 3.9mm at its thinnest point. The ZenFone 2 sports a 5.5-inch, 1080p display covered by Gorilla Glass 3. It's running Android 5.0 Lollipop and will come with as much as 64GB of internal storage, and include 5GB of ASUS web storage. Plus, it'll take a microSD card. Add a 13-megapixel camera and 3,000 mAh battery and it's clear why this is one of the hottest unlocked smartphones of 2015.
The phone was re-introduced to the U.S. and Canada at an event in New York City in May, where it was announced that the phone was to go on sale May 19. The ZenFone 2 is completely unlocked and contract-free, letting you choose whatever carrier you wish.
Five reasons to buy the ASUS ZenFone 2
1.The internal hardware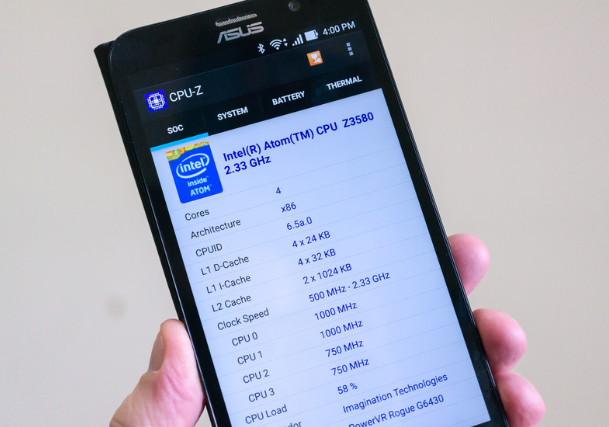 For starters, we really have to recommend anyone shopping for a new ZenFone 2 look at the "premium" model with 64GB of storage and 4GB of RAM. We're not knocking the other model, but the higher-end version is a much better bargain.
The Intel ATOM CPU paired with the 4GB of RAM means that most everything you want to do on the ZenFone 2 is going to be fast. Forget benchmarks, we mean actually doing things like playing games or rendering video or even browsing the web. Apps open fast and are responsive — easily as fast and responsive as any 2015 Android phone. The ZenFone outperforms its bargain price point.
2.Solid wireless connections
Be it Bluetooth, Wifi or a cellular connection, the ZenFone 2 wireless radios are some of the best we've ever seen. You'll stay connected to your carrier longer, have a better range, and have higher data transfer rates with the ZenFone 2 than you will with most other Android phones out there. We don't know what kind of magic dust Intel sprinkled into the hardware, but we're glad they did it.
Add in the fact that the ZenFone 2 is unlocked and works on every North American GSM carrier, and you have a great phone that does the "phone" things well.
3. The curved back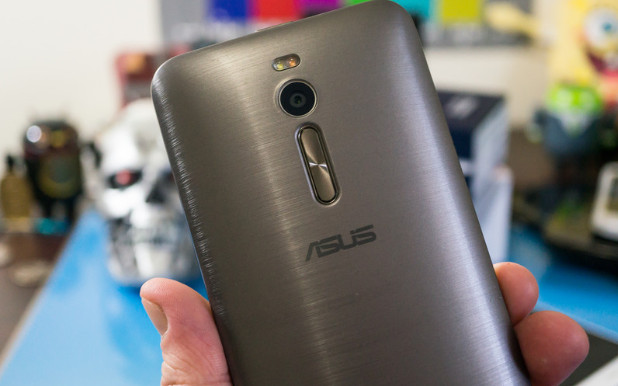 ASUS might have put the power button in an awkward place, but they did a solid when it comes to making the phone comfortable to hold. The rear of the ZenFone 2 has a curve where the center is thicker than the edges, and it makes holding the phone in your hand comfortable — even during long calls. You'll also be able to easily adjust the volume by feel because of the back-mounted volume rocker.
You'll not have the feeling that you're going to drop it because you're only holding the edges. For folks who talk on the phone a good bit, little things like this can mean a lot.
4. The Flip case
Love them or hate them, the "smart" Flip case for the ZenFone 2 works very well.
The circular window and settings make for a quick way to get information about calls and messages you have missed, or get a detailed weather forecast, and even a quick way to fire off the LED flashlight.
We've see interactive folio covers from all the "big" names in Android, and it's nice seeing the same level of detail (and functionality) in a phone that doesn't crush your wallet.
5. It won't break the bank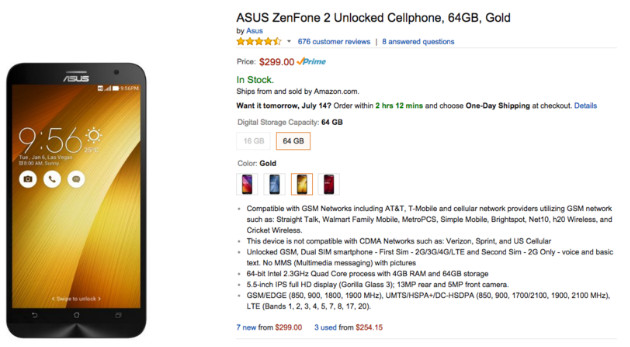 If you want high-end performance and great quality and durability in your next phone, but would rather not part with $500 or more, the ZenFone 2 is a phone you need to look at.
You won't be able to find another phone with a 64-bit quad-core CPU, 4 GB of RAM and 64GB of storage (plus an SD card slot) for under $300. That's not even mentioning that the ZenFone 2 works on most carriers around the globe, or has a dual-SIM configuration, or it's own feature-packed user interface.
Whether you want to play games, or be able to stay in touch with friends and family, or just surf the web on your downtime, the ZenFone 2 will serve you well.
It's definitely a phone you need to consider if you're looking for something new.
Source: Androidcentral
---
Read More:
How to Sync iPhone Contacts to Android
How to Transfer data from Android 5.0 to Android 6.0 Marshmallow
Advantages & Risk of Rooting Android
You can follow Syncios onTwitter,Facebookfor more tips and tricks.
Recommend: if you would like to contacts from old Android Phone to new iPhone, you can try this perfect one click data transfer tool, migrate everything, including SMS, Contacts, Videos, Photos, Call logs and more from phone to phone. Simply download and have a try.