Steve Jobs may have been adamant that the iPad would never ship with a stylus, but more and more evidence is mounting that the upcoming 12.9-inch iPad Pro will do exactly that.
Today, the U.S. Patent and Trademark Office published an application from Apple for something called "Continuous Handwriting UI," describing how a future iPad could be geared toward picking up and understanding handwriting.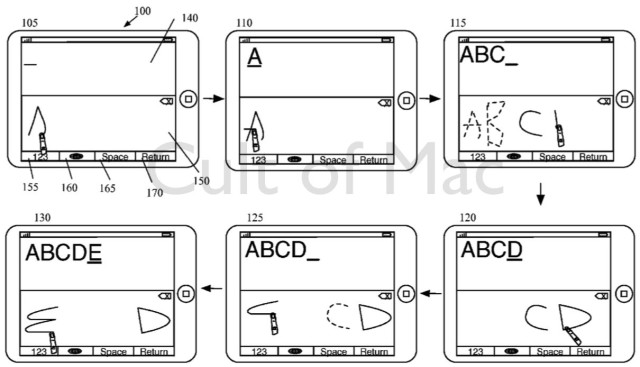 While there are plenty of third-party tools which allow users to write and draw onto their iPad screens using a stylus, this official Apple user interface element would let people write continuously on their iPads, with the writing gradually fading as they did so in order to provide more blank space.
In some iterations of the patent application, the user interface would feature a virtual button allowing users to switch between handwriting recognition mode and a virtual keyboard. Both would have the effect of inputting text, but each would have its own specific use cases — say, writing a letter vs. taking notes in a meeting.
As any long-time Apple fans will doubtless be aware, Apple has long been working on handwriting recognition — something which (in)famously arrived in the early 1990s with the Newton. Although the Newton went on to develop into an extremely underrated and enormously influential product line, in its early days Apple's attempts to create a handheld device able to pick up cursive handwriting proved too much for the company's engineers.
I wonder what a difference 20+ years will make?
Reference: Cultofmac
See also: how to Transfer Kindle Books to iPad (iPad mini supported)
You can follow Syncios onTwitter, Facebook for more tips and tricks.
Recommend: if you would like to manage your iPad data or transfer content between iPad and PC freely and easily, just go here to learn more. Simply download the free version and have a try. You will enjoy more.