Ringtones are the sound your mobile phone makes when it rings or when you receive an sms message. iTunes charges at least 99 cents for ringtones to your iPhone, even if there are plenty of songs in your music library already. Syncios has a large and growing collection of free ringtones on this site spanning many categories. You can simply free download the iphone ringtone and add to your iPhone directly.
First of all, you need to download the free Syncios.
Free Ringtone Downloading
Step 1: Click Online Resources tab and choose Ringtone from the left panel.
Step 2: Find Ringtone you like. You can listen to the ringtone, Download the rington to PC only or Import the selected ringtone to connected device automatically.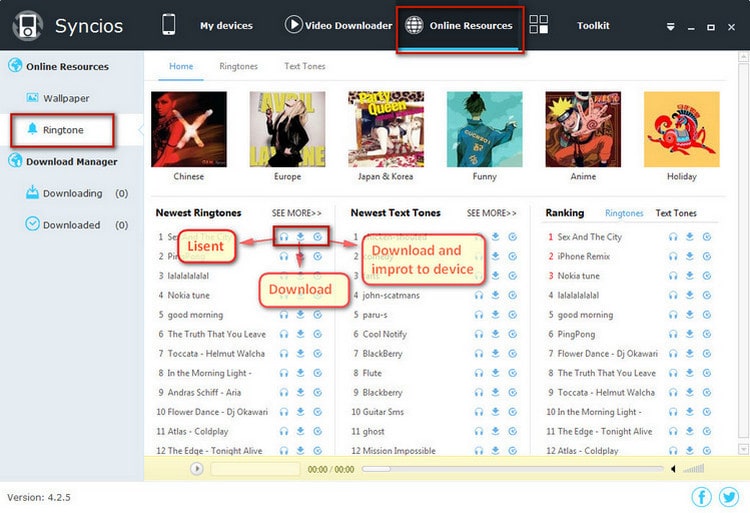 Step 3: Wait until the ringtone downloading finished and it would display under the Downloaded list. You can alsoStart, Pause, and Delete the ringtone downloading progress.
Free Ringtone Downloaded
You can import downloaded ringtone into connected device. You can also select and delete unwanted ringtone.
Step 4: Go to Downloaded > Ringtone, check downloaded ringtone you would like to import to your device. Hold down the Ctrl/Shift key to select multiple ringtone.
Step 5: Click Import button to import ringtone into connected device.
Step 6: Go to your iOS device, click Settings > Sounds > Ringtone, and you would find the ringtone.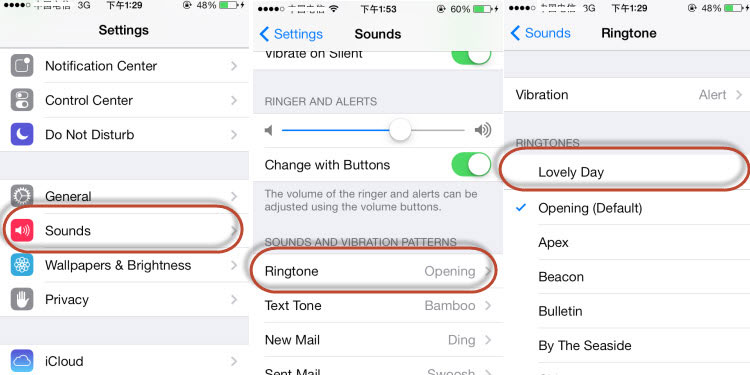 Please Note: Under Settings > Online Resources, you can open and change the ringtone download location.
If you can't find the ringtone, you like, you can also make your own ringtone with the music file in your computer. Here is how to make your own iPhone ringtone.
You can follow Syncios on Twitter, Facebook for more tips and tricks.