We've had a few people this week ask us about not restoring from their backups when moving from an old iPhone or iPad to a new model. "Is it smarter?" "What data am I going to lose?" "I just want to speed up my device!"
Well, first off: If you're upgrading to a new iPhone or iPad, you shouldn't need a clean install to speed things up — the hardware upgrades alone will do that. But if you're still interested in performing a clean install, read on.
What does "clean install" mean?
When we talk about clean installs, there are two kinds people think of:
Reinstall and restore from backup: This is usually done on a single phone or tablet. If your iPhone or iPad is slow, you can make an iCloud (automatically encrypted) or encrypted iTunes backup, reinstall and restore iOS, then restore from the backup when you get to that part of the setup screen.
New device, no restore: You back up the old device but set up the new iPhone or iPad as a new device. You can piecemeal installation of apps and content, but you'll have to sign in and redo all your settings.
What you'll keep and lose when setting up your iPhone as new
Lots of people like this latter "clean install" option for new devices because it allows them a fresh start on setting up their apps, settings, and the like. And while in my opinion, no one on iOS needs to do that sort of clean install for system health, there are still those that prefer it.
Thankfully, whether you're doing so because you have too many apps, you want to reconfigure your new iPhone or iPad, or what have you, you won't lose too much information thanks to your iCloud account's syncing features — that is, assuming you've turned them on for your old iPhone before attempting to set up your new one.
Log in with your iCloud account when setting up as new, and here's what you retain:
Photos (either the last 1000 or, if you have iCloud Photo Library enabled, your entire library)
Health data (iOS 11 and later)
iCloud email (other accounts you'll have to manually re-add in the Settings app)
Records of your purchased apps and app data—no apps will download automatically, but you can go into App Store > Updates > Purchased to restore them on an app-by-app basis.
Contacts
Messages (iOS 11 and later)
Some music (All if subscribed to Apple Music; otherwise, purchased music will be available for re-download from the Music app)
Safari bookmarks and passwords (if iCloud Keychain is enabled)
iCloud Drive documents
Calendars
Reminders
Notes
iBooks
News preferences
Wallet history (but not Apple Pay cards)
You'll lose the following, however:
On iOS 10 or earlier, all Health data (only stored in iCloud backups and encrypted iTunes backups, and you can't restore selectively)
Photos not backed up to iCloud Photo Library or My Photo Stream
Apps and any app data not stored in iCloud
Music synced from iTunes
A special note on health data
From iOS 11 on, you'll have the option to sync your Health data to iCloud. If you enable this feature and allow it to sync, you'll be able to do a "clean" install of future versions of iOS without losing your workouts, activity, and other information — AKA not losing the bulk of your Apple Watch's synced data. (If you start from scratch, you'll still lose other Apple Watch features, including custom watch faces, app organization, and the like.)
Currently, I wouldn't recommend doing a clean install on your new iPhone if you're moving from an iOS 10 device to iOS 11, because you'll lose any Health and other Apple Watch (if applicable) data. If you're on iOS 11 or later, you do have that option, though I would keep your current iPhone as-is while setting up your new iPhone, so you make sure your Health data and the like does indeed transfer.
---
Recommendation: Manage iPhone/iPad/iPod without using iTunes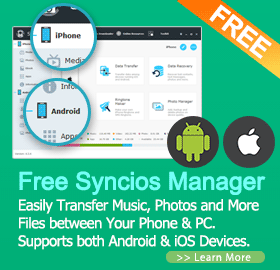 Support to transfer, edit, backup, manage, view iOS & Android mobile data: Music, videos, photos, apps, ebooks, contacts, messages and more.
Download videos from 100+ video sharing sites up to 4K HD video quality and transfer to iPad/iPhone/iPod/Android.
Handy toolkit: Audio converter, video converter, ringtone maker, etc.
Free
You can follow Syncios onTwitter,Facebookfor more tips and tricks.