As a WhatsApp user, you are most likely familiar with the two blue ticks found next to your messages indicating that your message has indeed been read by the recipient. These are called Read Receipts, and this feature can be a double-edged sword. It is indeed useful because you are given a heads-up that your contact has ready your message. On the other hand, you can't really pretend you haven't read the message when in fact you did, putting the other person in an awkward place called "the seen zone." For some people, it could be a privacy thing.
Fortunately, you can easily enable or disable Read Receipts on WhatsApp at will. Be advised though, if you disable Read Receipts on WhatsApp, you won't be able to see your contacts' read receipts. Except when you choose to install a jailbreak tweak (more on that below).
How to disable Blue Ticks aka Read Receipts on WhatsApp for iPhone:
Open WhatsApp from your iPhone.
Tap Settings located at the bottom-right corner of the screen.
Tap Account.
Tap Privacy.
You should see Read Receipts as the last option, toggle the switch to OFF to disable this feature.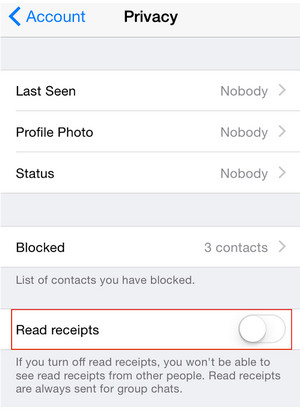 As simple as that! Now the sender of the message will not receive a blue tick even if you have read his or her message. Again, this also prevents you from receiving read receipts from your contacts. However, if you are jailbroken on iOS 9, you can install a tweak called "WhatsApp Read Receipt Disabler" which disables Read Receipts on their side but you'll still get blue ticks in yours.
Source: jaxov
Read More:
How To Backup And Restore WhatsApp Messages On iPhone (iPhone 6S/Plus included)How to Recover Deleted WhatsApp Messages On iPhone
You can follow Syncios on Twitter, Facebookfor more tips and tricks.
Recommend: if you would like to transfer music, videos, apps, notes, photos, etc between your iPhone and computer without using iTunes, you can try this perfect iOS data manager tool, migrate everything, including SMS, Contacts, Videos, Photos, Call logs and more from phone to PC or Mac. Simply download and have a try.