Oreo is the newest version of Android, Google's mobile operating system. The updated software, which has been available for the last few months in developer beta, will arrive on devices by the end of the year.
It's been a long guessing game about what the "O" in Android O stands for. For the uninitiated, Google names each new version of Android alphabetically and after a candy or sweet. For example, the most recent version was dubbed Nougat. Before that was Marshmallow, and before that Lollipop. Oreo will be Android 8.0, following Nougat.
Theories making the rounds predicted either that "O" stood for Oreo or that Google was trolling everyone by timing the announcement during Monday's solar eclipse. Google unveiled a statue of the newest dessert-themed update at 14th Street Park in Manhattan on Monday, just as the eclipse's high point started trailing off.
The unveiling was across the street from the Chelsea Market, where the original Nabisco factory was located. That's where the first Oreo was invented.
This is the first time that Google has revealed the next Android statue somewhere other than on its Mountain View, California, headquarters, where a giant lollipop, ice cream sandwich and jelly beans grace the grounds.
One of Android Oreo's biggest focuses is better battery life for the hardware running it. For example, Google will limit what apps can do after they're launched on your phone but not actively in use. For example, now apps won't be able to do as much with location updates while they're running in the background — which can normally be a big battery suck.
When can we get Oreo?
The update will be available by the end of the year on devices from handset makers including Samsung, Sharp, Sony, Essential, General Mobile, Huawei, HTC, Kyocera, LG, and Motorola. For Google devices like the Pixel phone, Nexus 5X and 6P, the update will start rolling out in phases "soon."
Pixel and Nexus owners should be the first to expect Oreo to roll out on their devices, Kamdar said. He added that Android was working with major partners to have their devices launch with Oreo or be upgraded with it before the end of 2017.
15 best features of Oreo you would like to know:
1. New emojis
Google redesigned Android's emojis. They now look more cartoonish, and it's easier to decipher exactly what each face is intended to convey.
In fact, Google took the time to write a goodbye letter to Android's longstanding blob emojis.
2. Picture in picture
With Android Oreo, you can continue a video call from Duo or watch a video started in Chrome using the picture-in-picture mode. Using it is simple — just tap the home button when the video is playing and Oreo takes care of the rest.
3. App shortcuts and widgets
Starting with Android Nougat, users could long-press on an app icon to use app shortcuts for common tasks. With Oreo, the look of shortcuts has been refined, and you can now access an app's widgets from the shortcut menu as well as its info screen.
4. New settings menu
The Settings app has once again been redesigned. The slideout menu is gone, and settings have been recategorized. This is going to take some getting used to, no doubt.
5. Smart text select
Instead of fiddling with text selection tools, Google is adding smart text select to Android Oreo.
This GIF shows how it will work: Basically, Oreo will identify things like addresses or phone numbers on its own. Double-tap the text to auto-highlight what you need to copy, or use the new app shortcut next to the Copy button to speed up the interaction.
6. Scanning apps for safety
To reassure users, Google is making its security measures more prominent throughout Android Oreo.
This menu is found in the Settings app under Security, where you can view how often apps are scanned and when they were last scanned. Presumably, this section will also help you deal with an app Oreo deems unsafe.
Google Play Protect is not just available for Oreo users, with Google recently announcing availability across all Android devices.
7. Auto-enable Wi-Fi
If you disable Wi-Fi when you're away from home, you'll never have to remember to turn it back on again.
Android Oreo offers the option to have Wi-Fi turn back on when you're near a known, safe Wi-Fi network, such as your home.
8. New battery settings
Android Oreo battery usage stats are getting a little more granular.
When you view an app's usage stats, it now includes how much battery was due to active use or in the background.
9. Night Light slider
You can adjust the intensity of the blue light filter when using Android's Night Light mode.
10. Change the shape of app icons
You can now adjust the shape of app icons without installing a theme or launcher. Currently, there are four different options (left to right): square, rounded square, squircle and teardrop.
Find the setting with a long-press on the home screen and tap Settings. It's unclear if the ability to change the shape of app icons in Oreo will end up being limited to the Pixel launcher, or if it's a feature coming to all Oreo devices.
11. Persistent notifications get smaller
Persistent notifications are annoying, but part of Android. With Oreo, those notifications will be less prominent.
You can still view the entire notification with a tap, but by default, the notification will be minimized.
12. New Quick Settings look
Quick Settings tiles get a new look and icons yet again.
13. Notification Dots
Notification badges aren't just for iOS now. Starting with Oreo, Notification Dots appear on an app icon when you have a pending alert. Hate the idea? Yes, you can disable them.
14. Autofill passwords… in apps
Google is extending its autofill tech beyond Chrome and into apps. This screenshot is from Snapchat, which isn't yet updated for Oreo, but I was still prompted to let Google fill in my credentials and log me into the app. Password managing apps, such as 1Password, will also have the option to support autofill within apps.
15. Snooze Notifications on Android Oreo
This is pretty cool — with Android Oreo, you can snooze notifications with a quick swipe and tap. If you have a text message or email you want to deal with later, swipe to the right on the notification until you see the clock icon. Tap on the clock, select the amount of time you want to snooze it for and then go back to what you were doing.
---
Recommendation: Manage iPhone/iPad/iPod without using iTunes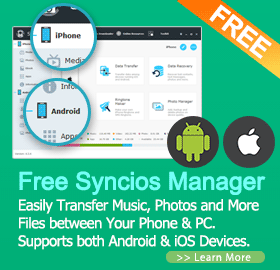 Support to transfer, edit, backup, manage, view iOS & Android mobile data: Music, videos, photos, apps, ebooks, contacts, messages and more.
Download videos from 100+ video sharing sites up to 4K HD video quality and transfer to iPad/iPhone/iPod/Android.
Handy toolkit: Audio converter, video converter, ringtone maker, etc.
Free
You can follow Syncios onTwitter,Facebookfor more tips and tricks.