1.

Samsung Galaxy S8

Samsung has taken the best phone around and made it even better with an impressive screen and design. It ticks a shed load of boxes you'd want a flagship to do. It's the best phone of 2017 so far but it is expensive and the biometrics are a let down. We're keen to see what the likes of Apple, HTC and OnePlus can do to challenge.
2.

Samsung Galaxy S7 edge

 The Galaxy S7 edge is no longer the semi-gimmick it was before. Although some of the main features are things from the Galaxy S5 – Micro-SD and waterproofing – Samsung has given fans what they want. It's now a refined, sophisticated and highly desirable piece of technology. The battery isn't removable but the phone lasts longer than before and has seriously powerful specs under the hood. It has almost everything you could want from a phone even though the IR blaster is gone. We're also very impressed with the new camera and unless the screen is too big for you (despite some software features to help out) we think it's worth getting the S7 edge for the extra £70 with its gorgeous looks and extra functionality. Right now, this is the best smartphone money can buy.

3.

LG G6

The LG G6 is no doubt a striking smartphone. Metal and glass shimmer while the huge 18:9 screen is impressively brought to life with the improved software and its rounded corner design. It is a more refined smartphone than both the G4 and G5, and should appeal to a broader audience – even if its features aren't the same globally.

There's a lot to cover with the G6, and it's a complicated phone to assess. The differences in hardware and the tweaks in software mean that is a phone that reveals itself to you slowly than the immediacy of, say, a Samsung Galaxy S. The design looks uniform at first until you realise how well it all comes together.

LG has quietly managed to build a mature phone with next to no bezels and some genuinely unique tweaks to software, leaving it feeling fresher and more creative than any Android phone we've seen for a while.
4.

Sony Xperia XZ Premium

The Sony Xperia XZ Premium is a stunning smartphone, both in terms of design and performance. The mirror-like look isn't for everyone due to the appearance of smudges, but it helps provide an elegant, high-end look. The 4K HDR display is one-of-a-kind, bright and vibrant, and shows off snaps taken by the impressive Motion Eye camera perfectly. The camera itself can handle almost anything you can throw at it, although performance does slip in low-lit conditions and the super slow-mo video mode takes some practice. If you're looking for a gorgeous high-end smartphone with a huge focus on display and cameras with above average battery life, the Sony Xperia XZ Premium is a solid option.
5.

HTC U11

There's a lot to like about the HTC U11 and while it certainly has flagship level specs, it's hard to differentiate in the market against the likes of Samsung and LG. The glossy and colourful design is fresh but won't be for everyone, even though we're glad it's finally waterproof. The key is wether you want the squeezable Edge Sense feature which is useful at times but not something we're blown away by.
6.

OnePlus 3T

The OnePlus 3T will be unfairly compared, for now at least, to the phone that came before it. So let's ignore it. On its own, the OnePlus 3T is everything a modern smartphone should be; slim, fast, and responsive, with above average battery life and cameras that produce stunning images. And then there's the price. OnePlus may not like being known for it, but £399 remains an absolutely amazing price point for the phone on offer.

As long as you don't want an iPhone, this Android handset stands side by side with the Samsung Galaxy S7 as the best example of a smartphone on the market today – once we've all got over that it came a little sooner than we had expected.
7.

Xiaomi Mi6

This really is an amazing phone, and only the Chinese software puts us off recommending it for a UK audience. It is crazy fast, crazy beautiful and crazy priced. If you know your way around Android go and get one, and you won't be disappointed.
8.

Google Pixel

The Pixel has plenty going for it: it's small, well built, speedy and has excellent cameras. It also supports Google's Daydream VR headset and runs the plain version of Android 7 – complete with Google Assistant – and will get timely updates. But it isn't waterproof, doesn't have a microSD slot or stereo speakers and we'd have preferred a quad-HD screen for VR use at this price. If those downsides don't bother you, and the OnePlus 3T is too large, then the Pixel is a fine choice and a great Android phone.
9.

Huawei P10

The Huawei P10 is an impressive beast – it's gorgeous, powerful and the dual cameras are a huge improvement over the 2016 flagship, the P9. Portrait mode works better than expected, photos are crisp, vibrant and detailed and even the selfie camera has had a meaningful upgrade. Huawei's EMUI, one of the most controversial Android overlays, is much better to use than with previous smartphones, and offers machine learning algorithms that should speed up your phone the more you use it. Even the price is competitive at £499.

The only downside? Despite being of a high capacity, the battery life of the P10 isn't great, and some users may find that they have to plug it in to top it up once or twice a day, just to get through.
10.

Huawei P10 Plus

The P10 Plus is another solid smartphone from Huawei offering attractive design, high-end hardware and much improved software. However, it's missing a few features compared to rivals such as waterproofing and wireless charging. The phone is also pretty expensive so you're probably better-off getting the regular P10 or even cheaper options like the OnePlus 3T or Honor 8 Pro.
11.

Huawei Mate 9

Huawei's Mate 9 is, in our opinion, the best in the Huawei line-up, boasting an impressively large battery alongside powerful internals, an improved dual-camera setup and a sleek, gorgeous design. The benchmark results were some of the best we've seen, bringing excellent value for money. EMUI 5 makes a huge difference to the overall experience too, and we can't wait to see whether Huawei's new technology will actually improve the performance of the smartphone over time.
12.

HTC 10

There's a lot to like with the new HTC 10 including a number of hardware upgrades across screen, camera and audio, plus a Nexus-like stock Android experience. However, we're not totally sold on the design and it's tough at the top these days. While the HTC 10 is a solidly good phone and a respectible upgrade for M9 owners, it doesn't blow the competition out of the water. The features which appeal the most are more niche than mass market.
13.

Xiaomi Mi Note 2

The Mi Note 2 was wrongly overshadowed at its launch. This is a gorgeous big-screen Android phone with very decent performance, a great camera and plenty of storage. We'd like to see a Quad-HD screen on Xiaomi's flagship phone, but this one should prove plenty sharp and clear. Google apps are not preinstalled, but there is a workaround if you are happy to do some tweaking.
14.

Honor 8 Pro

After a good stint with the Honor 8 Pro, it remains a promising device. It represents the brand moving even closer in look and price to big bro Huawei, but it is a decent option.

However without contract options in the UK at this time, you'll have to plump for SIM free, and at just under £500 you might be tempted to look at the OnePlus 3T or even go for a more expensive, better phone on contract. And even though they cost more, the Huawei P10 and P10 Plus hardware is better designed.
15.

Samsung Galaxy Note 5

So, what do we think of the Galaxy Note 5? We're very fond of just about every aspect of the Galaxy Note 5, from its curved and sleek design to its vibrant display and high-resolution camera. It can handle almost anything you can throw at it thanks to its CPU, GPU and 4GB of RAM and we experienced no lag during our testing. The only bad point is that the Note 5 would sometimes falsely detect the S Pen detaching – and to point out such a minor fault says a lot about the quality of the handset. With this being said, we're both surprised and sad that the Galaxy Note 5 won't be heading to UK shores any time soon.
16.

Google Pixel XL

While the Pixel XL is an attractive phone (if you can get used to the glass section) with decent combination of hardware and software, we can't help but feel a bit disappointed. It's very similar to the much cheaper Nexus 6P and OnePlus 3. You can get plenty of other Android phones for less which have extra features like waterproofing and expandable storage. Sorry Google, but things have gone a bit wrong here.
17.

Sony Xperia XZ
The Xperia XZ is an attractive phone in design if you can get on with the angular style and while it's cheaper than rivals such as the iPhone 7 and Google Pixel, you can get better value with some older phones like the Samsung Galaxy S7. While the hardware is decent, we can't help but mention the very similar Xperia Z5 will save you a lot of money.
18.

Moto G5 Plus
The Moto G5 Plus is an impressive phone for under £250. It's barely any bigger than the normal model which is odd but it might well be worth spending the extra to get more storage, a better processor and a significantly better camera.
19.

Moto Z Play
The Moto Mods accessories are the main reason to buy the Moto Z Play, but it's a decent mid-range phone regardless. For an affordable price Lenovo offers premium design, good specs and a well-rounded software experience. You only really need to splash out on the Moto Z for the Quad HD screen, Snapdragon 820 and OIS camera should you feel the need for those features (but also bear in mind the more expensive version has no headphone jack and a smaller battery).
20.

Moto G5
There's plenty of competition in Android's budget market, but the Moto G5 is the best around right now. The build quality alone feels like it belongs on a much more expensive phone, while the fingerprint gesture controls genuinely improve the Android experience. The benchmarks and battery hold it back, but they're not unreasonable given the price – and you won't find a much better looking phone at £169.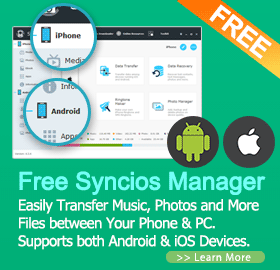 Support to transfer, edit, backup, manage, view iOS & Android mobile data: Music, videos, photos, apps, ebooks, contacts, messages and more.
Download videos from 100+ video sharing sites up to 4K HD video quality and transfer to iPad/iPhone/iPod/Android.
Handy toolkit: Audio converter, video converter, ringtone maker, etc.
Free
You can follow Syncios onTwitter,Facebookfor more tips and tricks.