"Consumers with an original Galaxy Note7 or replacement Galaxy Note7 should power down and take advantage of the remedies available." "All carrier and retail partners globally stop sales and exchanges of the Galaxy Note 7." —–US Consumer Product Safety Commission and Samsung
Samsung Galaxy Note 7, one of the most impressive Andorid smartphones this year, is dead. Due to battery explosions of both original Note7 and its replacements, Samsung has recalled the flagship, twice. It was also reported that Samsung may abandon the "Note" brand because of the recent events, which has destroyed the reputation of Samsung Note series.
So we have to face the fact that Samsung Galaxy Note 7 is over, and we need to move on to other alternatives. There is a list of top 5 alternatives for your Note 7: Google Pixel, LG v20, iPhone 7, iPhone 7 Plus, and Samsung Galaxy S7 edge, all of which are perfect replacements for your Note 7, some of them were released and others were about to release and available soon. Besides, switching to the new alternative phones means you also need to move your data to it, and here this article shows you how to transfer your Note 7 data to the above top 5 alternatives.
There are many methods to transfer your Note 7 data to the new alternative. For instance, if you switch to a Samsung Galaxy S7, you can sync your data via Samsung switch tool: Samsung Smart Switch. And if you switched to an iOS devices like iPhone 7 (Plus), you can try with the Move to iOS app. However, no matter Samsung Smart Switch or Move to iOS app, both of them have limitations, if you do not switch to a Samsung or iOS device, they are useless. Besides, you may need to return Note 7 to the Samsung in a hurry before getting your new alternative, so you can't transfer your data via either Smart Switch or Move to iOS app.
So I sincerely recommend this handy tool to you, whatever you switch to an Android or an ios device, whether you have got the new alternative or not, it can backup your data and transfer it to your new alternative for Samsung Note 7.
Syncios Data Transfer is a professional iOS & Android synchronizing tool, which enables your to backup or transfer messages, contacts, call logs, music, video, audio and other files between iOS & Android devices and computer with only few clicks or directly phone-to-phone transfer.
Backup phone data and restore in lossless quality.
Sync contents from iTunes Library to PC and iDevices.
Multiple brand phones supported: Apple, Samsung, HTC, Sony, MOTOROLA, LG, HUAWEI, ZTE and more.
Part 1. iOS device: iPhone 7, iPhone 7 Plus.
If you feel disappointed with Andorid devices and want to switch to an iOS device, the new released Apple iPhone 7 and iPhone 7 Plus would be your best choice. Simply follow the steps below.
Step 1 : Install and Run Mobile Data Transfer
Connect your both your Samsung Galaxy Note 7 and iPhone 7/7 Plus to your computer and launch the Syncios Data Transfer (Any detection problem, please check our Android and iOS tutorials). You will see the main screen shows connecting devices is required.
There are 3 modes: Phone to Phone Transfer, Phone to PC Backup, PC to Mobile Restore. Click the "Start" button under Phone to Phone Transfer mode. Then it will display the the backup list.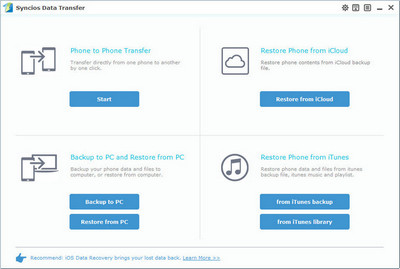 Step 2 : Transfer Samsung Galaxy Note 7 Data to iPhone 7/7 Plus
It will be just a second before the program recognize them. Make sure your Samsung Galaxy Note 7 is on the left side while iPhone 7 or 7 Plus on the right. If not, click "Flip" to exchange the source device and target device.
On the middle panel, check data (contacts, text messages, call logs, photos, music, videos, apps, calendars, bookmarks) to transfer from Samsung Galaxy Note 7 to new iPhone 7 or 7 Plus as your will. Press the blue button "Start Copy" and the details will be shown in the interface. After a while, all of conetent will be saved on your iPhone 7 or 7 Plus.
Note: You can check the supported contents for Android-to-Android-transfer or iOS-to-Android-transfer here.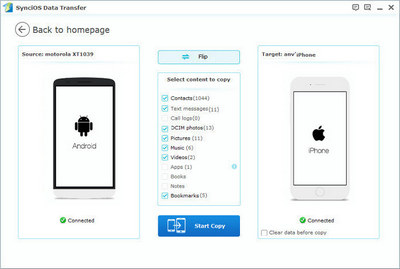 Part 2. Android flagships: Google Pixel, LG V20, Galaxy S7 edge.
If you are always an Android addict and switch to an Android phone, Syncios Data Transfer can also move your Note 7 data effortlessly. The steps are similar with the iOS device above, please check up there.
Besides, if you haven't received your new alternative phone while you have to return the Note 7 to Samsung. No worry, you can backup your Note 7 to your computer then restore the data to the new phone. You need part 3.
Part 3. Backup and Restore Samsung Galaxy Note 7 Data
Step 1 . Download and run Syncios Samsung Transfer Program
Download and install Syncios Data Transfer on your computer first before doing the Samsung Galaxy Note 7 backup and restore job.
Open debugging mode, plug your Samsung Galaxy Note 7 to the computer and then run Syncios.
Click "Backup" button under "Backup and Restore" modle.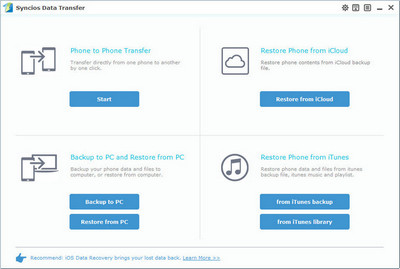 Step 2 . Backup all contents on Samsung Galaxy Note 7
In the main window, you are allowed to select items you would like to back up onto your computer. On the right panel, you will also have the option to change or choose the location of the backup data.
By default, all contents you can backup are ticked. You can also just tick your desired ones.
Then, click "Start Copy" button to backup your Samsung Galaxy Note 7 content to computer.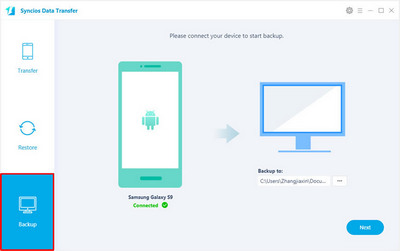 Step 3 . Restore Samsung Galaxy Note 7 data from backup files
When you finally got your new alternative phone, go to the homepage of Syncios, click "Restore" beneath "Backup and Restore". All backups you have made with Syncios will be displayed on the left panel, just select your previous backup files from it, check data you would like to restore to the new alternative.
Press Start Copy button, all of your selected files will be restored to the target device.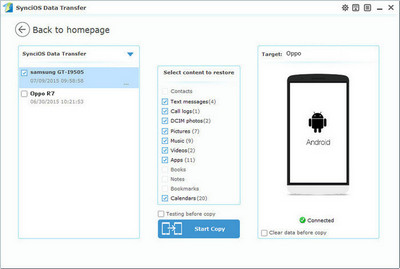 Read also: How to backup Samsung Galaxy Note 7 on Mac?