Apple just released the latest operating systems for your iPhone and iPad, but before you install them, get your devices ready.
Apple just released iOS 14 and iPadOS 14, the latest operating systems for the iPhone ($699 at Amazon) and iPad ($285 at Back Market). The update comes a day after Apple announced the Apple Watch Series 6 and more affordable Apple Watch SE, a new iPad Air and an updated eighth-generation iPad. Both OS updates bring important and useful features to the iPhone and iPad, ranging from a new app library and widgets on your home screen to tighter privacy features and iMessage improvements.
Before you start mashing the update button to install iOS 14 and iPad 14, there are some housekeeping you should do on your iPhone and iPad to make the update process go as smoothly as possible.
Below is everything you need to know about the upcoming iOS 14 and iPadOS 14 updates, including a checklist of how to get your phone or tablet ready.
Apple released both updates on Wednesday, Sept. 16. If you have a compatible device, you should be able to see you have an update available by going to Settings > General > Software Update. But, don't tap Install Now quite yet.
1. Clear out the clutter
When it comes time to update software or upgrade your phone, take a few minutes to go through and delete what photos and apps you don't want or need from your camera roll and installed apps.
If you suffer from poor phone performance even though you make sure your iPhone storage is sufficient, there must be invisible space that you forget to free up. They are the junk files and temp files left on your iPhone, which will take up storage and have ill influence on iPhone daily usage. It is necessary to clean up hidden garbage and deleted files that are still lurking on your iPhone, thus making your iPhone run smoothly when update to iOS 14 version. These garbage is hard to remove manually by iPhone, but Syncios iOS Data Eraser makes it.
As an iOS data cleaner, Syncios iOS Data Eraser can easily clean up the temp files, junk files, trash and cache generated on your iOS device with daily usage. And this tool can help to speed up your iPhone performance before or after upgrading to iOS 14.
Step 1:Download and install Syncios iOS Data Eraser on your computer and connect your iPhone to the program.
Step 2:Under Free Up Space functionality, tap the Quick Scan key to have a complete scanning of your iPhone. A moment later, it showed you result based on the scanning. These junk files can be from your iPhone crash logs, photo caches, downloaded files, user storage files and iTunes caches and more.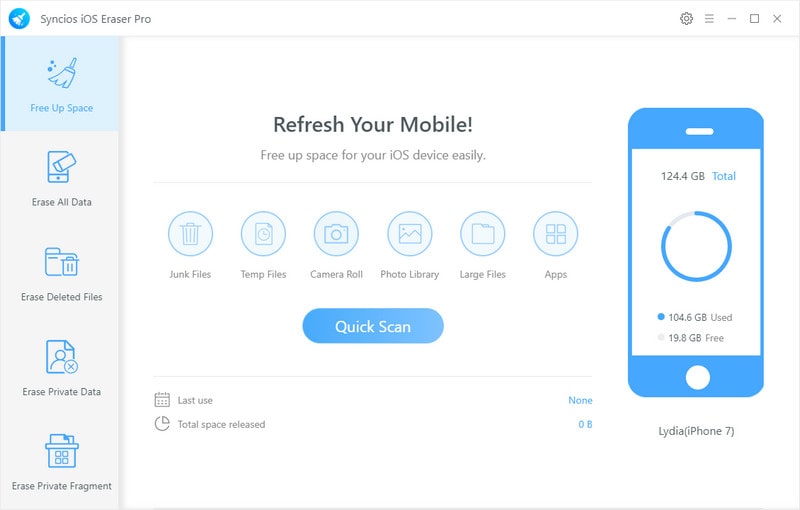 Step 3:Tap the Clean button to respectively remove these junk files away from your iPhone.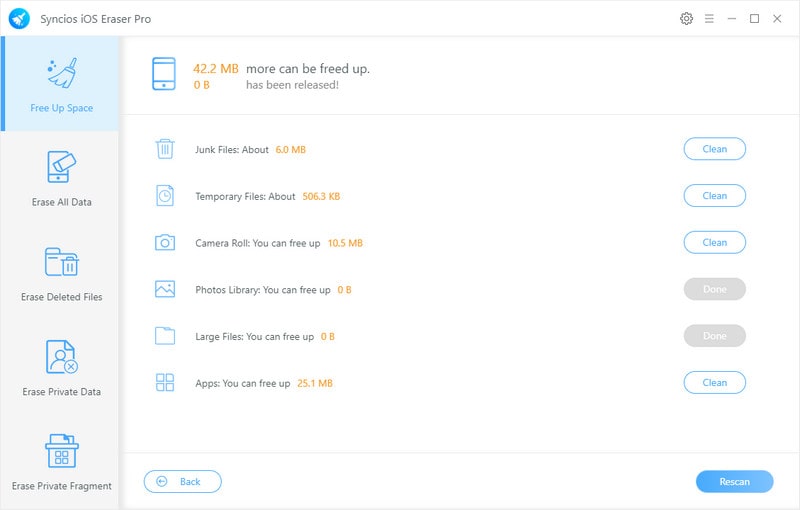 2. Create a fresh backup
If you can help it, you should never update your iPhone or iPad without a current backup. Updates aren't a perfected process, and sometimes things go wrong. The last thing you want to happen is an update to fail, then you're left setting up your phone as brand new. Nobody wants that.
It's best to do this step right before you start the update process, that way the information stored in your backup is as current as possible.
You can backup your devices using iCloud, using Finder on Mac, or iTunes on a PC. iCloud is by far the easiest method, simply because it's built into your device and only requires a Wi-Fi connection. That said, if you're out of iCloud storage space or prefer to have more control over your device backup, then you can use your computer.
2.1 iphone-icloud-backup
If you have iCloud backup turned on, your device should be backing up each night while it's charging and connected to Wi-Fi. However, you can force a backup at any time by going to Settings > tap on your name > iCloud > iCloud Backup > Back up now.
Speed up the process by plugging your phone or tablet in to a charger and connecting it to a Wi-Fi network to prevent mobile data use and killing your battery in the process.
2.2 Backup on a PC
Use Windows? You can use Syncios Data Transfer, just like you always have, to back up your mobile Apple devices. With a backup, you can keep your phone's data intact, minimizing the data lost in upgrading to iOS 14 or any unexpected situation. Here we show you how to fast back up your iPhone data to computer in one-click.
Step1: Download and install Syncios Data Transfer on your computer. If you are a Mac user, you can download the program for Mac version. After that, run the program to Backup module. This is a feature to back up the iPhone files and data to computer. You can one-click to back up contacts, messages, call logs, WhatsApp, music, photos, videos, apps, safari history, bookmark, notes, ebooks and more.
Step 2:Then connect your iPhone to the program with USB cable. Beneath the phone icon, tap the 3 dots to create a computer local path which serves as the storage of your iPhone backup later.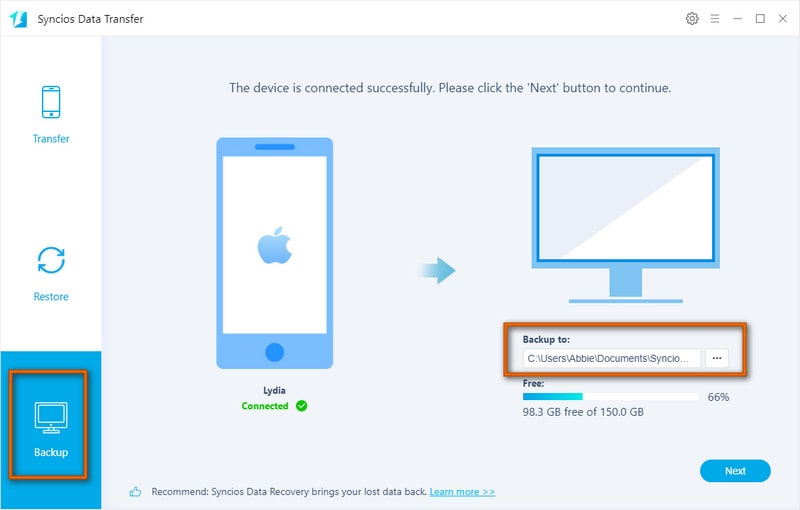 Step 3:Tap Next button to select specific data you want to back up. You can back up part of the items that you matter. But to make a full backup, you can click on Select All button to select all the data.
Step 4:Go following to tap Next button to load and transfer the data to computer as expect. If the data is in a large size, do keep patient with the process until it is completely done.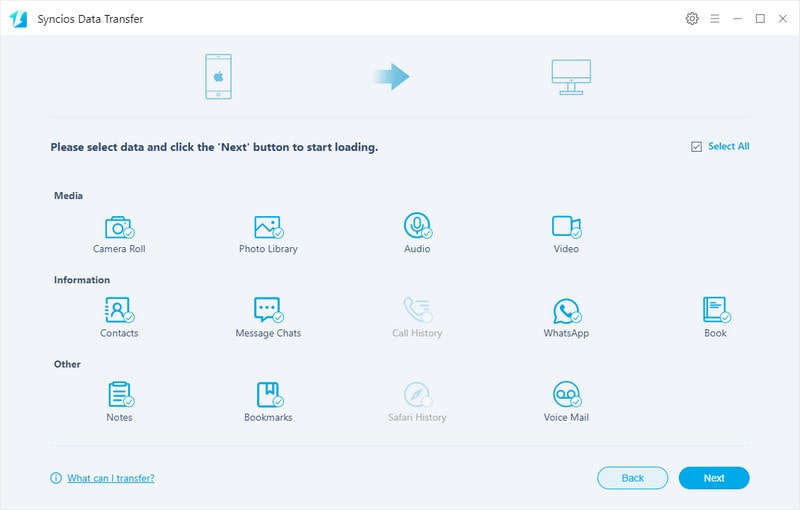 2.3 Backup on a Mac
If it's been awhile since you've backed up your device using a Mac, the process has changed. With the death of iTunes last year, you'll now have to use Finder to create a backup.
I have a guide detailing the entire process, which truly isn't all that different than the old iTunes-based method.
It distills down to connecting your device to your Mac, opening it in Finder and then clicking a couple of boxes to start a backup.

Make sure to encrypt the backup to make the restoration process so much easier.
Now that you have your phone backed up and all of the random junk and clutter removed, install iOS 14 or iPadOS 14. Once it's installed, check out some of our favorite features, including the new homescreen that includes widgets — that you can customize.


Transfer contacts, message, call log, WhatsApp, music, photo, video, apps, safari history, bookmark, Notes, calendar, ebook and more.


1 click transfer data between iOS and Android.


Selectively backup and restore phone data in lossless quality.


Recover iTunes/iCloud backup to iOS or Android devices selectively.


Fully compatible with the latest Android OS and iOS system.
You can follow Syncios on Twitter,Facebook for more tips and tricks.