While smartphones are increasing their built-in storage every year, they're also giving you more features that consume all that extra space quickly, like when you shoot 4K videos. So while you may have a load of gigabytes for all your music, it may get eaten up quickly by apps, photos, and videos. Luckily, Apple Music has an auto-delete feature, so you don't have to manage anything manually.
When you're running low on space, Apple Music will remove downloaded songs on your device that you no longer listen to or haven't played in a while. While we would love for this to be a feature for Android phones, it's only available for iPhone in iOS 10 and higher. Some iOS features make their way to the Apple Music app for Android, but this likely won't ever be one of them.
On your iPhone, fire up the Settings app, then tap "Music." Here, scroll down to the Downloads section, then tap "Optimize Storage." If you don't see the optimization option, likely, you don't have any music downloaded onto your iPhone yet. If you see downloaded music but not the option, it's because you need "iCloud Music Library" enabled, which is referred to as "Sync Library" in iOS 13.
When on the "Optimize Storage" page, tap the toggle of the same name up top, which will open up the Minimum Storage section below it. This section shows you different storage amounts, and when your iPhone is low on space, it will remove music that hasn't been listened to recently until your iPhone has the amount of music you selected left.
None: Deletes all songs when you have no storage left on your device.
1 GB: Deletes songs until you have 1 GB, about 200 songs, left.
2 GB: Deletes songs until you have 2 GB, about 400 songs, left.
4 GB: Deletes songs until you have 4 GB, about 800 songs, left.
8 GB: Deletes songs until you have 8 GB, about 1,600 songs, left.
16 GB: Deletes songs until you have 16 GB, about 3,200 songs, left.
32 GB: Deletes songs until you have 32 GB, about 6,400 songs, left.
64 GB: Deletes songs until you have 64 GB, about 12,800 songs, left.
128 GB: Deletes songs until you have 128 GB, about 25,600 songs, left.
I have a 64 GB iPhone, so you can see the five options presented to me below, so you won't see all of the storage options listed above. The one and two-gigabyte options only pertain to 16 GB iPhones which are no longer in Apple's lineup.
While this setting might not solve all of your storage issues, it will help a lot, especially if you're one to download music to your iPhone for offline listening. Better yet, it targets songs you haven't listened to in a while — or at all, if you're as guilty of that as I am — so your favorite tunes won't suddenly disappear when the low storage alerts rear their ugly heads.
Tricks & Tips:
Here we recommend you a very useful tools for you to easily erase songs from your iPhone.
PanFone iOS Eraser is one of the most powerful tool to instantly delete all iPhone contents, including musics, junk files permanently to free up more space on your iOS device. This professional software provides you three erasing modes to clean iOS devices data.
Step 1. Download and install PanFone iOS Eraser Pro on your PC.
Step 2. Connect your iPhone to PanFone via appropriate USB cable. Special notes about smooth performance for PanFone: Don't start iTunes and sync files when running the program to avoid data overwriting.
Step 3.  Go to 'Free Up Space' mode, select Large Files option. Then, PanFone would quickly scan your iPhone and load the targeted files.
Step 4: Choose the music files you want to delete and tab "Clean" to make sure of the deletion.
Your will find all the selected musics have been removed from your iPhone and there is a large free space for phone. Deleting large files including musics is a great way to give your iPhone (or iPad) a speed boost and get it running faster than ever.
---
Recommendation: Manage iPhone/iPad/iPod without using iTunes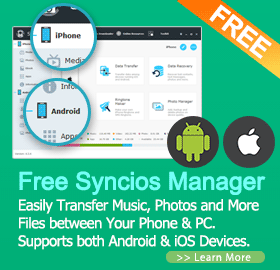 Support to transfer, edit, backup, manage, view iOS & Android mobile data: Music, videos, photos, apps, ebooks, contacts, messages and more.
Download videos from 100+ video sharing sites up to 4K HD video quality and transfer to iPad/iPhone/iPod/Android.
Handy toolkit: Audio converter, video converter, ringtone maker, etc.
Free
You can follow Syncios on Twitter, Facebook for more tips and tricks.