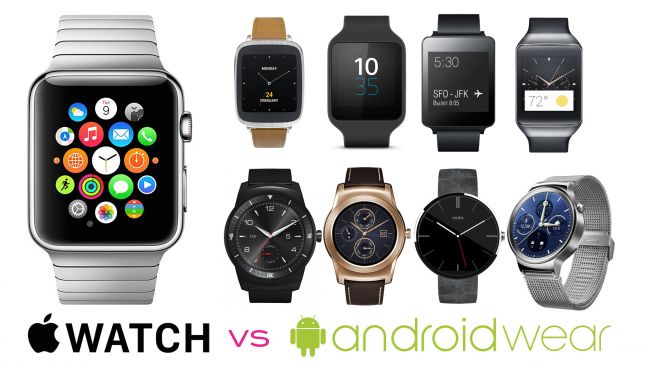 Apple Watch or Android Wear watch? We compare smartwatch platforms
Despite arriving at the wearables party relatively late, the Apple Watch has already established itself as the smartwatch to own. Even supply issues couldn't hold it back, with Apple reportedly managing to flog more units in a day in the US than the entire number of Android Wear watches sold worldwide in 2014.
However, it's only compatible with iPhones, and its introduction has given smartwatches as a whole a major boost. The likes of the LG Watch Urbane, the Motorola Moto 360 and Sony Smartwatch 3 are likely already feeling the positive effects of the Apple Watch's big landing.
So where should you spend your money? We've compared the Apple Watch with the Android Wear operating system to see how they match up.
With that in mind, let's break down exactly what the Apple Watch does, and what Android Wear will need to compete.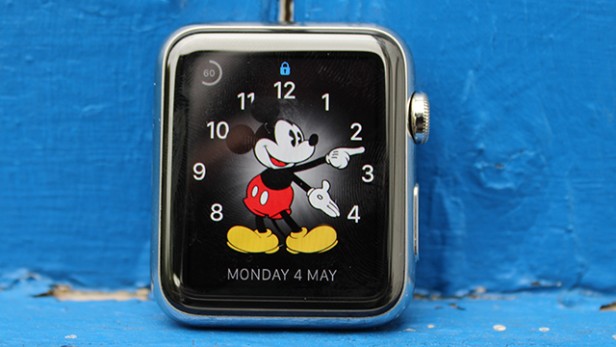 Design and user interface
One of the most attractive features of Android Wear is the Google Now-inspired user interface. It's the same clean, card-based look used for the intelligent virtual assistant on phones and tablets, which is a sensible fit for small displays. However, as good as it looks on a G Watch R and the rest, it still needs some tweaking. Android Wear doesn't have multiple home screens or app folders, so it doesn't deliver the same experience as Android on a phone or a tablet.
The Apple Watch employs a custom user interface too, so it's not simply iOS 8 shrunk down to fit a small screen. All of the apps live on the main home screen, so you don't have dig around in the settings or use voice search to find them like you do on Android Wear. There's also a drop down notification bar and a Control Center you can view from swiping up on the touchscreen.
Mobile Payments and Passes
With an Apple Watch, users can pay at certain stores without taking anything out of their pockets, instead tapping their wrists against supported payment terminals. The Watch will also provide fast access to Passbook for tickets, boarding passes and loyalty cards. If it works as advertised, it could be one of Apple Watch's best features.
Can Android Wear respond? Google has a fundamental problem here, in that wireless carriers have conspired against the competing Google Wallet payment service in favor of their own solution. Perhaps Apple's presence will boost the adoption of tap-to-pay terminals at retail, but there's no guarantee Google Wallet will get the broad support it needs. Besides, it's a moot point unless Android Wear watches start shipping with NFC support.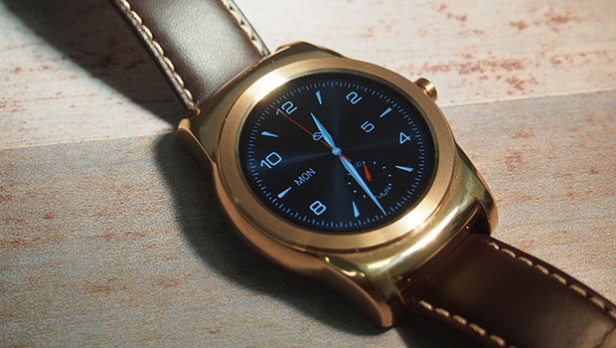 Features
Android Wear's key features are driven by your phone, along with Google Now and Google Voice Search. Android Wear only works with Android devices too. The likes of the Moto 360 and the Samsung Gear Live still rely on your smartphone to get the optimum experience because they're essentially companion devices. That means your phone does the hard work of harnessing location data and pulling in notifications from apps like Twitter or Facebook, and feeds everything through to your watch over a Bluetooth or Wi-Fi connection.
Google recently rolled out the Android 5.0 Lollipop update, which brings offline music playback and GPS support to smartwatches. Since the Sony Smartwatch 3 actually include GPS technology, you don't necessarily have to be tied to your smartphone all the time.
Similarly, you need to own an iPhone in order to use the Apple Watch, and it will only work with the iPhone 5S upwards. iPhone 5 and iPhone 5C users are out of luck. Much like Android Wear watches, the Apple Watch harnesses many of the features available through your smartphone, like GPS and the accelerometer. It also includes NFC, meaning it supports the Apple Pay mobile payments platform, though this still hasn't made its way over to the UK.
The so-called 'Taptic Engine' provides a subtle vibration for notifications, which is also used when making purchases through Apple Pay. One ingenious application of this system is in step-by-step navigation, where Apple claims the feedback will tell which direction you need to turn. It's a feature that sounds great, but only if it works reliably.
Apps
There's a dedicated section in the Google Play store available through the Android Wear application on your phone, which you need to install in the first place to set the watch up. The Android Wear app store is growing, but makes a good start with a diverse collection of first- and third-party apps, including favourites like Duolingo and RunKeeper. However, they're all pared down versions of the smartphone apps, and are therefore not as nice to use.
The official number of Apple Watch apps available from day one was around the 3,000 mark, and the collection is growing by the week. You can download these through the Watch app on your iPhone, where you can also control the apps that are displayed on your Apple Watch home screen. Again, there are loads of popular apps to choose from, including Uber and Instagram. Unfortunately, many of these are slow or buggy.

Communications
The Apple Watch will have a speaker and a microphone, so users can answer calls from a nearby phone and use the watch like a wrist-bound walkie-talkie. Apple Watch users can also draw little pictures for each other, and answer text messages with voice, emoji, or preset responses that change based on what you've written in the past.
Can Android Wear respond? Currently, Android Wear doesn't support speakers, so phone calls are out of the question. And compared to Apple's approach, Android Wear's rigid text responses seem impersonal. While Android Wear is useful for firing off quick text messages and emails by voice, it has some work to do on the communication front.
Notifications
Much like Android Wear, the Apple Watch will provide actionable notifications, letting you quickly respond to messages, calendar appointments and social media mentions from your wrist. App developers will be able customize the look and feel of these notifications as well.
Can Android Wear respond? Actionable notifications are a key feature of Android Wear, and some popular apps such as Twitter and WhatsApp are already taking full advantage of the software. Google has a solid foundation to build from, though it could give users more control over the frequency and priority of notifications.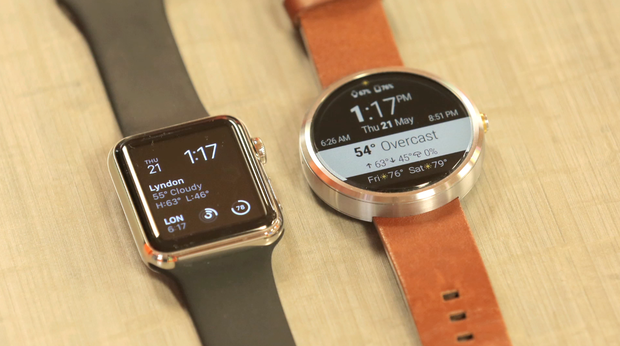 Health and Fitness
Fitness is a big play for Google with the introduction of its Google Fit platform. Depending on which Android Wear smartwatch you go for, all are capable of taking data from fitness apps and collecting them in the Google Fit application. All of the Android Wear smartwatches currently available include pedometers, though a select few go a step further, with the LG Watch Urbane including an optical heart rate sensor and the Sony Smartwatch 3 squeezing in GPS.
Apple HealthKit is a big part of iOS 8 and, unsurprisingly, there are plenty of fitness features and apps to look forward to on the Apple Watch. At the back of the watch you'll find an array of sensors, which can read your heart rate and send a vibration to the watch as you raise the intensity of your workout, though you'll have to rely on your phone's GPS signal. There's also a dedicated Fitness and Workout apps to measure calories, duration and distance.
Battery
This can of course depend on the Android Wear watch you go for, but as things stand, no company making an Android Wear smartwatch has been able to promise or deliver more than a couple of days of battery life. This means you are going to need to charge it the same amount as most smartphones. In most cases, that means every night.
Worst of all, the majority of Android Wear smartwatches require a proprietary charging cradle, so if you stay at someone's house and forget to take it with you, your timepiece will be nothing more than a watch-shaped bracelet. The Moto 360 includes wireless charging, but that still doesn't detract from the fact you'll have to charge it on a nightly basis.
Apple says its smartwatch will manage 18 hours between charges, but if you use it heavily, you'll struggle to get back home with any charge at all. Worse yet, it absolutely hammers your phone battery too, leaving you with two devices to worry about.
You need the dedicated charging cable to power the Apple Watch back up, though it also supports wireless inductive charging. Still, we'd prefer to see better battery life.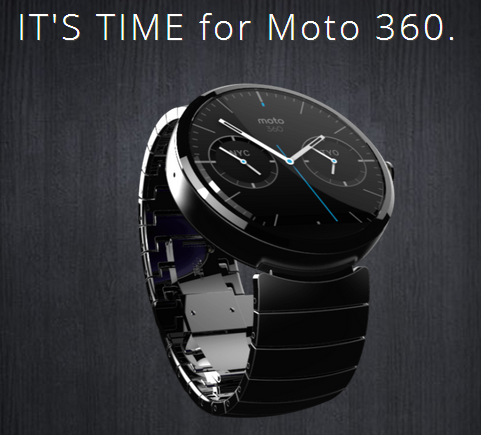 Where Android Wear excels
Clearly, the Apple Watch's capabilities and design go beyond what Google has done with Android Wear. But in a way, that's an advantage that Google can exploit. While the Apple Watch has lots of ideas and several interface layers to dig through, Android Wear is meant to require very little interaction, providing useful information at just the right time.
If Google can refine the product to match its vision, Android Wear will still be a credible response to the Apple Watch. With Apple's first wearable not due to launch until early next year, there's plenty of time for Google and its hardware partners to get it right.
---
Recommend: Syncios has also released new iPhone 6 and iPhone 6 Plus. You can use Syncios to free backup old iPhone and transfer to new iPhone 6. You can also download and install apps into iPad/iPod/iPhone. There are Huge and growing collection of free games, apps, wallpapers, ringtones for iOS devices. Just simply download and have a try.
---
You can follow Syncios on Twitter, Facebook for more tips and tricks.