Remember that mandatory Apple Watch app that came with the iOS 8.2 update? You can now use it to preview apps for Apple's new wearable.
In preparation for Friday's Apple Watch launch, the company updated its main App Store — as well as the App Store section in that mandatory watch app — with new previews of the first wave of smartwatch apps.
The App Store section of the Apple Watch app now offers previews of more than two dozen apps. If you download or open one them from your iPhone (and you don't yet have an Apple Watch), the App Store will still direct you to the iPhone version of the app.
Likewise, the main App Store has been updated to reflect the flood of new applications. When browsing, apps with the watch version already available are accompanied by a note: "Offers Apple Watch App." Apple Watch screenshots also appear in the main App Store beneath their iPhone counterparts.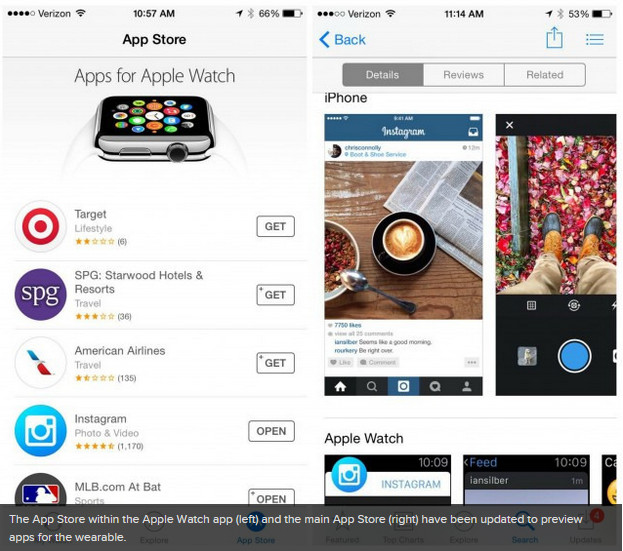 The App Store within the Apple Watch app only displays a handful — 35, to be exact — of the 3,000-plus watch apps that Apple says are available, according to The Wall Street Journal. That means apps from big-name developers like Instagram, Evernote and CNN.
You can't yet search for specific apps within the Watch app, so early adopters must still browse the main App Store for the time being. It's likely the list and features of the Apple Watch app will be updated once the watch begins shipping and gets into the hands of more people.
Source: Mashable
You might be interested:
You can follow Syncios on Twitter, Facebook for more tips and tricks.
Recommend: If you would like to manager your iPhone/iPad/iPod Touch in the easiest way and say goodbye to your iTunes, just go here to learn more. Simply download the free version and have a try, it can transfer data between iOS device and PC freely and easily.