On Wednesday, shortly after iOS 9's official release, Apple also released 'Move to iOS,' its first ever app for Android users, created with the sole intention to make them leave. Available now for free in the Google Play app store, Move to iOS securely transfers data stored on Android devices — contacts, calendars, bookmarks, email accounts, messages, photos—to an iPhone, iPad or iPod Touch.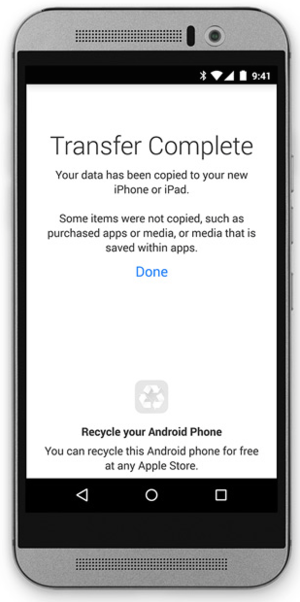 Apple has made no secret of wanting to convert as many Android users as possible over to the iOS platform. Toward that end, the company has released an Android app called Move to iOS that is designed to make it easy for Android users to switch to iOS.
I have to give Apple credit for doing this, it's a rather bold gesture. But it's also a good thing for the Android users who really are considering a move over to iOS. Apple has gone out of its way to make it easy for Android users to switch to the iPhone, iPad or iPod touch.
When setting up their new iOS device, Android users can now select a "Move Data from Android" option in the Apps & Data setup screen. Previously the only options was to restore from iCloud backup, restore from iTunes backup, or setup as a new device. Once you choose to "Move Data from Android" on your iPhone, open the Move to iOS app on your Android device and wait for a ten-digit code to show up on the iPhone. You will need to input the code on your Android device to authenticate the transfer between the two devices.
From the transfer screen, you can select which content you'd like to transfer. Once the migration is complete, check to see that all the content has successfully transferred over. You can also migrate all this content manually in case there are
any hiccups. And afterwards, Apple also uses this app-ortunity to remind you that you can recycle your Android device for free at any Apple Store.
Move to iOS requires Android 4.0 or later, and if you're transferring your Chrome bookmarks, make sure you have the latest version of Chrome as well.
Before apple announced Move to iOS app, Syncios Data Trasnfer is already in the works. Once downloaded on computer, It will help users securely transfer all of their important data: contacts, messages, call logs, music, photos, videos, apps, web bookmarks, and more from Android device to iOS device. In addition, Syncios Data Transfer backup phone data and restore in lossless quality so that you have no need to worry about losing iPhone data.
What's more, Syncios data transfer tool not only supports transferring data from Android device to iOS device, but also allows you to move from iOS to Android device. Syncios is fully compatible with almost all kinds of Android devices, such as Samsung, HTC, LG, Sony, Google, HUAWEI, Motorola, ZTE, XiaoMi and so on .
You can follow Syncios on Twitter, Facebook for more tips and tricks.
Read More:
Recommend: if you would like to data from old Android Phone to new iPhone, you can try this perfect one click data transfer tool, migrate everything, including SMS, Contacts, Videos, Photos, Call logs and more from phone to phone. Simply download and have a try.