More than a week after the frenzy surrounding iOS 9 and its rocky start, Apple is already releasing an update.
When iOS 9 was released, users received error messages saying the software update failed, while others had success downloading iOS 9 via iTunes.
During the installation of iOS 9, many users got stuck on the "Slide to Upgrade" screen. The iOS 9.0.1 update addresses that issue as well as multiple other bugs. Here's what you'll get:
Fixes an issue where some users could not complete setup assistant after updating
Fixes an issue where alarms and timers sometimes failed to play
Fixes an issue in Safari and Photos where pausing video could cause the paused frame to appear distorted
Fixes an issue where some users with a custom APN setup via a profile would lose cellular data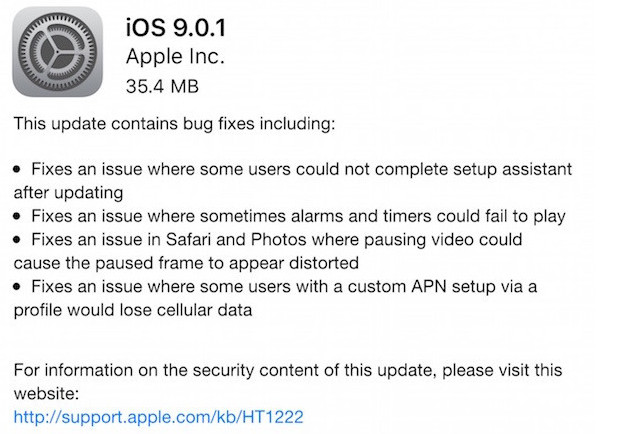 Download and install iOS 9.0.1 by going to Settings > General > Software Update.
The size update will vary for users, but it looks like the download will be around 30 MB.
iOS 9.0.1 doesn't, however, solve a security loophole some users have been facing.
YouTube user videosdebarraquito published a video to demonstrate how the bug works. He enters four incorrect passcodes. On the fifth attempt, he enters the first three digits of the passcode and then simultaneously holds down the home button while entering the last digit in the code.
Holding down the home button activates Siri. From there, he asks Siri what time it is, which allows him to access the Clock app. He manages to access his contacts and photos through a pretty sly route. You can watch it below.
I tried the trick, too. I managed to get to the Clock app, but Siri asked me to enter my passcode if I wanted to get to Messages or Mail.
Computerworld compiled a few other instances that bloggers have written about the security flaw, including some that cite the video above and another video that demonstrates how to bypass the lock screen.
Bugs like this can be hard to replicate, and it's possible it won't affect you. But if you want to be cautious, you can disable Siri on the lock screen. That way, you can only activate Siri after you've unlocked your screen.
---
Read More:
You can follow Syncios on Twitter, Facebookfor more tips and tricks.
Recommend: keep tying to upgrade to the newest iOS 9, but fail to do this? And what makes you feel upset is that some of you iPhone data has gone. Do not worry, you can try this perfect one click iPhone data recovery tool to retrieve photos, messages as well as contacts, reminders, calendars, bookmarks, videos, notes, call history other files on your iPhone, iPad or iPod Touch. Simply download and have a try.