Apple today seeded the fifth beta of an upcoming iOS 12 update to developers for testing purposes, two weeks after seeding the fourth beta and more than a month after introducing the new software at the Worldwide Developers Conference.
Registered developers can download the new iOS 12 beta from Apple's Developer Center or over-the-air after installing the proper certificate.
iOS 12 introduces major updates to iOS, with Apple revamping the operating system from top to bottom to make iPhones and iPads, especially older models, faster and more responsive.
On the iPhone X, there are new Animoji characters along with "Memoji," which are customizable, personalized Animoji that can be used both in Messages and in FaceTime. Messages and FaceTime have also gained fun new camera effects, and Group FaceTime support allows for audio/video calls with up to 32 people.
Siri is smarter in iOS 12 with a new Shortcuts feature that lets you create multi-step custom automations using first and third-party apps that can be activated with Siri. Shortcuts can be created through the Shortcuts app, available as a beta from Apple's Developer Center.
Apple built comprehensive time management and monitoring tools into iOS 12 with Screen Time, allowing you to keep track of just how much time you're spending on your iPhone and iPad. App limits can help you cut back on iOS device usage, and robust parental controls are included for families.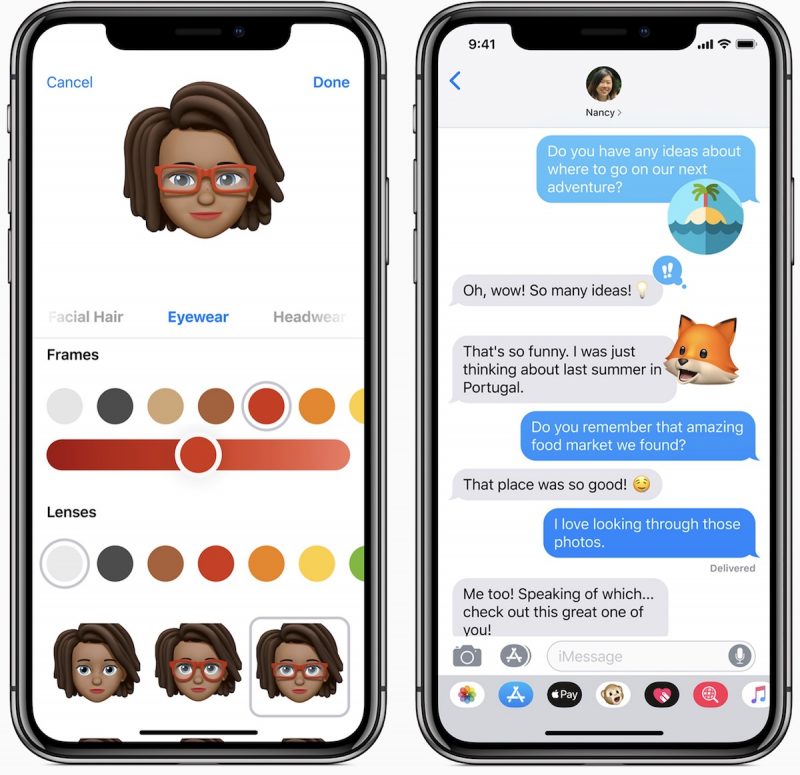 Updated Do Not Disturb options make turning off notifications and distractions easier than ever, and a new Do Not Disturb at Bedtime feature cuts down on nighttime interruptions.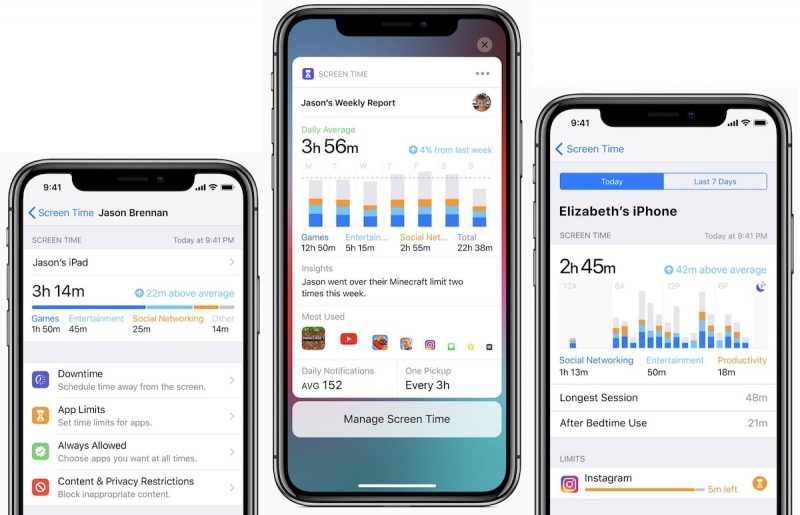 Group Notifications make incoming notifications easier to view and manage, while a new Instant Tuning feature lets you tweak your notification settings right on the Lock screeen on a notification-by-notification basis.
Apple News has a new Browse feature, the Stocks app has been redesigned, iBooks has been overhauled with a new look and a new name — Apple Books — and Voice Memos has been revamped with iCloud support and an iPad app.
ARKit 2.0 introduces new capabilities like shared experiences that let two people see the same AR environment on separate devices, and persistence, which allows AR experiences to be saved across multiple sessions. There's also a new Measure app for measuring objects using AR capabilities.
iOS 12 includes a revamped and rebuilt Maps app that uses a new Apple-designed Maps engine that will display foliage, pools, buildings, pedestrian pathways, and other map elements more accurately. The new Maps also includes significant improvements to traffic, real-time road conditions, construction, and more, plus it will enable Apple to push out changes and fixes more quickly.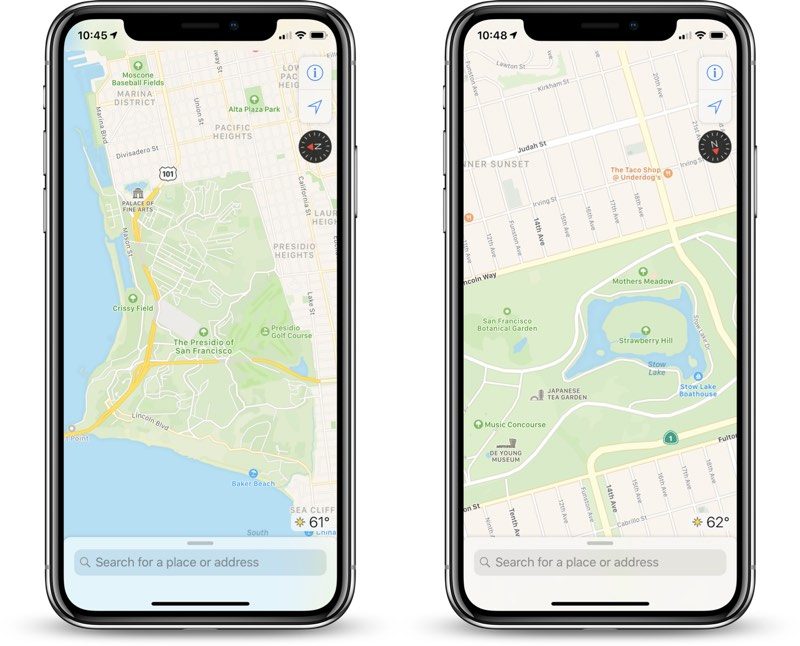 The revamped Maps app is available in the Northern California area during beta testing. After iOS 12 launches, Apple will continue rolling out the new maps to additional U.S. locations across late 2018 and 2019.
Tons of other small tweaks and features have been added to iOS 12, so make sure to check out our dedicated roundup for additional detail on what's new in iOS 12.
Early betas of new operating system updates always introduce tweaked features and new functionality, and we'll be outlining what's new in the fourth beta below. We also rounded up all of the changes that were introduced in the previous betas, beta 2 and beta 3, and beta 4.
iOS 12 is available for developers and public beta testers, with a public launch planned for the fall alongside new iPhones.
What's new in iOS 12 beta 5: According to Apple's release notes, the fifth beta of iOS 12 introduces some new bugs.
– After restarting a device, paired Bluetooth accessories might not function correctly or might be displayed using the device's address instead of name.
– Using Apple Pay Cash to send or request money via Siri might result in an error.
– When using CarPlay, Siri can't open an app by name. Shortcuts that involve opening an app won't work, and Shortcuts that require confirmation might not work.
– Some Shortcuts requests might not work.
– When multiple ride-sharing apps are installed, Siri might open an app instead of providing an ETA or location when asked. Apple suggests asking again as a fix.
– Users might not see custom UI when using Siri Suggestions Shortcuts with built-in intents.
Several bugs have been addressed, including error messages in the App Store when attempting to install an app, an inaccurate cellular signal bar on iPhone X while on Lock screen or Home screen, a bug that caused Wallet to crash on launch, and a failure for Screen Time usage and data settings to sync between devices. Shortcuts will also mostly work in CarPlay now, and will be restored from iCloud backups.
HomePod data found in iOS 12 seemingly confirms recent rumors that a HomePod software update set to be released alongside iOS 12 will allow the device to be used to make phone calls.
As shared by 9to5Mac, a HomePod personal requests image says the HomePod can be used to send and read messages, add reminders, create notes, make phone calls, and more, with the portion about phone calls being new.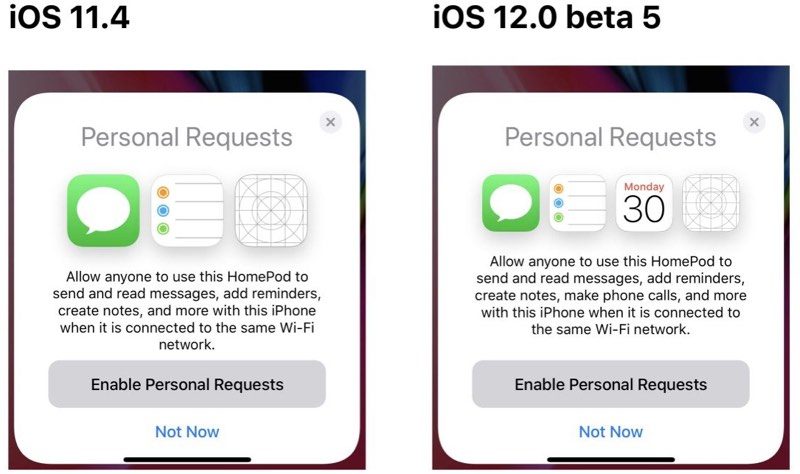 Right now, you can make a phone call on the iPhone and transfer it to the HomePod to use the HomePod as a speakerphone, but you can't use the HomePod to place calls, something that appears to be changing following the update. Apple is testing new HomePod software internally, but it is not available for developers or public beta testers.
Other changes in iOS 12 beta 5: Screen Time in the Settings app no longer lists family members who aren't children, and it needs to be reenabled after updating to the new beta.
————————-Related Reading ———————————-