Not sure what to do on this snow day? How about update your iPhone and Mac.
Apple released both iOS 8.3 and OS X 10.10.2 update on Tuesday, which is thought to address some big security problems in Apple computers.
The OS X update is partially meant to strengthen Mac security. Though Apple hasn't published any security details about the update yet, AppleInsider reports that the update fixes a years-old Thunderbolt vulnerability — often called Thunderstrike — which an attacker could use to install a custom bootkit.
Atop that, the update mends two zero-day exploits — or previously unknown bugs — that, in some cases, could grant a hacker escalated privileges, according to AppleInsider. These bugs were disclosed as part of Google's Project Zero, which finds security problems, then gives companies 90 days to disclose them. If they don't, Google publicly reveals them, as it did last week with Apple.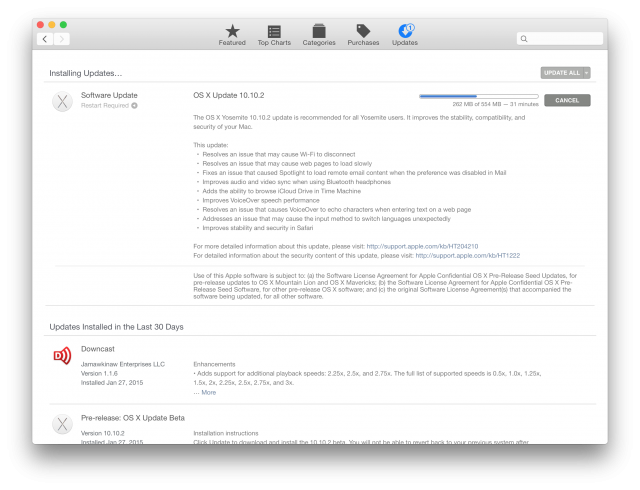 The update also fixes more rudimentary problems, like with a Wi-Fi connection issue, as well as a problem that causes web pages to load slowly. There was also apparently a problem with Spotlight that loaded remote email content, even when the preference was disabled in Mail.
iCloud Drive also got an improvement, which can now be browsed via Time Machine.
iOS 8.1.3
Apple also rolled the iOS 8.1.3 update on Tuesday, which "includes bug fixes, increased stability and performance improvements."
More precisely, the update reduces the amount of storage that's required to perform a software update, which will be a welcome relief to many Apple customers.
Several users complained when iOS 8 first launched of the massive download size. It was even speculated that the update's download size (a hulking 5GB) was responsible for the software's middling popularity and slow adoption rate.
It also fixes a problem with the Apple ID password for Message and FaceTime, as some users had trouble entering their passwords.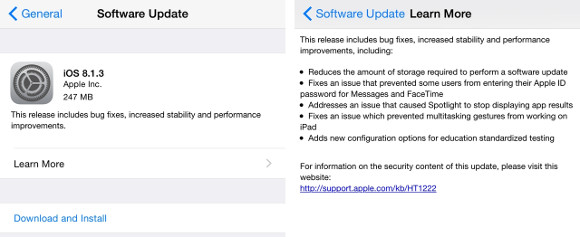 Reference: Mashable
You can follow Syncios on Twitter, Facebook for more tips and tricks.
Recommend: If you would like to contact from old Android Phone to new iPhone, you can try this perfect one click data transfer tool, migrate everything, including SMS, Contacts, Videos, Photos, Call logs and more from phone to phone. Simply download and have a try.