If Apple maintains its annual launch cycle, the new iPhone 12 with a 3D camera and 5G module could come in September. But the current crisis is forcing the Californian manufacturer to rethink. Due to plant closures in China and other parts of the world, the iPhone 12 might not be released until next year.
Apple iPhone 12 launching in autumn
China's economy was hit particularly hard by the coronavirus earlier this year. Many factories were closed, work was put on hold. Smartphone manufacturers, who produce on a large scale in China, also felt the effects. According to reports, tech company Apple not only had to expect delayed delivery times, but also had to close all Apple stores. While the economy in China is gradually picking up speed again, reports are circulating that Apple will not introduce the iPhone 12 this year. Too many suppliers are said to have fallen behind in the production of displays, camera modules or batteries.
According to a report by Bloomberg, Apple is now back on track. The news portal reports that Apple has been able to produce the first test devices in China. The Californian company was also able to send employees from the USA to China to check the production chains.
The fact that Apple's supply chain was interrupted can also be seen in products that have already been released, such as the iPad Pro 2020 or the new MacBook Air. Numerous buyers still complain about delayed deliveries via Twitter. These are due to the collapse of the Chinese economy in January, in the middle of the production of Apple's new products for spring 2020.
But even though the factories are now gradually starting up, Apple continues to struggle with factory closures, for example in Malaysia, where Apple's supplier Ibiden produces circuit boards for smartphones. If you don't know how dependent Apple and all other smartphone manufacturers are on their suppliers, take a look at Apple's list of suppliers. Here Apple only lists its top 200 suppliers.
Apple's new iPhone is supposed to be ready in time for the autumn keynote, as Bloomberg reports, although Apple's most important supplier, Foxconn from Taiwan, claims to be able to resume normal operation at the end of March at the earliest. Foxconn expressed optimism to the Japanese business magazine, Nikkei, claiming it had secured sufficient personnel for the "seasonal demand". The company generates about 40 percent of its annual turnover with the production of Apple products. It remains to be seen whether Apple will be able to deliver punctually in autumn despite all its dependency, and whether there will then be the usual interest in a new luxury mobile phone from Cupertino.
The iPhone 12 with 5G
Although the Californians' current smartphone line-up with the iPhone 11, iPhone 11 Pro, iPhone 11 Pro Max came onto the market in September 2019, it still lacked 5G support. This is because Apple's previous and only supplier of mobile radio modems, Intel, could not supply a 5G modem. In the meantime, Intel's modem division has been transferred to Apple and in the long run, we expect Apple to develop its own 5G modem, but this will take some time. Until then, Apple appears to have recourse to its former supplier Qualcomm, with whom a long dispute has ended.
As the website PCmag reports, the boss of Qualcomm, Christiano Amon, spoke at the Snapdragon Tech Summit, where the manufacturer also released details on new processors and SoC, quite openly about the next iPhone… with 5G.
Obviously, the first iPhone with 5G will actually come with a modem from Qualcomm. However, the further setup (e.g. the antenna design) can probably not get the maximum out of the Qualcomm modem. The reason for this is that Apple absolutely wants to launch the iPhone on time, or "as fast as we can", says Amon.
The development cycle for new smartphones and their components is somewhat different for each manufacturer, but all of them usually need a few months in advance to integrate and harmonize third-party components into their smartphone design (the interior), not to mention the software integration.
Apparently, Apple's lead time is barely enough to integrate the Qualcomm modem into the next iPhone after the abrupt change of supplier. Remember, the deal with Qualcomm didn't happen until April.
The head of Qualcomm also said that the collaboration with Apple would be "multi-year" and not just "one or two" years. Qualcomm is heating up the rumour kitchen and his company is likely to benefit from a rising share price if Apple does not deny it.
In the end, however, we will have to wait and see whether Apple will be able to successfully present an iPhone with 5G next year and whether it will meet customers' expectations. Until then there will be many new 5G smartphones on Android and certainly also some cheap ones.
iPhone 12 in three display sizes
The first rumors about display sizes appeared earlier this year, suggesting that Apple would equip its iPhones with 5.4-inch, 6.1-inch and 6.7-inch displays by 2020. This information comes from the pen of the analyst Ming-Chi Kuo, who is considered a very reliable source on the Apple scene. Kuo not only talks about display sizes, but also predicts that all three models will be based on OLED panels. Kuo did not mention whether the notch is still needed for the very complex FaceID camera technology.
Allegedly, however, a prototype of an iPhone that doesn't have a notch already exists. Based only on this very daring rumor, the first pictures from Twitter user @BenGeskin already circulated the possible new accommodation of the FaceID technology in a new, narrow display bezel.
This is not an official document, but only the presumption of a designer. This info is to be enjoyed, but measured with quite a lot of caution.
Design inspiration from the iPhone 4
Back to analyst Kuo. This week he gave a little preview of the design of the iPhone 12. According to Kuo, all three 2020 iPhones will have a redesigned metal frame. Instead of the rounded frame, the iPhone 12 should have a flat and angular metal frame. It should remind you more of the iPhone 4, which was presented in 2010 by Steve Jobs at the WWDC keynote.
How to Backup phone on iPhone?
Backup and restore all iOS&Android contents to computer in 1 Click, including contacts, sms, call logs, photos, videos, music and apps.
Restore iTunes and iCloud backup files to iOS&Andorid devices quickly.
Selectively transfer data between phone to phone.
Free Trial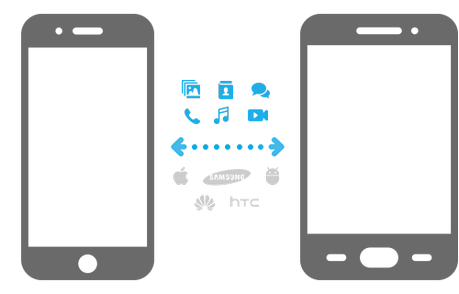 You can follow Syncios on Twitter, Facebook for more tips and tricks.