Apple Pay, the contactless payment system from the Californian technology giant, is finally available on UK shores in our shops and across the London transport network.
Apple Pay has launched in the UK, allowing iPhone and Apple Watch users to pay for goods and services as well as travel around London through their devices.
From today more than 250,000 shops across the UK, including Waitrose, Boots and Marks & Spencer will accept payment through Apple Pay, alongside Transport for London (TfL) on its Tube, bus and rail networks.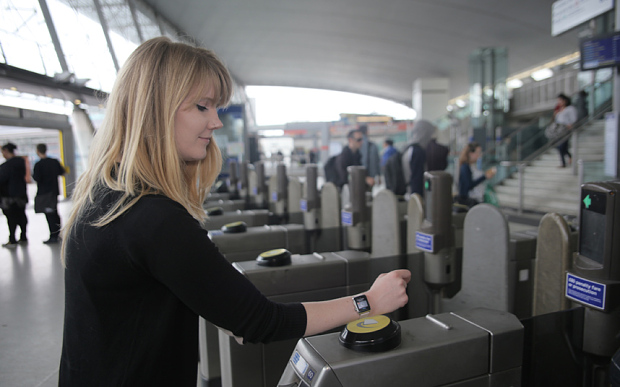 Double-clicking the side button and holding the Apple Watch to the Oyster card reader allows you to pass through the barrier
The new contactless payment system works uses the iPhone 6 and iPhone 6 Plus' inbuilt fingerprint scanner and near-field communication (NFC) chips to make payments by pressing your finger to the home button and holding the handset near a card reader, as you would a contactless debit card. The Passbook app will automatically open, and your phone will vibrate and beep to let you know it's been received.
When paying with an Apple Watch, double tapping the side button triggers your stored cards. Holding the Watch up to the contactless reader makes the payment, and, like on iPhone, it will vibrate and beep to confirm it's gone through.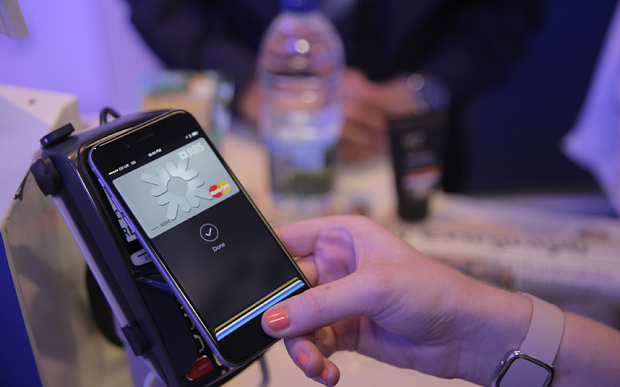 Paying for goods in Boots via Apple Pay is a simple process
Apple Pay has been available to customers in the US since last October, after it was unveiled at the launch of the most recent iPhones. Apple chief executive Tim Cook said more than one million credit cards were registered to the service within three days, which he claimed made it the largest mobile payment system to date.
Santander, NatWest and Royal Bank of Scotland customers are among the first to be able to use their accounts with Apple Pay from the launch, while Lloyds, Halifax and Bank of Scotland account holders will have to wait until the autumn.
Barclays is the only major UK bank not to partner with Apple on the venture. The bank initially told customers shortly after the announcement in early June that Apple Pay was coming to the UK that negotiations with Apple were ongoing, believed to be down to the bank's own ventures into contactless payment through its bPay mobile payment initiative. Barclays has since said support for Apple Pay is coming 'imminently'.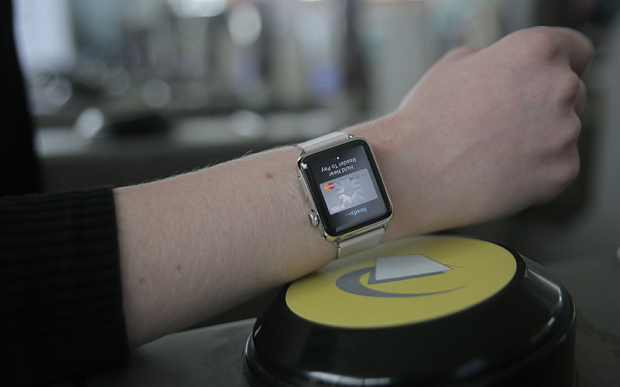 Vice president of Apple Pay Jennifer Bailey said the system will be able to used to not only buy coffee and other low-price transactions, but full shopping baskets' worth of goods following merchants' decisions to upgrade their contactless terminals' software to accept transactions with a greater value than £20, rising to £30 in September.
"In America we're not as advanced in using contactless as the UK, we're only transitioning to chip and pin now," she said. "Today there's virtually no contactless from a card perspective – Apple Pay is the first contactless for the most part."
Ms Bailey said the aim of Apple Pay is to replace the traditional wallet, beginning with payments with a focus on ease of use, security and customer privacy.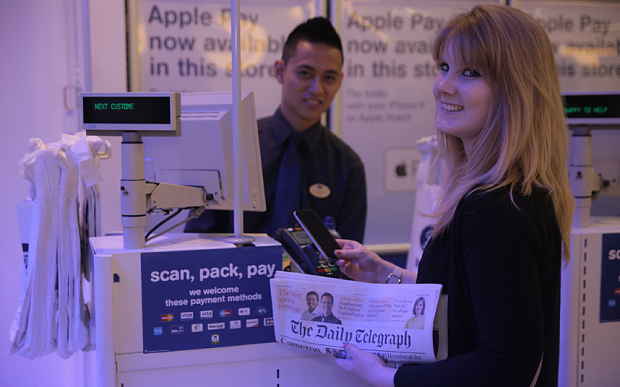 Purchasing a quality paper in Boots has never been easier
"We don't store the credit card number on your phone, a new device account number generated by the banks is stored on the phone in our secure element. There is also a unique dynamic security code is set with every payment, so if the device account number is compromised in any way, it won't work.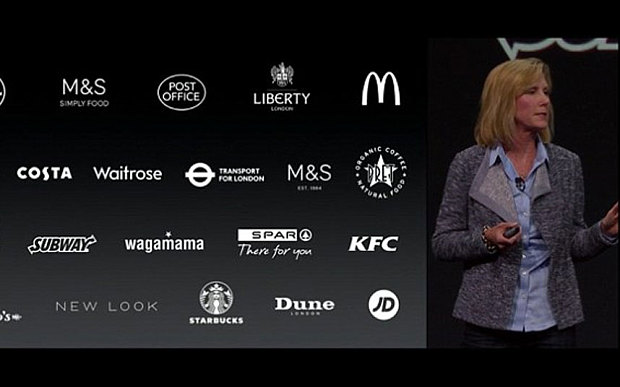 "We've designed it so the transactions are just between you, the bank and the merchant, not seen by Apple. That transaction information never passes through Apple servers. It's unlike some other folks in this industry who want to take that data and use it for other revenue or advertising purposes – we're very much focused on strong customer privacy."
Where can I use Apple Pay?
• Lidl
• M&S
• Post Office
• Liberty
• McDonalds
• Boots
• Costa
• Waitrose
• Pret
• BP
• Subway
• Wagamama
• Spar
• KFC
• Nando's
• New Look
• Starbucks
• Dune
• JD Sports
Reference: Telegraph
Read more:
You can follow Syncios onTwitter, Facebook for more tips and tricks.
Recommend: if you would like to move contacts from old Android Phone to new iPhone, you can try this perfect one click data transfer tool, migrate everything, including SMS, Contacts, Videos, Photos, Call logs and more from phone to phone. Simply download and have a try.