Apple iOS 9.2.1 has been released and on the surface it looks an innocuous update which skips new features to concentrate on bug fixes. So should you rush out and install iOS 9.2.1 or are there any potential hidden deal breakers? Let's take a closer look…
Who is iOS 9.2.1 For?
iOS 9.2.1 is compatible with the iPhone 4S or later, iPad 2 or later, iPad mini or later, iPad Pro and 5th generation iPod touch or later. It is approximately a 40MB download and should prompt users to upgrade to it automatically. Note you will have to be on WiFi to download the update as Apple (still) doesn't allow iOS updates to be downloaded using your carrier.
If you don't receive an automatic upgrade notification you can manually trigger it by going to Settings > General > Software Update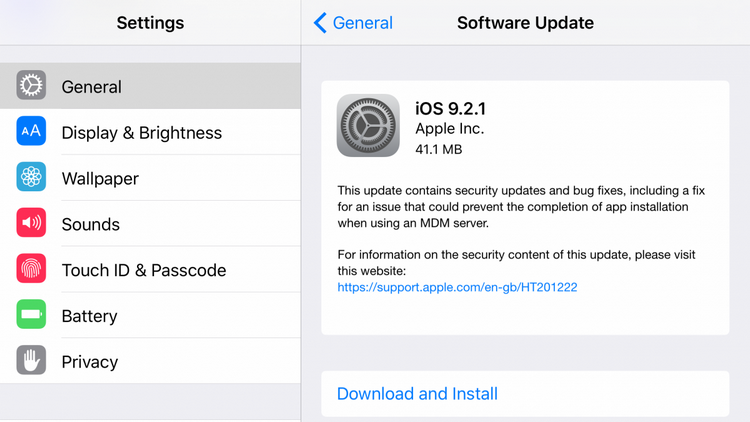 What Does iOS 9.2 Do?
Fixes, fixes and even more fixes. Or in Apple's official description: "This update contains security updates and bug fixes including a fix for an issue that could prevent the completion of app installation when using an MDM server"
MDM is 'Mobile Device Management' and focuses on the issuing and control of devices by corporations. Apple also painstakingly breaks down other fixes in iOS 9.2.1 including multiple memory corruption flaws, security vulnerabilities (especially when visiting malicious websites) and an issue which allowed the placement of cookies to compromise a device.
No, it doesn't sound thrilling but there's more to it than that – both good and bad…
Apple iOS 9.2 Successes and Failures
The Good News
Happily the vast majority of users are reporting that the iOS 9.2.1 update performs smoothly and I've yet to see anyone report it hanging their iPhone, iPad or iPod touch. Some have also commented that their device feels sharper and smoother after upgrading, which would suggest Apple quietly dropped in some performance optimisations (it often leaves an easter egg or two).
The Bad News
Perhaps the worst news about iOS 9.2.1, however, is it doesn't fix the ongoing battery level bug. Apple confirmed the issue last week, but users on the company's Support Community report argue it has existed for more than four months and that Apple tech support has been promising bug fixes since iOS 9.0.2, which was released on 30 September.
On top of this I am seeing limited reports of iOS 9.2.1 stopping contacts sync, breaking SMS and iMessage and causing glitches in Apple Music but currently these appear to be extremely rare and there's currently no momentum behind these reports. In fact most replies to these threads come from users trying to offer tech support as opposed to 'Me Too!' proclamations.
Finally it is worth noting that, like iOS 9.2, iOS 9.2.1 has no jailbreak. A private jailbreak has been achieved, but nothing has been given a public release as yet so those of you waiting with older jailbroken iOS versions will need to sit tight for now.
That said, the iPhone, iPad and iPod touch landscape is now shifting quickly as Apple has a massive iOS release coming soon…
The Road Ahead
The big news in the iOS calendar is iOS 9.3. Apple took the unprecedented step with a point release of giving it a dedicated website and there are some brilliant (and long awaited) new features.
Given Apple typically beta tests iOS releases for 40-60 days we should expect a public release of iOS 9.3 in late February/early March but for those of you who can't wait, developer and consumer beta releases have been made available. Note: the usual caveats about bugs in beta releases remain, so I wouldn't advise you testing the release with a device you need everyday.
Of course also coming later this year is the big one: iOS 10 (perhaps called 'iOS X' ?) and MacRumors believes you'll see this on June 13th. How come? It dug into the schedule of Apple's usual WWDC launch venue – the Moscone West Convention Center in San Francisco (where each new version of iOS is unveiled) – and found it has completely blocked out a single week in June (when WWDC typically takes place) starting June 13th.
Apple iOS 9.2.1 Install Verdict: Yes, Unless You Jailbreak
Just as iOS 9.2 was a very solid release, updating to iOS 9.2.1 also looks to be a no brainer.
Why? Because while it is an unpleasant surprise to see the frozen battery charge bug continue, iOS 9.2.1 makes no difference to those affected or unaffected by the problem while the update squashes other pertinent security flaws. This doesn't let Apple off the hook for not addressing it (and for four months now) but iOS 9.2.1 doesn't make your daily experience worse.
Yes, there are some very sparse complaints about contacts and SMS/iMessage issues but at the time of posting neither of these topics has gained any momentum. A highly unlikely scenario if they were widespread, given the platform has over one billion users.
As always I'll update this post should any breakout problems occur, but iOS 9.2.1 does indeed seem to be an overwhelmingly safe and slightly dull release. Install away!
Reference: Forbes
Recommendation:
It is a must to backup your iPhone, iPad, iPod berfor updating to iOS 9.2.1, Syncios iPhone/iPad/iPod Manager can be a great helper, you are allowed to backup iPhone, iPad, iPod music, videos, photos, apps, ebooks, contacts, messages and more to PC or Mac.



You can follow Syncios on Twitter, Facebook for more tips and tricks.