iOS 9.1 is here and in record breaking time. It promises to be the solution to numerous bugs in iOS 9.0.2 (ironically itself a dedicated bug fix update) and its release notes go so far as acknowledging a significant number by name. So is iOS 9.1 everything it is cracked up to be? Let's break it down…
The Potential Deal Breaker
Before we dig more deeply into iOS 9.1 it is important to flag up what will be a deal breaker for some: it closes the recently released iOS 9 PanGu jailbreak. PanGu had only just posted its first public iOS 9 jailbreak a few days ago after significant beta testing found iOS 9 to be a tough nut to crack.
Jailbreaking has become less popular in recent years as iOS has delivered ever more features as standard, but for those wedded to jailbreaking their iPhones the message is clear: stay away from iOS 9.1 until you hear more from PanGu.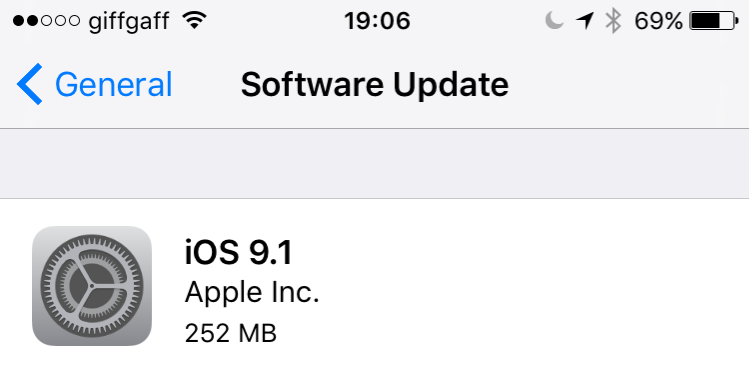 What Does Apple iOS 9.1 Do?
Make no mistake, iOS 9.1 may be a major release (as opposed to previous iOS 9.0.x updates) but it remains a glorified bug fix. Of the 13 highlights Apple has bullet pointed in the release notes no less than 11 are bug fixes and performance upgrades. The full list is as follows:
Live Photos now intelligently senses when you raise or lower your iPhone, so that Live Photos will automatically not record these movements
Over 150 new emoji characters with full support for Unicode 7.0 and 8.0 emojis
Improved stability including CarPlay, Music, Photos, Safari, and Search
Improved performance while in Multitasking UI
Fixes an issue that could cause Calendar to become unresponsive in Month view
Fixes an issue that prevented Game Center from launching for some users
Resolves an issue that zoomed the content of some apps
Resolves an issue that could cause an incorrect unread mail count for POP mail accounts
Fixes an issue that prevented users from removing recent contacts from new mail or messages
Fixes an issue that caused some messages to not appear in Mail search results
Resolves an issue that left a gray bar in the body of an Audio Message
Fixes an issue that caused activation errors on some carriers
Fixes an issue that prevented some apps from updating from the App Store
While it isn't name dropped, it has also since been confirmed that iOS 9.1 officially enables WiFi calling for Sprint customers. This means they join AT&T and T-Mobile customers in being able to use WiFi to boost phone reception in areas of weak signal as well as the ability to accept calls on Macs, iPads, iPods and even the Apple Watch.
On top of this iOS 9.1 brings the News app launch with iOS 9 to the UK and Australia and lays the ground for the iPad Pro with compatibility upgrades for the Apple Pencil. It is also a prerequisite to use the forthcoming fourth generation Apple TV.
Apple iOS 9.1 Successes And Failures
For those who have been hit by iOS 9 bugs many of the issues Apple openly calls out will be familiar. But claiming to fix things and actually fixing them is a very different issue, as iOS 9.0.2 unfortunately demonstrated. So how does iOS 9.1 fair? So far initial user feedback is fairly positive:
The Good News
On the official Apple Support Communities forum the Game Center thread is under universal agreement that iOS 9.1 has fixed the problem. The App installation problems thread is also giving it the thumbs up. Meanwhile comments to the touchscreen glitches thread have cleared up since testing the final iOS 9.1 beta.
The Bad News
It isn't a clean sweep though. The update has been hit and miss for users affected by broken notifications by improving but not fully fixing the issue, and there is universal derision on the Support Communities thread dedicated to POP email failures with affected users reporting no improvements whatsoever. This despite the fact this is specifically called out in the iOS 9.1 release notes.
In addition to this there are isolated reports of new problems being introduced with contact searching and personalised ringtones not working, but I have yet to see enough evidence of these being widespread.
So what happens next?
The Road Ahead
Interestingly there no further major iOS 9.x updates currently in beta testing. This is unusual as Apple often has overlap between publicly releasing one version and beta testing another with developers.
But before those still suffering problems get too concerned, it is worth noting Apple rarely beta tests smaller iOS updates (iOS x.x.x). Still it does suggest the company is largely happy with the work achieved in iOS 9.1 and a major update may not come for some time.
Install Verdict: If Having Problems – Install; If Not – Wait
The takeaway message from iOS 9.1 is if you have been suffering from any of the issues Apple calls out in the release notes then it is worth giving the update a spin. While it doesn't appear to have a 100% success rate what it doesn't fix it doesn't appear to be making worse, so there's no harm is seeing how it pans out for you.
On the flip side isolated reports of new problems with contacts and ringtones mean I'd suggest holding fire if your iDevice is currently functioning like a well oiled machine. Then again with no major outcries in the first 24 hours, overall I'm cautiously optimistic.
Read more:
Recommend: keep tying to upgrade to the newest iOS 9, but fail to do this? And what makes you feel upset is that some of you iPhone data has gone. Do not worry, you can try this perfect one click iPhone data recovery tool to retrieve photos, messages as well as contacts, reminders, calendars, bookmarks, videos, notes, call history other files on your iPhone, iPad or iPod Touch. Simply download and have a try.




You can follow Syncios on Twitter, Facebookfor more tips and tricks.