Apple HomePod is the smart speaker that wants to be at the center of your home audio experience, and that's great news for iPhone and iPad users.
Apple HomePod price and release date
Apple made the argument that the HomePod speaker combines the best of the new speaker ideas out there. It's both a smart speaker and powerful source of music.
For that reason, Apple made the point that the price of both of these items would normally be more expensive than the HomePod price. In fact, Apple is suggesting you're getting a big discount. So nice, right?
How much will it cost? You'll be paying $349 for the new Apple speaker, but you won't be able to buy it right away. The release date is December 2017 in the US, UK and Australia, which means it'll likely be here just right before Christmas – and it'll very likely be sold out everywhere. In that way, it's like a very big AirPod.
HomePod setup
When you first turn on the HomePod, it wants to learn where it is in space. It will send out a 360 beam of sound, seeing if there are any surfaces nearby, and if it finds it's on a shelf or a bookcase will use the wall behind to reflect a different level of sound.
It's similar functionality to what's offered by Sonos with its multi-room speakers, although this system relies on you walking around the speaker's room with a phone that then uses its microphone to measure the space.
The HomePod will also automatically work out whether there's another speaker nearby, and will connect to it and balance the sound to make sure the two are working well in tandem.
Pairing your Apple device involves simply holding it near the speaker in much the same way as the AirPods. Apple is yet to confirm whether you can use non-Apple devices with the speaker.
HomePod audio performance
We were fortunate to experience the HomePod in action to hear the audio performance before it launches later in the year – and to sonically compare it to the Sonos Play:3 and the Amazon Echo.
The Play:3 will set you back $299 (so not much less in terms of cost, and isn't voice-enabled) and the Amazon Echo will cost $180 – which is a fair amount cheaper than the $349 Apple is asking.
But how do they sound compared to one another? Well, the HomePod is easily the best of the three in terms of overall performance – but you'd expect that given it's also the most expensive.
The first song we heard – Sia's The Greatest – featured impressive vocal performance, with a wide and clear sound that flooded the room. However, the bass was far too punchy, almost pulsing, with this song, and while the Sonos was more muted vocally it offered a softer bass and an arguably more pleasant sound with this song.
The Amazon Echo sounded tinny in comparison too, but for the price and shape this is almost to be expected.
Next up was Norah Jones with Sunrise, a more vocal-powered track, and walking around the room the HomePod delivered well-radiated sound. On this track, without too much bass, the Echo sounded not half-bad either, making it feel OK value for money.
With Stevie Wonder's Superstition, the Play:3 and HomePod matched up the same way as Sia's first song – the bass pulsing a bit harder on Apple's speaker, and Sonos sounding more soft.
However, the width and dynamism of the HomePod really pushed the song sonically, making it sound like a much more expansive device.
And curiously, Apple's speaker sounded great on the bass-heavy DNA by Kendrick Lamar, the 4-inch woofer inside the device combining very well with the vocals to deliver a clear performance. The Sonos Play:3 wasn't far off, but the chorus sounded more boxed-in.
The most impressive performance from the HomePod came when we heard two together to listen to The Eagles' Hotel California recorded live.
The two speakers created a soundscape so loud and clear that it felt like being there, the audience's screams melting into the background and the guitar feeling genuinely stage left even though there was no visual cue.
It would have been interesting to hear this against stereo Sonos speakers, but the HomePod proved it was more than a capable speaker with this performance alone.
HomePod size and features
HomePod has been designed to be a 7-inch with a 4-inch upward-facing woofer that Apple promises will rock almost any room with distortion-free audio. It helps that this thing has 7 beam-forming tweeters in its base.
We were able to extend our index finger and thumb and almost span the entire speaker, which, according to the HomePod specs, is just under seven inches tall. That makes it a bit taller than the portly Google Home, and slightly shorter than canister-shaped Amazon Echo.
But it's more than just a loud wireless speaker. Apple has Siri baked into it, which explains why everyone was calling it the Apple Siri Speaker ahead of today's launch event. That means it will be able to answer inquiries like the Home and Echo, and also access Apple Music's 4 million song catalogue with a simple voice command.
Voice commands are picked up with the speaker's six-microphone array, which is one less than the number that can be found in the Amazon Echo, but three times the amount that the Google Home has.
Unfortunately Apple were silent on how well the speaker would work with other music services. Thanks to the inclusion of AirPlay you should be able to play any music you like from your iPhone, but it's not clear whether you'll be able to use Siri to control playback in the same way.
The top includes colorful lights, in the vein of Siri on the iPhone, and Apple's intelligent voice assistant will respond your commands. Given the fact that iOS 11 makes Siri even smarter, we should see this rival the Google Home speaker.
The HomePod will be powerful on the inside, too, with a custom A8 chip, just like on an iPhone. The A8 means the HomePod will be able to better predict when it hears its name and be able to perform real-time acoustic modeling that will shape the sound to fit the room it's in.
It'll also have bass management through real-time software modeling that ensures the speaker delivers the deepest and cleanest bass possible, with low distortion, according to Apple.
Apple also says it'll be easy to pair with your Apple devices, just like it is with the Apple AirPods due to the W1 chip and support multi-room audio – a feature we greatly appreciated in this year's Beats headphones line-up.
There's no word yet on whether the speaker will work with Android devices. If AirPlay is the only available connectivity then this rules out using non-Apple hardware as a source, but we've contacted Apple for clarification.
HomePod colors and design
While there's a chance Apple could reveal more colors for the HomePod between now and December, nothing was said to imply that.
It'd be nice to see Apple come out with additional colors – or at least some way to personalize the speaker – considering that the Home has interchangeable bases that give it a nice visual flair. If that doesn't happen before the speaker launches later this year, however, the two colors Apple has picked are at least subtle and non-offending.
There's still a lot left to explore about the Apple HomePod smart speaker. The company clearly wants to take on Google Home and Amazon Echo, and it's aiming to be the best iPhone and iPad connected speaker around.
Early verdict
While we're still waiting to test the performance of the HomePod's voice recognition and interaction, the sonic performance showed Apple has made something that's easily a match for Sonos' famed speakers.
Given the performance it has over something like the Amazon Echo, if Apple can improve Siri to a level approaching Alexa then the HomePod will be a compelling buy.
It's a shame it sounded so good with two, in a way – the cost is rather high if you need to get a double set, but it almost seems worth it even at this early stage.
It's hard to say why Apple has chosen to offer an early look at a speaker not coming for six months, but it's likely going to need to launch it close to the holidays and showing off the performance now will probably keep others from buying a rival for a loved-one.
---
Recommendation: Manage iPhone/iPad/iPod without using iTunes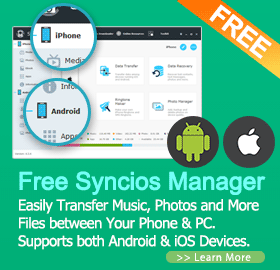 Support to transfer, edit, backup, manage, view iOS & Android mobile data: Music, videos, photos, apps, ebooks, contacts, messages and more.
Download videos from 100+ video sharing sites up to 4K HD video quality and transfer to iPad/iPhone/iPod/Android.
Handy toolkit: Audio converter, video converter, ringtone maker, etc.
Free
You can follow Syncios onTwitter,Facebookfor more tips and tricks.