Apple announced the newest version of their Mac operating system. The most obvious change here is in the name, which, for the first time in over a decade, no longer includes OS X. Instead, rebranded to match the rest of Apple's modern line of operating systems, their desktop version is now dubbed macOS.
The company has not, however, dropped the famous locations in California naming scheme, this year choosing to go with the Sierra Nevada mountain range.
Siri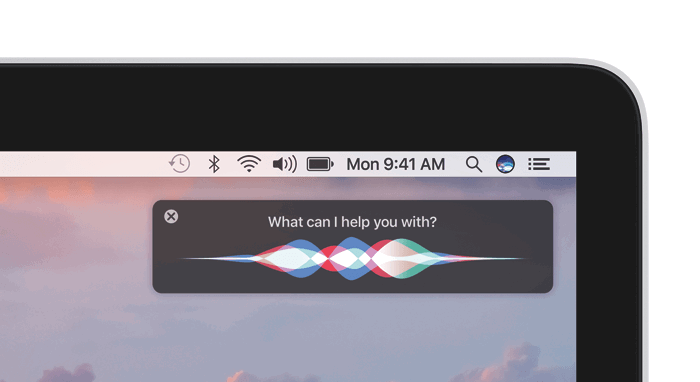 Getting on to less purely semantic changes, another big new addition to macOS is integration with Siri. While Siri did not receive the rumored huge boost in intelligence, it has picked up a few new tricks in its latest incarnation. Siri on the Mac can of course do all the standard jobs that Siri has been able to perform for years on iOS, but the desktop oriented assistant has also learned new tricks for dealing with files. Siri can search files on your Mac on command, and can do so with all the advanced file searching techniques that were introduced in El Capitan's Spotlight search last year. Really more than anything else, Siri for Mac feels like a merger between the Mac's Spotlight search and iOS' Siri.
A new novelty for both Siri and Spotlight is the ability to pin file search results, sports schedules, Twitter feeds, and more to the Notification Center pane that still slides out from the right side of the screen in macOS Sierra. Search results are pinned by tapping the plus button in their top right corners, but can also be drag-and-dropped to other places in the system, such as dragging an image found by search to your desktop or another application window.
Siri does have some other new queries specific to macOS, though none are particularly groundbreaking. You can ask Siri how much free space is available on your Mac, or to show all the files in a particular folder, and several others that we know of. In general though, Siri for Mac is pretty standard and a bit underwhelming. Perhaps it will be expanded in more iterative releases throughout the next year.
Photos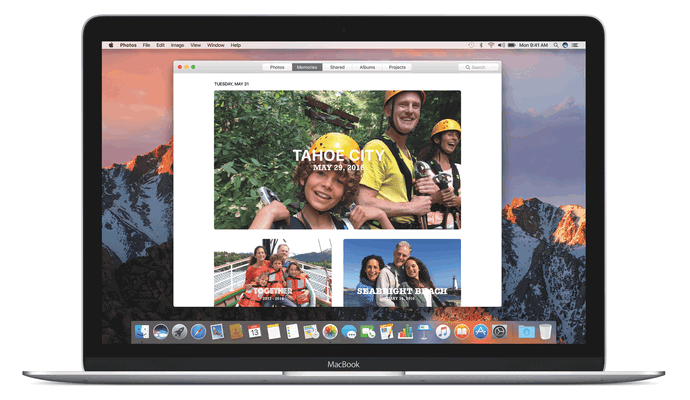 Photos for macOS has received the same overhaul that the app did on tvOS and iOS, changing up the UI slightly, and adding in some of the more advanced new photo features that Apple showed off mainly in the iOS section of the keynote (as such, I'll be covering it a bit more in my iOS overview). The marquee features are a new Memories tab, where the app intelligently groups photos and videos in various "memories" that Apple hopes will let users relive experiences in new and unexpected ways. There's also an intelligent search feature which allows searching photos for objects and scenes and uses computer vision technology to identify matches, and a "Places" album which displays all your photos on a map of where they were taken. Apple also describes a "People" album as new feature, so I'm guessing it must just use a better version of Apple's previous face recognition technology, since that has already been a feature of older version of macOS1, known as "Faces".
Apple Pay on the Web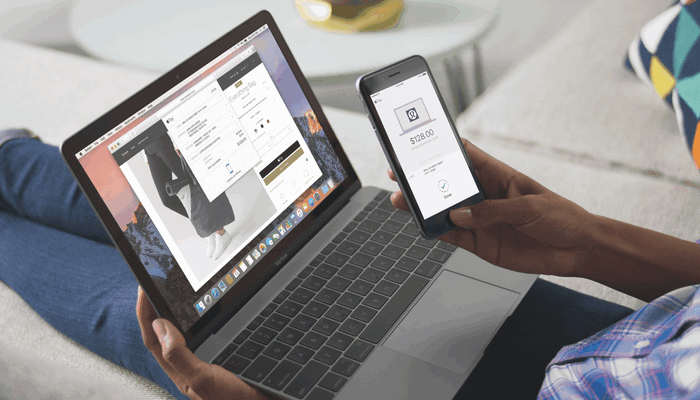 In its next logical evolution, Apple's Apple Pay technology has made the jump from mobile apps and NFC terminals to the web. Now you can pay online using Apple Pay on any website that adds support for it. When you're ready to pay, the payment details will show up on your iPhone, and all you have to do is place your finger on the home button, or double tap the side button on your Apple Watch. This of course comes with Apple Pay's standard industry-leading security.
Auto Unlock with Apple Watch
The subtitle says it all. Now you can have your Mac unlock automatically when you are wearing your unlocked Apple Watch. All you have to do is open or turn on your Mac with the Watch nearby and the computer will unlock without requiring you to type your password.
Universal Clipboard
While this might not be great news for clipboard manager apps like Copied, the new universal clipboard feature sounds great for users. Now when you copy something on your Mac it will be available automatically on the clipboards of your iOS devices, and when you copy on iOS, it will be available on your Mac (the one thing third-party clipboard managers couldn't do). While it still doesn't include all the features of a full clipboard manager (such as saved clipboard history), even this simple implementation will be a fantastic addition for those with multiple devices in Apple's ecosystem.
iCloud Drive Improvements
With macOS Sierra, the Desktop and Documents folders on your Mac can now sync with iCloud Drive, making them available to you on all of your devices. There's also a new Optimized Storage feature, in which the operating system will start offloading rarely used files into the cloud, where they will be available on demand, but will no longer take up valuable space on your Mac.
Of course, both of those features require that you have enough iCloud Drive space to store all those files in the cloud. Not surprisingly, Apple has still avoided changing their iCloud Drive storage tiers, with the free tier continuing to sit at a meager 5 gigabytes. On the bright side, Sierra's space saving techniques extend a bit further than just sending things to iCloud Drive. Apple claims the new OS will also have tools to help you find and remove duplicate files, as well as unneeded or obsolete files hidden around your system.
Miscellany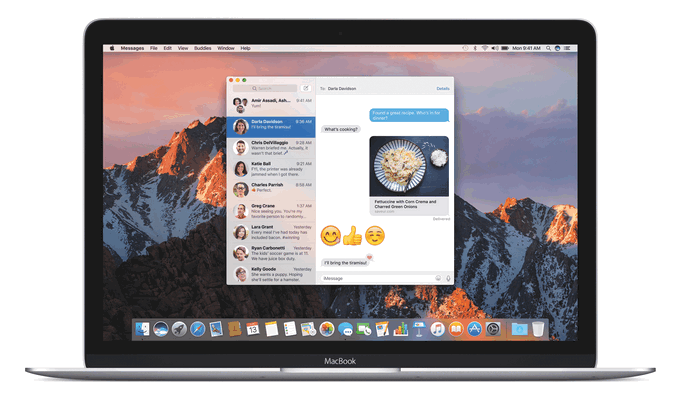 While the improvements to Messages are a bit bigger than "miscellany", I'll be covering those more in depth in my iOS 10 overview, so for now I'll just mention the addition of previewing videos and links inline, large emoji, and message reactions like thumbs up or exclamation marks. There is also a UI refresh for iTunes, mainly for the Apple Music section within the application. Most notably in this update is the addition of lyrics available within iTunes.
For those who enjoy working with tabs more than windows, macOS Sierra includes a feature to switch almost entirely from windows to tabs, including in third party apps, and most don't even need to be updated for the feature to work. I'm not a big fan of tabs myself, but for some I'm sure this addition will be a welcome reprieve from the craziness of window management.
Finally, there's picture in picture, which is coming to the Mac in the same way that it was implemented on iOS last year. Now any video playing in a compatible video controller will include a picture in picture button that you can click to detach the video from its window. The resizable video frame will then float in a corner of your Mac (no word on whether it can be moved freely, but it was definitely snapping to corners during the keynote presentation). The frame will float on top of all other applications, including those running in full screen mode.
Wrap Up
macOS Sierra has an all new name, but it's still the same OS X we know and love. This year's upgrade may not contain any revolutionary new features, but this is a mature operating system, so it doesn't really need them. Instead, Apple has continued the path it's been on for years, adding lots of iterative improvements that make the system better in small ways that users can enjoy every day. That's all we should want from an upgrade to the Mac's OS, and with this year's release, Apple has delivered once again.
The developer preview of macOS Sierra is available today, and it will be coming to all Mac users as a free update this Fall.
read also: How to backup iPhone/iPad/iPod Touch on Mac?
---
Recommendation: Manage iPhone/iPad/iPod without using iTunes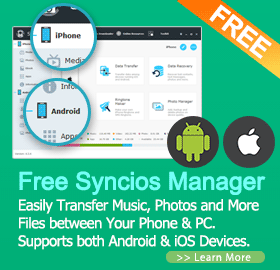 Support to transfer, edit, backup, manage, view iOS & Android mobile data: Music, videos, photos, apps, ebooks, contacts, messages and more.
Download videos from 100+ video sharing sites up to 4K HD video quality and transfer to iPad/iPhone/iPod/Android.
Massive free resources: videos, wallpapers, ringtones
Handy toolkit: Audio converter, video converter, ringtone maker, etc.
Free
You can follow Syncios onTwitter,Facebookfor more tips and tricks.
source: macstories