The next iteration to Android KitKat software, v4.4.3, has reportedly entered the testing phase, indicating the update release is coming soon.
A few days ago the changelog for Android 4.4.3 KitKat surfaced online revealing the new improvements in the update. According to the disclosure, the next KitKat update is said to be a major bug-fix update. It will also address the issues of high CPU usage of mm-qcamera-daemon. There will be not any new features or UI enhancements, which Google is reportedly keeping for its next major release.
Android Police, after speaking to sources familiar with the matter, reports that Android 4.4.3 has entered internal testing outside the core Android team. The testing process is also known as dogfooding. The public version of the firmware will not be coming for the following few weeks.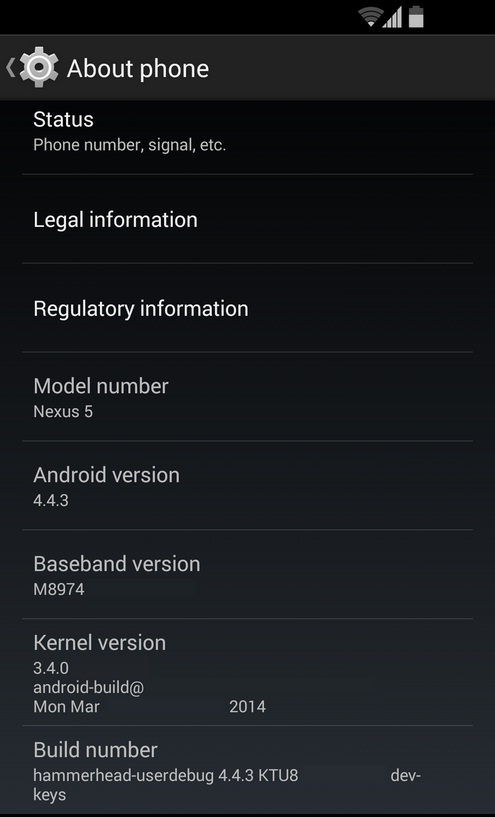 Screenshot Nexus 5 running Android 4.4.3
Android 4.4.3 KitKat codename
The previous Android 4.4.1 and the current Android 4.4.2 versions are known as KitKat MR1, whereas the upcoming Android 4.4.3 is codenamed KitKat MR2. The new KitKat version, which has entered dogfooding stage, has rolled out to 1% of Google employees outside of the Android team.
Currently the Android 4.4.3 software testing is only for a few Nexus lineups such as Nexus 4, Nexus 5, Nexus 7 2012, Nexus 7 2013 and Nexus 10. The Google Play Edition devices and Moto X are also the top contenders for the dogfooding process.
Android 4.4.3 testing for devices 
Nexus 4
Nexus 5
Nexus 7 2012
Nexus 7 2013
Nexus 10
Google Play Edition
Moto X
Android 4.4.3 release schedule
The official rollout of Android 4.4.3 software, according to the revelation, is likely to be in the coming weeks. As of now there is no word on the date of the rollout as this depends on the success of dogfooding process, which is expected to expand from the 1% to a large number of employees.