Samsung is back with a new phone in the Galaxy Note series! Many feared that the inglorious history of the Galaxy Note 7 may have been the end of the series, but the reality is far from it. With the Galaxy Note 8, Samsung is seeking to go back to its old strengths in the market of XXL smartphones. From our initial review, it looks like Samsung has certainly given it a good shot with the Galaxy Note 8.
Samsung Galaxy Note 8 release date and price
The Samsung Galaxy Note 8 will be available from September 15 in the US at all major carriers and major retailers like Best Buy and Walmart, but the US price hasn't been announced yet. Samsung will offer the Galaxy Note 8 in several colors: Midnight Black, Maple Gold, Deep Sea Blue and Orchid Gray, though availability of each color will depend on where you live. The US will only get Midnight Black and Orchid Gray.
Pre-orders will begin August 24 at Best Buy, where customers will get freebies like a Gear 360 or a 'Foundation kit' with a 128 GB memory card and fast wireless charger, on top of an extra $150 savings on the regular (still unknown) price tag.
Samsung Galaxy Note 8 design and build quality
If you're familiar with the Galaxy S8, you'll be pretty at home with the Galaxy Note 8, at least as far as design goes. The current trademark appearance of Galaxy smartphones continues with this new Note series iteration, with its curved glass display and the slim aluminum frame, giving the Galaxy Note 8 a sleek, streamlined appearance. The finish on the pre-production models that we were lucky enough to test was already excellent and on par with the Galaxy S series. At 8.6 millimeters thick, the Galaxy Note 8 is not particularly slender and it also weighs a whopping 195 grams – you'll definitely notice this when you hold it in your hand or if it's in your pocket.
The buttons are arranged like on the Galaxy S8. There is no home button, but there is a fingerprint scanner to the right of the rear camera's LED flash. As on the Galaxy S8+, the fingerprint scanner is placed rather inconveniently on the Note 8, which makes it unfortunately difficult to reach – Samsung really needs to make some effort here. The power button and volume rocker are perfectly fine.
An important feature for those among us who are liable to be using our phones in the rain or at the beach: The Samsung Galaxy Note 8 is dust and water resistant with IP68 certification. Same goes for the S-Pen, which slots in nicely in a recess in the phone.
Overall, the design of the Samsung Galaxy Note 8 is nicely done and the smartphone looks elegant and modern. Nevertheless, whether a phone looks good or not is a very subjective matter and in my opinion, this device is lacking a bit of a wow factor. The new Note phone looks good and is comfortable when you hold it, but it's hardly groundbreaking apart from the screen size. The black version looks rather plain and is a bit dull to my eye, the blue variant is too monotonous for me, although some of my colleagues like it. Personally, I would probably opt for the gold version of the Galaxy Note 8 but this question of personal taste is a mere detail in the grand scheme of this review.
Samsung Galaxy Note 8 display
The display of the Samsung Galaxy Note 8 measures a record-breaking 6.3 inches. Its predecessor came with a 5.7 inch display. however, thanks to the new nearly bezel-less design and the Infinity display, we get a considerably bigger screen with just one extra centimeter on its predecessor. The resolution of the Super AMOLED panel in the new Galaxy Note is 2,960 x 1,440 pixels, but to use this you have to go into the system settings, because by default Samsung selects the middle of three possible resolutions, namely Full HD+.
You can't see much on the Edge display. Sure, the glass is tidy around the corners, but the actual display only follows this curve a little bit. In practice, you can barely notice any difference between this curved display and a flat display.
Like for the Galaxy S8, the display is absolutely fantastic. The colors are radiant, the brightness is good and there is an enormous viewing angle. You'll be pleasantly surprised, even if you've already tried the Galaxy S8 or S8+. The Galaxy Note 8 has so much display for a phone of its size. The 18.5:9 aspect ratio is becoming the norm, and it has advantages when reading websites and in multi-window mode with two parallel apps running.
The Galaxy Note 8 has an Always On mode, which can be configured quite easily. As with the Galaxy Note 7, you can also take notes on the new Note 8 (up to 100 pages) using your stylus, even when the screen is off. The Always On display can also permanently display any notes you make so your shopping list is always at the ready, even without having to unlock your phone or open your notebook app.
Samsung Galaxy Note 8 special features
With App Pair, Samsung has devised a way to highlight the Galaxy Note 8's multi-window mode. With this feature, you can pair two apps that run simultaneously in split screen. This can be really useful if you're copying things from one browser to another, or to an email or elsewhere.
In terms of security and unauthorized access, the Galaxy Note 8 comes equipped with several layers of protection mechanisms. The safest is the iris scanner, followed by facial recognition, which uses the front camera of the phone. The third biometric solution is the fingerprint scanner, but this one is quite uncomfortable to use because of its inconvenient placement on the back of the phone.
The infamous S-Pen has been given a lot of thought by Samsung, and Samsung was right to do so. You can scribble up to 100 pages of notes on your locked screen, and you can pin individual pages to the Always On display. A neat new feature with the Note 8 is that you can also create animated GIFs with the stylus and send them. And through Pen Up, you'll find an active community for digital artists.
The Galaxy Note 8 has been designed as a tool for work, so it is compatible with the DeX dock. In other words, you can use it as a PC, and in this regard, the phone has been refined in terms of operation and the displaying of multiple apps on a large monitor.
Samsung Galaxy Note 8 software
The Galaxy Note 8 comes with Android 7.1 Nougat. You can expect an update to Android Oreo, though you may have to wait until next year. Samsung has placed its own UI over Android, and over time this has become more and more chic and better in terms of resource consumption. The appearance is pretty well configured, everyone should be able to find something that they like. In our full review, we'll dive a bit deeper into elements of the software interface.
Samsung Galaxy Note 8 performance
The Samsung Galaxy Note 8 is cutting edge in terms of equipment and performance. The octa core Snapdragon 835 processor is manufactured on a 10 nanometer process and clocks up to 2.3 GHz. Together with 6 GB RAM, you can't really ask for more here. Even in a year or two, the Galaxy Note 8 will still be able to hold its own. As usual from Samsung, there will also be a Exynos 8895 variant, but this will only be on the European versions. There is no major difference in performance between the two processors.
Samsung Galaxy Note 8 audio
The Samsung Galaxy Note 8 isn't a particularly extraordinary phone in terms of the loudspeaker, so it would be futile to compare it to HTC's BoomSound or similar technologies. A nice touch however is the high-quality headset from AKG which is included in the box.
Samsung Galaxy Note 8 camera
For the first time ever, Samsung has produced a flagship with a dual camera, and they weren't messing around. Both lenses have an optical image stabilizer and a 12 MP sensor, but they differ in aperture and focal length. The wide-angle camera has an aperture of f / 1.7 and dual-pixel autofocus; the telephoto lens offers 2x optical zoom with an aperture of f / 2.4.
The camera app allows a live preview of bokeh mode and has a clever trick up its sleeve: If you take a picture with the bokeh effect, the original photo will also be saved. In our initial testing of the Galaxy Note 8, regardless of the background, the bokeh mode sometimes works well, sometimes not. This is no different to the competition. A comparison with other dual camera smartphones will show whether Samsung does a better job of this or not. The 8 MP front camera also has an f / 1.7 aperture.
Samsung Galaxy Note 8 battery
Given the sad end of the Galaxy Note 7, it's no wonder that Samsung has paid a lot of attention to the battery of the Note 8. Samsung has played it safe here and the capacity has not been ramped up just for the sake of showing off a big number. At 3,300 mAh, it is 200 mAh less than the Galaxy S8+, which is already the lesser of the two S8 variants in terms of battery. But ultimately, in the Galaxy Note 8, there is still room to store the S-Pen and the battery life is unlikely to differ much in day-to-day life. It is also capable of fast-charging and wireless charging. We'll test the battery life for our full review, but we can rest assured that Samsung will have paid close attention to this aspect of the Galaxy Note 8 and the phone will still be optimized for those of you who use your phones intensively.
Related Article: How to Transfer Data from iPhone to Samsung?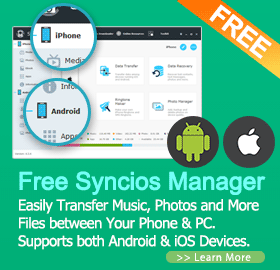 Support to transfer, edit, backup, manage, view iOS & Android mobile data: Music, videos, photos, apps, ebooks, contacts, messages and more.
Download videos from 100+ video sharing sites up to 4K HD video quality and transfer to iPad/iPhone/iPod/Android.
Handy toolkit: Audio converter, video converter, ringtone maker, etc.
Free
You can follow Syncios onTwitter,Facebookfor more tips and tricks.