AirDrop is a great file sharing protocol for iOS and OS X that allows users to quickly and easily send files, photos, contacts, and other data back and forth between iPhones, iPads, iPod touch, and Mac OS X. But sometimes AirDrop doesn't show up at all in iOS, which obviously prevents the feature from working to share anything let alone find someone to share it with. The AirDrop feature not showing up in Control Center is one of the most common problematic issues with AirDrop in iOS, but usually it's an easy fix.
We're going to assume your iPhone, iPad, or iPod touch is running the latest version of iOS, if not you should update it before going further by going to Settings > General > Software Update, because iOS updates frequently resolve bugs while also insuring greater compatibility with other devices running the same version. For best results with AirDrop, you'll typically want each device running the latest version of system software available for it.
Fix for AirDrop Not Showing Up in iOS Control Center
There are a few potential reasons for AirDrop not being visible, but assuming you have an iOS version which supports AirDrop as any modern release does, here's the most common resolution for when AirDrop is not showing up on an iPhone, iPad, or iPod touch within the iOS Control Center:
1. Open the Settings application in iOS and go to "General".
2. Now go to "Restrictions" and enter the devices passcode if requested.
3. Look under the Restrictions list for "AirDrop" and be sure the switch is toggled in the ON position.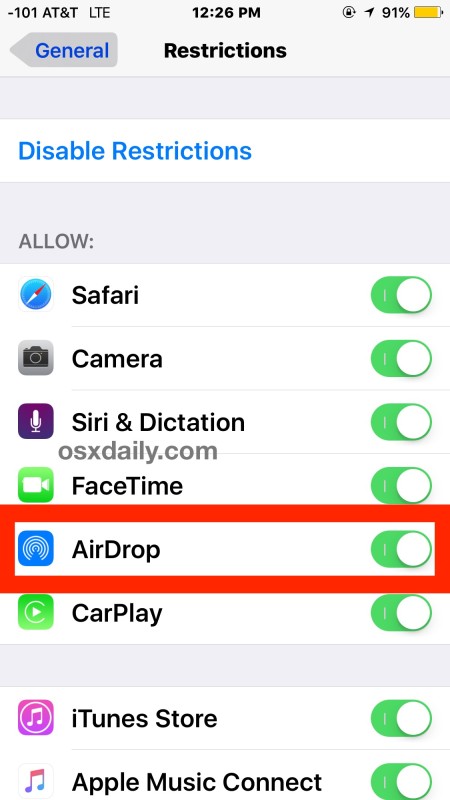 4. Exit out of Settings and open Control Center again, AirDrop will be visible.
Here's the before and after, before with AirDrop not showing up and therefore not able to work at all (since it's not enabled), and after with AirDrop no longer restricted, as the feature has been effectively enabled and is now allowed to work as intended: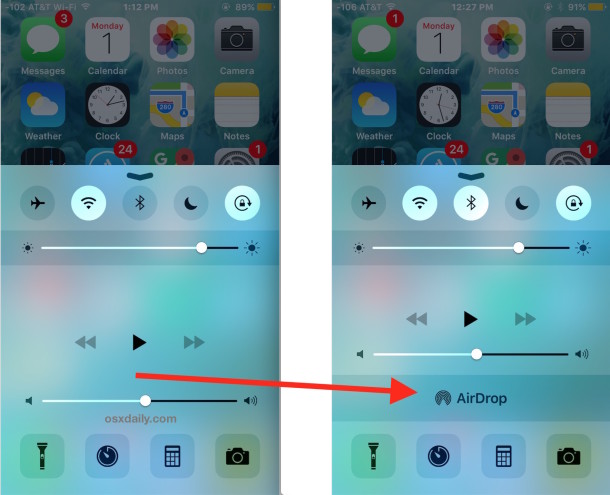 Now return to Control Center, flip the feature on, and AirDrop should work for sharing without incident. If you set AirDrop to Contacts Only for privacy purposes, you may want to switch AirDrop into 'Everyone' mode temporarily so that it won't have a problem finding someone nearby.
Just be sure to turn AirDrop back off or back to "Contacts" again once you are finished using it.
Sometimes users may need to reboot an iPhone, iPad, or iPod touch to get AirDrop to show up consistently after doing this, but it should appear immediately without a system restart. You may be wondering why AirDrop would be in the restrictions section if you didn't disable the feature there, but there isn't always a clear answer to this, and I've seen multiple iOS devices where AirDrop was effectively disabled in iOS by having the Restriction turned on. Simply toggling it off allows AirDrop to appear in Control Center, and to work for sharing again in most cases.
Reference: osxdaily
Read more:
You can follow Syncios on Twitter, Facebook for more tips and tricks.