The Google Home can be useful in any room around the house, from the kitchen to the bathroom. Here are nine ways you might find a Google Home helpful on your nightstand.
By helping with recipes and setting timers, the Google Home ($129.00 at Overstock.com) may have proven itself useful in the kitchen. But it's also helpful in other parts of the house, such as a bedroom or office.
From waking you up to keeping you entertained, here are nine ways to use a Google Home in the bedroom.
Set an alarm
Whether for waking up in the morning or taking a quick nap, the Google Home functions as a great alarm clock. Keeping in mind that Google Home alarms are still quite basic, they're very easy to set up and use. Just say, "OK, Google, set an alarm for 7 a.m.," or, "OK, Google, set an alarm for 25 minutes from now."
You can create recurring alarms, give alarms names and ask what alarms you currently have set. To cancel an alarm, just say, "OK, Google, cancel the alarm for [time or name]."
Sadly, there is still no interface for managing alarms in the Google Home app.
Get a morning update
The Google Home has a feature called My Day, which will give you updates on traffic and weather, upcoming calendar events and flight information. If you have it set to do so, it will also play your preferred news when it's finished telling your personal update.
To hear your My Day, just say, "OK, Google, tell me about my day."
To enable and set up My Day, open the Google Home app on Android or iOS and go to More settings > My Day. There you can choose what is included in your update.
Remember things
The Google Home can help you remember important things, like a temporary passcode or where you put your passport. Just say, "OK, Google, remember that I put my passport in the bottom drawer of the cabinet," or, "OK, Google, remember that the passcode for the door lock is 1234."
To recall what you've told your Google Home to remember, say, "OK, Google, what have I told you to remember?" Or you can say something like, "OK, Google, where is my passport?"
Ambient noise
If you like to fall asleep to nature sounds or white noise, the Google Home has a built-in function that turns it into a noise machine. You can say things like:
"OK, Google, play forest sounds."
"OK, Google, play white noise."
"OK, Google, what other ambient sounds do you know?"
There is an official library of 15 ambient noise sounds to choose from, but asking for noises outside this library will search for sounds from your primary music streaming service. If you use one of the official sounds, the sounds will play for 1 hour.
Listen to audiobooks
While the Google Home doesn't natively support Audible and the Audible app doesn't support Cast, it doesn't mean you can't listen to your books with a Google Home. However, it does mean you'll need an Android device to make it work.
Pull down the notification shade on your Android device and tap the Cast icon. Select a Google Home speaker, then open the Audible app and the audio will cast to Google Home. Alternatively, you can have Google Play Books read your books to you and cast the audio to your Google Home in the same way.
Shut down the house before bed
On of the most useful functions of a smart speaker is its ability to control connected gadgets around the house — switching the lights on or off, adjusting the temperature of the thermostat or checking on the status of the laundry.
I find that most of my smart home control happens right after waking up or right before bed. Namely, I use it to power everything on in the morning and shut down the house as I'm headed to bed. Having a smart speaker on the dresser or a nightstand means you can be extra lazy and not have to get up if you're already lying down and remember you forgot to turn off the lights in the living room or lock the back door.
Play a game
Games for the Google Home are in no short supply. Some games, like Mad Libs or Lucky Trivia, are built in. However, under Assistant apps in the Google Home app, you will find several choose-your-own-adventure-style games, as well as 21 Blackjack, Akinator, Hangman, Sub War and many others.
Plan a date night
If you're having trouble coming up with something to do for date night, the Assistant app Date Night can help. It suggests everything from going fishing to wine tastings, playing video games and going skinny dipping.
While Date Night won't likely revolutionize your relationship or dating life, it can help you think outside the box a little.
Catching up on the news or podcasts
Obviously, streaming capabilities are among the Google Home's most useful features. With a Home in the bedroom, you can use it to listen to your favorite podcasts, stream a local internet radio station or even catch up on the news while you're dozing off or getting ready for work in the morning.
Related: Best Tips and Tricks to Free up Space on Your iPhone 7 and iPhone 7 Plus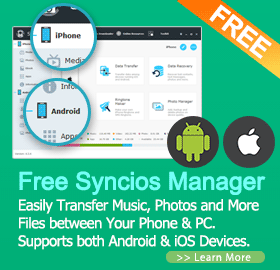 Support to transfer, edit, backup, manage, view iOS & Android mobile data: Music, videos, photos, apps, ebooks, contacts, messages and more.
Download videos from 100+ video sharing sites up to 4K HD video quality and transfer to iPad/iPhone/iPod/Android.
Handy toolkit: Audio converter, video converter, ringtone maker, etc.
Free
You can follow Syncios onTwitter,Facebookfor more tips and tricks.