On Your iPhone or iPad
1. Phone – Access Calls

When you need to make a call in a hurry, you can try these commands without even opening your Phone app:
Call (contact) on their home phone.
Get my call history.
Play the voicemail from (contact).
Do I have new voicemails?
2. Restaurants – Get Details
Siri can help you to find restaurants or make reservations. The next time you want to make plans for dinner, you can use these Siri commands:
Find the best burger place in (city).
Show me reviews for (restaurant and city).
Make a reservation at (restaurant name or type) (day and time).
Where is the closest pizza place?
3. Movies and TV – Search for Shows and Theaters
You are covered with Siri if you want to find the latest episode of your favorite show or see which movies are playing at your local theater. Check out these examples of how Siri can help you find what to watch:
Watch the latest episode of (TV show).
Find horror movies on Netflix.
What is (movie) rated?
Show me what movies are playing nearby.
4. Settings – Access Settings
Siri can open your Settings app to perform simple actions for saving your time. Here are just a few things you can ask:
Is my Bluetooth on?
Turn on Airplane Mode.
Open Sounds.
Show me my Facebook settings.
5. Home – For Home App Users
If you use the Home app to secure your home or automate settings, Siri can speed things up when you are heading out the door. Give commands or ask questions like these:
Lock the back door.
Is the porch light on?
Set up for movie night.
Is the front door locked?
On Your Mac
6. Finder – Open Files
This may be one of the commands you already use to open folders quickly. But, what many people might not know is that Siri can open files based on a day, name, or contact. Just start the command with the words Find, Open, Get, or Show. Here are a few examples:
Find the Word doc I worked on yesterday.
Open the file (filename).
Get the file (contact) sent me.
Show me all Excel files.
7. System Preferences – Make Adjustments
You can view and adjust system settings, change your display settings, and even ask a settings-related question. For instance:
Make my screen brighter (or darker).
Change my wallpaper.
Is my Wi-Fi on?
Put my Mac to sleep.
8. About This Mac – Get Information Fast
While you can certainly click the Apple logo from your menu and select About This Mac, you don't have to if you just ask Siri. Try some of these handy commands for quick details about your machine:
How much storage space do I have?
How fast is my Mac?
What is my serial number?
What OS version do I have?
9. On All of Your Devices
General Questions: Get answers to math problems, city details, word spellings, and more.
Maps: Ask for directions, show locations on the map, or find local businesses.
Messages: Send or respond to messages, read alerts, search for messages.
Music: Play a specific artist or song from Apple Music, identify tunes, or buy songs.
Sports: Get scores, game schedules, and standings.
If you are ever unsure of what you can ask Siri, just open the app and click the Question Mark icon. Each category will display on your device and you can select one for more details.
Read also: 5 Most Common Questions about Android Phone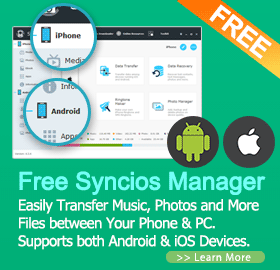 Support to transfer, edit, backup, manage, view iOS & Android mobile data: Music, videos, photos, apps, ebooks, contacts, messages and more.
Download videos from 100+ video sharing sites up to 4K HD video quality and transfer to iPad/iPhone/iPod/Android.
Handy toolkit: Audio converter, video converter, ringtone maker, etc.
Free
You can follow Syncios onTwitter,Facebookfor more tips and tricks.