Apple didn't stop with two new phones this year. It also introduced a third, the iPhone X. Here's what it can do that the iPhone 8 can't.
OLED display with HDR
While all three new iPhone models support HDR10 and Dolby Vision playback, only the iPhone X comes with a true HDR display. This is achieved through using OLED technology instead of the LCD screens with IPS found on the iPhone 8 and iPhone 8 Plus. The OLED display on the iPhone X has a significantly higher contrast ratio of 1,000,000:1, versus 1,300:1 on the iPhone 8 Plus and 1,400:1 on the iPhone 8.
This OLED display, which Apple is calling the Super Retina HD display can produce much deeper blacks. This is accomplished by turning off pixels that are rendered black, whereas, with an LCD, those pixels are kept on. Thanks to this, there is another unsung benefit to OLED tech: better battery life.
Longer battery life
Despite all the new tech in the iPhone X, it actually has better battery life than the iPhone 8.
Per usual, Apple doesn't disclose the capacity ratings of the batteries in its phones, but it says the iPhone 8 should last about as long as the iPhone 7. Likewise, the iPhone 8 Plus should last about the same as an iPhone 7 Plus. But it notes the iPhone X can last up to 2 hours longer than the iPhone 7.
What does that mean, exactly? While it doesn't tell us is how those two additional hours are achieved, Apple provides a comparison chart that shows the iPhone X and iPhone 8 Plus can last for about 21 hours of talk time, while the iPhone 8 is rated for 14 hours. For internet use, the iPhone 8 Plus is actually rated for 13 hours, while the iPhone X and iPhone 8 can last around 12. When it comes to video playback, the iPhone 8 and iPhone X offer about 12 hours to the iPhone 8 Plus's 13 hours. But for audio playback, the iPhone X and iPhone 8 Plus last up to 60 hours compared to 40 on the iPhone 8.
With all this said, what you can do with the iPhone X that you can't do with other iPhone models is use a couple tricks those used to OLED displays are very familiar with: mostly black wallpapers and night mode in certain apps. By switching off the pixels, you will be able to squeeze some extra battery life out of your iPhone X.
Dual OIS
While all three iPhone models come with 12-megapixel cameras around back and 7-megapixel shooters up front, both the iPhone X and iPhone 8 Plus have an additional rear camera sensor. These dual cameras have two different lenses: wide angle and telephoto. But Apple squeezed two extra little tidbits into the camera housing on the iPhone X.
First, the iPhone X has optical image stabilization (OIS) for both cameras. The iPhone 8 Plus only has OIS on its wide-angle camera, leaving the telephoto camera more susceptible to camera shake.
Second, the iPhone 8 Plus telephoto lens has f/2.8 aperture, while the iPhone X has an f/2.4 telephoto lens, giving a slight edge in depth of field and low light shots with the telephoto lens on the iPhone X.
Face ID
The iPhone X display extends from the top of the phone all the way to the bottom edge, leaving only a small space at the top for the nudge, which houses a host of sensors, including the new TrueDepth camera. This means there is no more home button and, more importantly, no more Touch ID sensor.
All that time spent building muscle memory for Touch ID was for naught.
Instead, with the iPhone X at least, you'll now have to use what is called Face ID to get into your phone. It uses the infrared camera, flood illuminator and a dot projector with over 30,000 invisible dots to build and read your facial map. And since Touch ID is missing, you'll use Face ID to authenticate purchases using Apple Wallet.
Face ID is attention aware, too, which means it won't shoot past the lock screen when you don't want it to, such as when you're reading notifications.
Because Face ID requires these three bits of tech, you can't use Face ID on the iPhone 8 or iPhone 8 Plus. But, at least you still have Touch ID on those.
Portrait mode with front camera
The front-facing camera on the iPhone X also comes with a few tricks that the iPhone 8 and iPhone 8 Plus front shooters simply aren't capable of.
For starters, Portrait mode, previously only possible with the iPhone 7 Plus rear cameras, is found on both the iPhone 8 Plus and iPhone X. However, thanks to the help of additional sensors in the nudge on the front of the iPhone X, its front-facing TrueDepth camera can also take Portrait mode selfies.
Portrait Lighting with front camera
It doesn't stop there either. Portrait Lighting — the new feature that scans your face and, calculates how your facial features interact with different lighting situations to create lighting effects — is also possible with the TrueDepth camera up front.
This camera feature takes Portrait mode to the next level by not only differentiating the foreground from the background, but also simulating different lighting situations: natural, studio, contour and stage light. Stage light, for example, keeps your face illuminated but turns the swaps the actual background with a deep black, simulating professional studio portraits.
Animoji
Finally, Animoji. This is a feature specific to the iPhone X that uses the TrueDepth camera to read and analyze "more than 50 different muscle movements" to mirror your movements and expressions on 12 different Animoji (or animated emoji). Think Snapchat's animal face filters, but instead of superimposing an image over your face, your facial movements are simply mimicked by an emoji.
Animoji are created within Messages and your voice is also recorded. They play in a loop in the messages view, and when you tap to open an Animoji, the voice recording will play along with it.
Related article: 5 Methods to Backup and Restore iOS Devices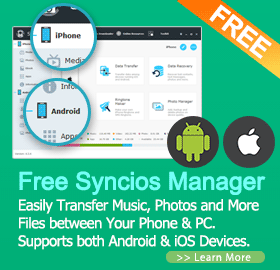 Support to transfer, edit, backup, manage, view iOS & Android mobile data: Music, videos, photos, apps, ebooks, contacts, messages and more.
Download videos from 100+ video sharing sites up to 4K HD video quality and transfer to iPad/iPhone/iPod/Android.
Handy toolkit: Audio converter, video converter, ringtone maker, etc.
Free
You can follow Syncios onTwitter,Facebookfor more tips and tricks.