You might think you know all the Windows 10 tricks by now, but you're wrong — partly because Microsoft is continuing to drop new builds (Build 10565 went out to Windows 10 Insiders on Monday), and partly because most of Windows 10's little tricks haven't been publicized.
Here are several ultra-fast tips that you probably didn't know about:
Minimize all windows except the active one
Grab the title bar of the window you want to remain open and move it back and forth quickly (shake it). After a couple of quick shakes, all other windows will minimize, leaving only the window you're shaking open.
Quickly open the properties menu
In the File Explorer, hold the Alt key and double-click a file, folder, or program shortcut to open that object's Properties menu.
New Windows key keyboard shortcuts
Win key + I opens the new Settings menu, Win key + A launches the new Action center, and Win key + X opens the "secret" Start menu.
Pin the Recycle Bin to the Start menu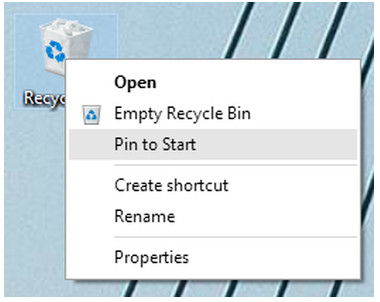 Want your Recycle Bin to be conveniently located in your Start menu? Right-click the desktop icon and click Pin to Start. It will appear on the right side of your Start menu.
Background scrolling
In Windows 10, you can scroll any window — even one that's not active (in front of the other windows). It's on by default, but if it's not working, go to Settings > Devices > Mouse & touchpad and toggle Scroll inactive windows when I hover over them to On. Then, simply place your mouse over an inactive window and use your scroll wheel to scroll.
Speed through the Start menu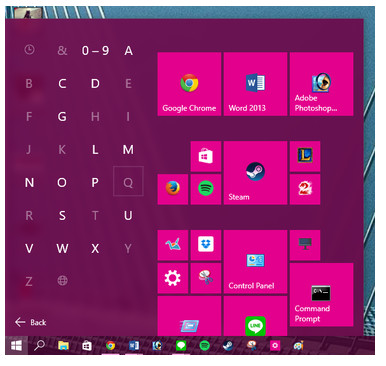 In the All apps section of the Start menu, click the numbers or letters above each alphabetical section to open a "speed dial" jump list. Click a letter (or number) to jump to that section of the Start menu.
Control your Taskbar with keyboard shortcuts
If you've pinned programs on the Taskbar, you can quickly open them with the keyboard shortcut Win key + [Number key] (where the number key corresponds to the position of the program on the Taskbar). To cycle through the programs on your Taskbar (both pinned and open windows), Win key + T does the trick (tap "T" repeatedly to move through the programs).
Source: Cnet
---
Read More:
How to Restore Deleted Notes From iCloud Selectively ?
How to Recover Lost Calendar from iTunes Backup File
Recommend: if you would like to transfer music, videos, apps, notes, photos, etc between your iPhone and computer, you can try this perfect iOS data manager tool, migrate everything, including SMS, Contacts, Videos, Photos, Call logs and more from phone to PC or Mac. Simply download and have a try.