Your Android phone will run slowly over time, right? Here is a guide to teach you how to speed up your Android phone.
1. Free up some space
Firstly, you can check how much space you have left by heading to the Storage section of Settings. One of the easiest ways to free up space is to tap Applications and see which apps you can uninstall.
Secondly, the downloaded files are probably still sitting in storage wasting space and can be removed. In Storage, tap Downloads, select the files you want to remove and then tap the Bin button.
Thirdly, many of the apps you have installed use data caches. You can clear the data caches to reduce burdens of your phone.  You can tap the Clear cached data option and then tap OK to confirm.
Fourthly, more files ripe for deletion can be found in the Miscellaneous files section. Tick the boxes next to any types of file you'd like to remove – backups, files received via Bluetooth, playlist files, and so on – and then tap the bin button. You can keep an eye on how much space you have freed up when you look at the Available space section.
Fifthly, you can also disable any apps that came pre-loaded on your phone but you don't use. If you have rooted your Android, you can actually get rid of these apps, but if not, you can go to the app properties and disable it to prevent it from running and using up your phone's resources.
Sixthly, you may have saved a lot of photos, pictures, songs or messages on your phone and refuse to delete them. But to speed up the phone, you have to be selective, or you can backup up them on computer. So that you can both speed up phone and keep all important files you need.
Related article: How to Backup and Restore Android Device
2. Cut back on the widgets
All those widgets you have running on your home screen may be useful, but they also take up their fair share of resources.
If you have any widgets running that you don't really need, consider disabling them. There's no harm in having some active, but you will notice an element of slow-down if you have too many running at the same time, so just be a little selective.
3. Disable unnecessary animations and extras
Animations may look great, but they will slow things down. So you can check in your laucher's settings to see if there are unnecessary extras and disable them to get a speed boost.
4. Close down apps and free up RAM
Multi-tasking several apps will share more space of RAM. You can quickly close down any apps you are no longer using by calling up the running apps list – press and hold the home key and then swipe away any apps you want to exit.
While you are at this screen, tap the pie chart button to the lower right of the screen and then move to the RAM section. Tap the Clear memory button and any background processes that are running unnecessarily will be closed down.
5. Restart your device
Restarting a slow device will be the quickest fix to clear out the cache, stop unnecessary tasks from running, and to get things running smoothly again.
Just hold down the power button, select the Restart option, and then tap OK to confirm.
6. Dig deeper
You can also keep tabs on the apps that are using lots of battery by going to Settings > Battery. You can also monitor RAM usage in Settings > Apps (or App Manager, depending on your brand of phone) and there's even more nerdy goodies in Process Stats in Developer Options – if you don't have this setting enabled, go to Settings > About Phone and tap Build Number seven times until a notification pops up.
7. Reboot device
If your device is still slow after done all those six methods. You can consider to go to Setting > Backup and reset > Tag on Factory data reset to factory reset the device for a long time smooth operation of your phone. But please remember to backup all of your important data before factory reset.
Related article: How to Factory Reset Android Phone?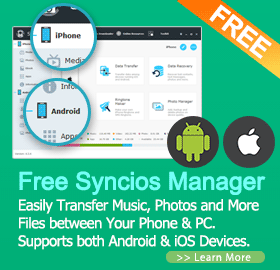 Support to transfer, edit, backup, manage, view iOS & Android mobile data: Music, videos, photos, apps, ebooks, contacts, messages and more.
Download videos from 100+ video sharing sites up to 4K HD video quality and transfer to iPad/iPhone/iPod/Android.
Handy toolkit: Audio converter, video converter, ringtone maker, etc.
Free
You can follow Syncios onTwitter,Facebookfor more tips and tricks.